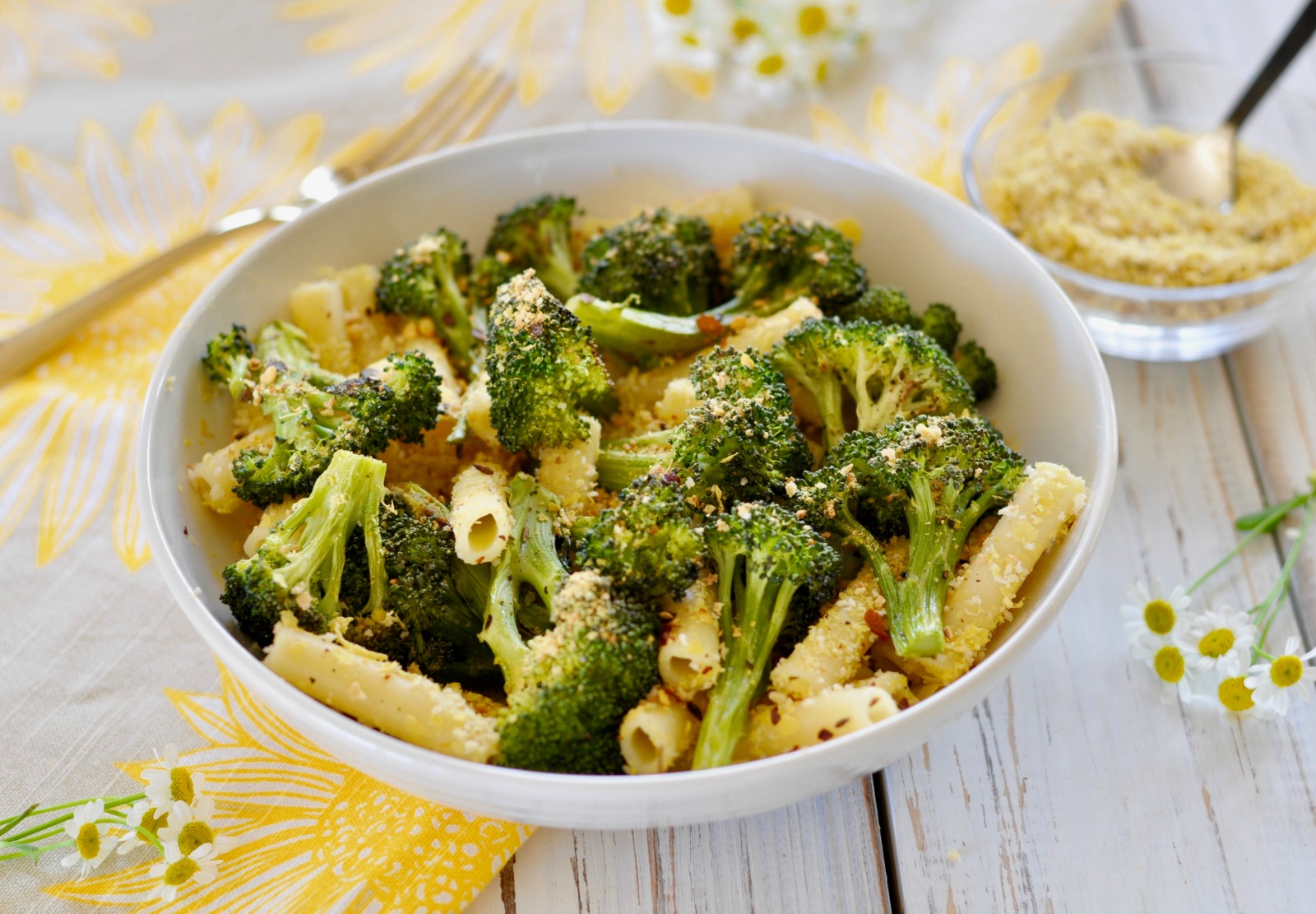 This roasted, dairy-free, low caloric, spicy broccoli pasta topped off with a lemon breadcrumb flavor bomb is a quick and easy dish the entire family will love.
How easy? Well, all you need to do is roast your broccoli and seasoning for 20 minutes. Meanwhile, cook your pasta and combine your flavor bomb ingredients. That's it. Simple and straightforward just the way we like our plant-based meals.
Lastly, this spicy broccoli pasta is low calorie density.
What is calorie density you might be asking.
In summary, calorie density is the most natural approach to healthful living and weight management.
A food high in calorie density has a large number of calories in a small amount of weight. Whereas a food low in calorie density has much fewer calories in the same weight of food.
Foods low in calorie density also tend to be higher in satiety. Satiety is the state of being completely satisfied with fewer calories.
For example. Broccoli has 154 calories per pound. A bagel is 1200 calories per pound. With each bite of bagel, you are taking in 12 times as many calories as each bite of broccoli.
So all calories are not created equal.
Even common condiments like regular salad dressing are 1700 calories per pound. Butter and Margarine are 3,200 calories per pound. Olive oil which is 100% fat and over 4,000 calories per pound.
Even if you don't eat a pound of butter or oil in a sitting, a mere tablespoon or two of those calories are all fat, high calorie, and low satiating foods. You could replace those couple of tablespoons with a big bowl of fruits and vegetables with a lot fewer calories.
Eat all the vegetables you want!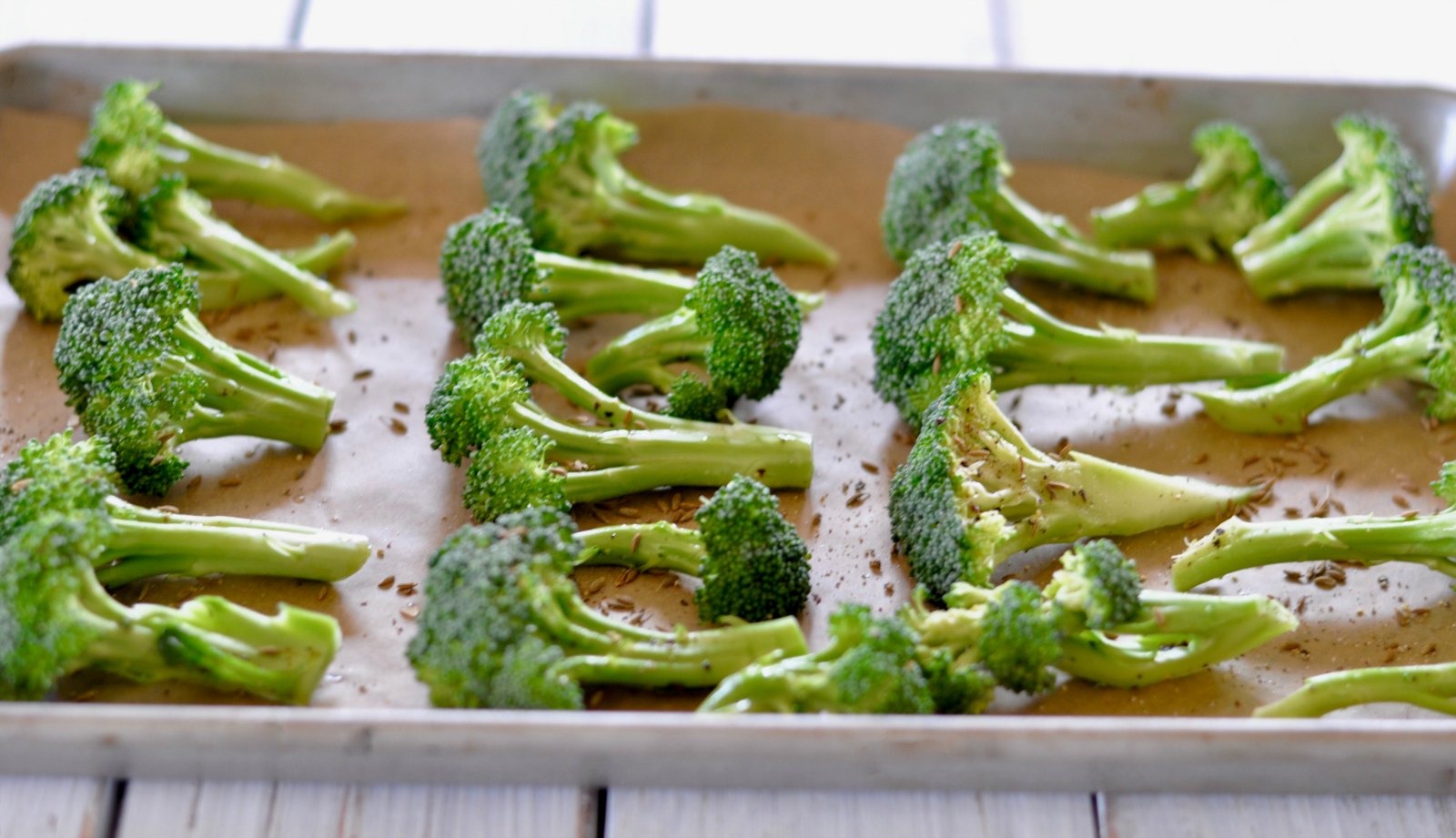 This spicy broccoli pasta recipe is an example of how you replace high-calorie density foods with low in calorie, satiating foods. It has a large amount of vegetables and a small amount of pasta.
So, instead of three cups of pasta with 1 cup of pasta sauce for 600 calories. Have 1 cup of pasta and 4 cups of vegetables which are 400 calories and only 200 calorie density.
Always remember, adding vegetables always lowers calorie density and raises satiety.
Also, you will feel full and satisfied without any bloating, or that uncomfortable feeling of eating too much.
Calorie density is the simplest approach to healthy eating and lifelong weight management.
For more tips on calorie density, listen to Podcast #5 How To Lose Weight and Eat More Calories.
If you enjoy broccoli as much as I do, you will love this Broccoli Salad with Creamy Cashew Dressing and Creamy Broccoli Casserole with Mushrooms and Sun-Dried Tomatoes.
Spicy Broccoli Pasta with A Lemon Breadcrumb Flavor Bomb
Spicy Broccoli Pasta with A Lemon Breadcrumb Flavor Bomb
This spicy broccoli pasta is heavy on the vegetables and light on the pasta making it a low caloric meal.
Ingredients
Broccoli Pasta
2½ pounds broccoli, cut into bite-sized florets
1-2 teaspoons of olive oil (omit if you are oil free)
1 teaspoon cumin seeds (optional)
¼ teaspoon salt
¼ teaspoon ground black pepper
6 ounces or tube shaped pasta
Flavor Bomb
⅓ cup breadcrumbs (Panko are gluten-free)
¼ cup nutritional yeast
Zest from one lemon (grated)
½ teaspoon red pepper flakes
¼ teaspoon salt
¼ teaspoon ground black pepper
Lemon wedges for serving (optional)
Instructions
Heat oven to 425 egress. Toss the broccoli with the oil (if using), salt, pepper and cumin seeds. Place on a rimmed backing she and roast until tender and browned at the edges, approximately 15-20 minutes.
Meanwhile bring a large pot of water to a boil Cook pasta according to package instructions and drain.
In a small bowl stir together the breadcrumbs, nutritional yeast, lemon zest, red pepper flakes, salt and ground black pepper.
Toss cooked pasta with broccoli. Sprinkle generously with the flavor bomb. Taste for seasoning.
Optional: Drizzle with a little olive oil and place under the broiler until topping is golden, 2 to 3 minutes. Serve with lemon wedges for squeezing.