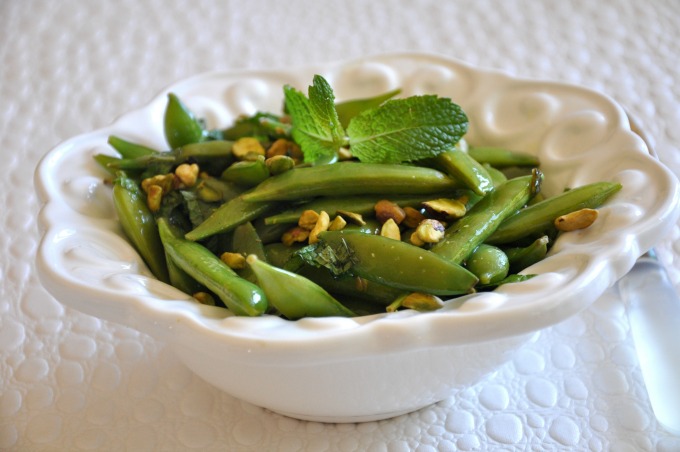 It's sugar snap pea season here in California and I can't enough of them.
Sugar snap peas are a relatively new food and a cross between snow peas and garden peas. They have a crispy texture and slightly sweet taste. You can eat them raw or steam or boil them for a minute or two to bring out the full flavor.  Don't overcook because you want them to maintain their crispy texture.
Trimming is easy. Just place the washed snap peas on a cutting board and chop off the end of the pods than pull down and remove and discard the stem end and string.
Sugar snap peas are the perfect snack because the high fiber keeps you feeling full which reduces the temptation to snack on unhealthy options. The addition of the pistachio nuts amp up the protein and crunch.
Did you know that pistachios contain fewer calories and more potassium and vitamin K per serving than other nuts? They are definitely one of my favorites.
Yesterday I served the sugar snap peas to my guests as a side dish in place of a green salad with my favorite  vegan chili. It was a big hit.
Hope you enjoy this easy vegan plant-based recipe as much as I did. Don't miss any of Ordinary Vegan's recipes by signing up here.
Wishing you a peaceful and compassionate day.
Sugar Snap Peas With Mint, Lemon & Pistachios
Sugar Snap Peas With Mint & Pistachios
Ingredients
1 lb. sugar snap peas, trimmed
¼ cup fresh mint, chopped
⅓ cup pistachios
4 tbsp lemon juice
1 teaspoon extra-virgin olive oil (you can omit this if you are on a no oil diet)
1 teaspoon Dijon mustard
1 teaspoon maple syrup
Fresh ground black pepper
Pinch of salt (optional)
Instructions
Vinaigrette
Whisk together lemon juice, olive oil, mustard, maple syrup and pepper.
Salad
Steam the sugar snap peas 1-2 minutes, or until bright green. Being careful to keep them crisp.
Toss peas with vinaigrette. Stir in pistachios and fresh mint.