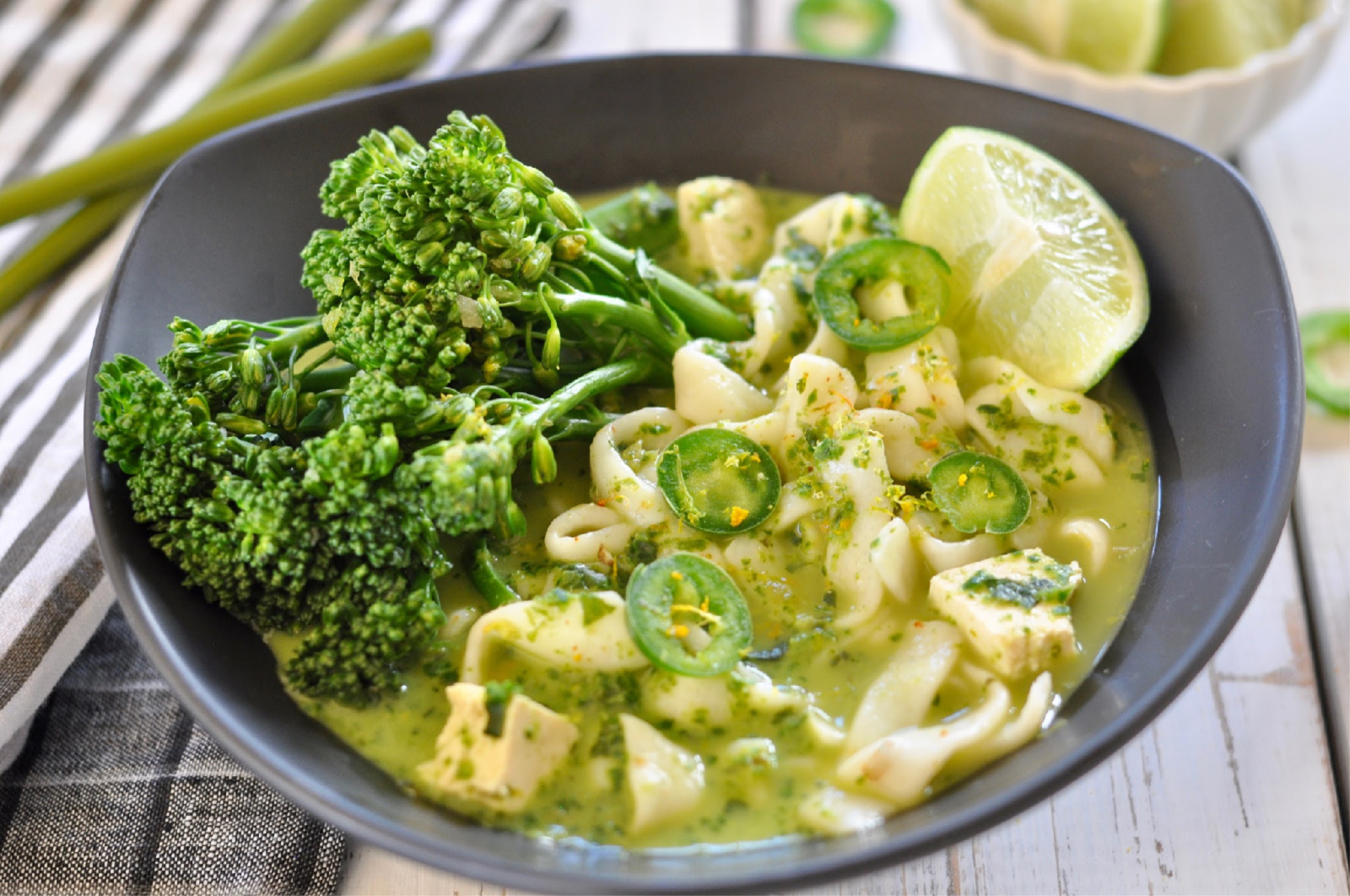 Where do I begin?  It is "as if" the food God blessed me with a visit today, and I somehow manifested this glorious vegan green curry noodle soup!
I know that sounds a bit dramatic, but I loved this recipe so much. It was an unforgettable combo of taste and tang loaded with vibrant color. Not only that, it is healthy and packed with nutrients.
Now what's the catch??? It's the flavor bomb! I highly recommend creating the vegan green curry paste from scratch rather than from a jar.  It takes a little effort with some ingredients you don't always use, but it's worth it. If you don't have time and need to use vegan green curry paste from a jar, I understand. Just start with a tablespoon and keep tasting and adding.
Another fun thing about this vegan green curry noodle soup is anything goes. I added broccolini, mushrooms, sugar snap peas, water chestnuts, basil infused light coconut milk and tofu. My noodles were store bought and were a blend of tofu, shirataki and Asian yams for a total of 20 calories and 6 carbs.  There are many prepared noodles, but I like House Foods the best.
Hope you enjoy this vegan green curry noodle soup as much as I did.
Vegan Green Curry Noodle Soup with Broccolini, Sugar Snap Peas, Mushrooms, Basil Infused Coconut Milk & Tofu
If you like soups with big flavors, you may enjoy my Vietnamese Vegan Pho Noodle Soup or my Asian Noodle Soup with Corn, Carrots and Grilled Pineapple.
Don't miss any of Ordinary Vegan's recipes by signing up here.
I have a podcast on plant-based nutrition. You can listen here on this website or in iTunes. This podcast is dedicated to helping people like you live a long and healthy life.
You can also join our health and wellness community on Facebook. There are over 315,000 healthy, vibrant community members waiting to embrace you.
Finally, many people in the wellness world are turning to cannabidiol, commonly referred to as CBD, for its powerful anti-inflammatory and anti-anxiety effects. I believe it is the next step in health and wellness.
You can now purchase a safe and effective vegan Plant-based CBD Oil made from Hemp from Ordinary Vegan. If you have any questions, don't hesitate to reach out to me at questions@ordinaryvegan.net, or you can learn more about CBD Oil and how it can help you here.
Thanks for stopping by and for being part of our healthy compassionate community.

Vegan Green Curry Noodle Soup with Broccolini, Mushrooms, Sugar Snap Peas & Tofu
This is an unforgettable soup and I couldn't stop eating it. Making your own green curry paste makes a big difference but if you don't. have time, you can use green curry paste from a jar which is sold in most mainstream grocery stores. Here is a
link
to the noodles I like to use in this recipe. Available in many grocery stores.
Ingredients
Green Curry Paste aka Flavor Bomb
8 ounces of green Serrano chiles, chopped and seeds removed
1 large shallot, chopped
4 garlic cloves, chopped
2 lemongrass stalks, tough outer layers removed
1 3-inch piece ginger, grated
1 2-inch piece turmeric, grated (or ½ teaspoon ground)
Zest of one lime
1 teaspoon ground coriander
¾ teaspoon ground cumin
1½ tablespoons maple syrup
¾ teaspoon salt
Fresh ground black pepper
⅛ cup to ¼ cup of vegetable broth
Noodle Soup
½ cup vegetable broth for sautéing PLUS 3-4 cups for broth
1 shallot, diced
4-5 white or cremini mushrooms, sliced
1 cup light coconut milk
½ - ¾ cup chopped fresh basil leaves & some basil leaves for garnish
8 ounces of broccolini (trim off stems and slice any thick spears from top to bottom into a thinner spear)
¼ pound sugar snap peas or snow peas or combination of both
8-ounces of Shirataki Fettucini pre-cooked noodles (I like low carb, low calorie tofu fettuccine noodles) Or use your favorite noodles.
4-6 ounces of cubed extra firm tofu
Juice from one lime
Optional add ins: Water Chestnuts
Garnish Ideas: Fresh Basil, Lemon Wedges, Bean Sprouts, Thinly sliced green chiles or jalapeño, Lemon, Turmeric, Lemongrass Zest, Scallions
Instructions
Green Curry Paste aka Flavor Bomb
Finely grate bottom half of lemongrass into a food processor. Add chiles, shallot, garlic, ginger, turmeric, lime zest, coriander, cumin, maple syrup, salt, and ground black pepper. Process. Add small amounts of vegetable broth until you have a paste. It is ok if it is a little watery. Remove from food processor and set aside. Do not rinse out food processor.
Noodle Soup
Heat vegetable broth in a medium pot, and saute the shallot and sliced mushrooms until soft and translucent. Add 2-3 tablespoons of the green chili paste and saute for another minute.
Add 3 cups of the vegetable broth and bring it to a simmer.
Add the vegetables and cook until the broccoli is just tender and bright green. Don't overcook.
Meanwhile, in the same food processor, process the chopped basil and coconut milk.
Stir the coconut milk and tofu into the pot. Add the noodles and fresh lime juice. Simmer for another minute or two, garnish and serve with lime wedges.