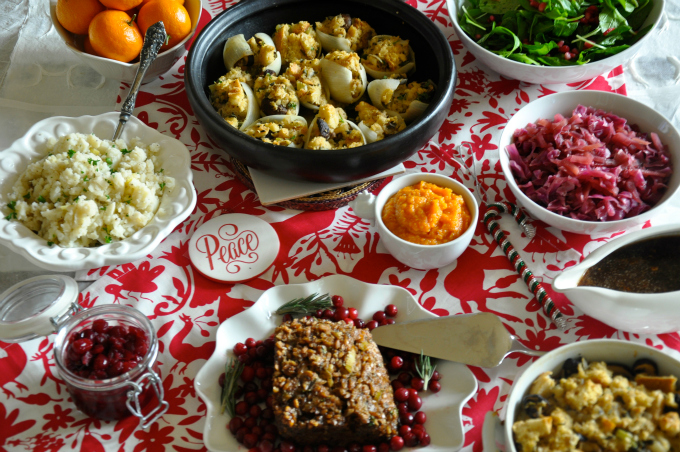 Vegan Thanksgiving Recipes 2014
The holidays are upon us again and I have so much to be grateful for.
First and foremost, I would like to thank all of you for being part of our compassionate community.
I appreciate all your comments and feedback and the generosity you show me when you share my recipes with your friends and family. You inspire me to do better and I hope I never disappoint.
This is also a good time of the year to be reflective and think about the things you want to change. My goal for 2015 is to continue sharing delicious, healthy, plant-based recipes and hopefully inspire you to make health and wellness your #1 priority.
If you are overweight and/or suffering from a food-related disease like type-2 diabetes or heart disease, don't beat yourself up.
Many times our food environment plays a significant role in our chronic disease, and many neighborhoods, work settings and schools influence which foods are available and affordable to us.
Always remember, it is never too late to change the way you eat and improve your health.
I also want to say today that we welcome everyone to this blog.
You don't have to be a full-time vegan to enjoy these recipes and make an impact on your health, animal welfare and the environment.
Every plant-based meal helps. I hope your holidays are full of compassion, peace, health and delicious plant-based food.
Now on to this year's vegan Thanksgiving recipes.
Whew. I did a lot of experimenting before coming up with some of these vegan Thanksgiving recipes.
My first goal was to create a vegan holiday loaf that was protein packed without using lentils.
I like lentils ok but most holiday loafs are packed with them and I wanted to try something different this year so I used farro as my protein.
If you are not familiar with farro, it is a healthy Italian grain with a nutty flavor that is rich in fiber, protein, magnesium and B vitamins.
The only downside of farro is that it is unsuitable for people with a gluten intolerance.
I combined the grain with many familiar holiday flavors so it does have a similar taste to stuffing.
If you are going to serve both, I suggest the roasted mushroom recipe below which has a smokey flavor from the vegan bacon and a strong roasting flavor from the mushrooms. It is a good combination because the stuffing tastes entirely different from the vegan holiday loaf.
Each year I like to create a fun presentation for the stuffing and this year I baked it stuffed in onions. This idea was inspired from a stuffed onion recipe I saw in the amazing vegetarian cookbook, Plenty, by Yotam Ottolenghi.
As far as sides go, I like traditional. Mashed potatoes with leeks, green bean casserole, brussels sprouts and this year I did a quick and easy pickled cranberry sauce. I thought the tartness of the cranberries would create a good balance to the sweet side dishes.
I also made a carrot turnip sauce which went well with the holiday loaf and sweet and sour cabbage for the intense red color and taste.
Aside from the pickled cranberry ingredients, I tried to stick with four fresh herbs for all the recipes which were sage, rosemary, thyme and parsley.
I know vegan Thanksgiving recipes can get costly, and buying a lot of expensive ingredients is never my goal.
Also, something to remember, sweet potatoes, onions and cabbage are all on the clean list which means those vegetables have little or no trace of pesticides even when they aren't organic. Knowing when you can buy non-organic can also help save a few dollars on your vegan Thanksgiving recipes.
Hope you enjoy these healthy, vegan Thanksgiving recipes as much as I did.
If you are looking for more holiday ideas, check out Ordinary Vegan's Thanksgiving 2014 and Vegan Thanksgiving 2013.
Or check-out the ultimate holiday showstopper, Vegan Roast Wellington with Lentils, Mushrooms and Chestnuts.
And in my humble opinion, here is a recipe for the best vegan gravy you will ever taste!
Don't miss any of Ordinary Vegan's recipes by signing up here.. Just getting started on a plant-based diet? Here is a free downloadable list of delicious vegan protein.
Also, please join or community on Facebook. It is fun and full of wonderful, compassionate people like  you.
Happy Holidays Everyone!
Vegan Thanksgiving Recipes
Farro Loaf with Mustard & Brown Sugar Glaze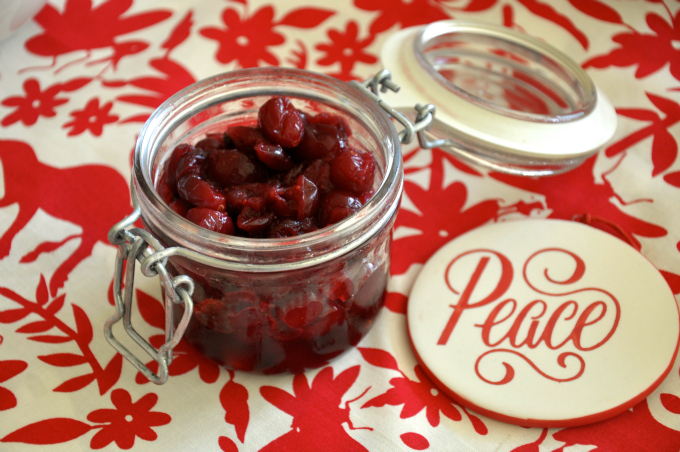 Easy Pickled Cranberries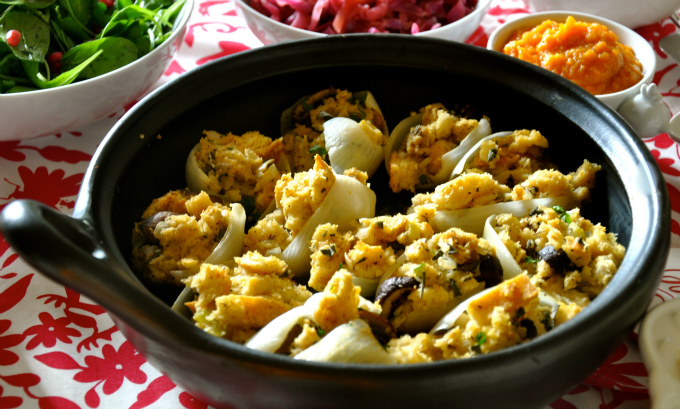 Sourdough, Mushroom & Vegan Bacon Stuffing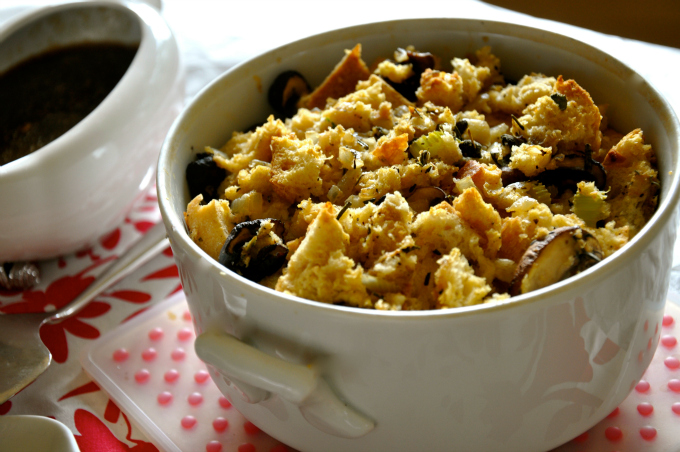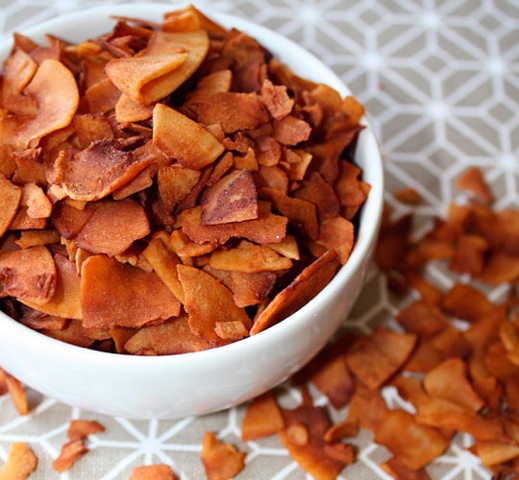 Vegan Bacon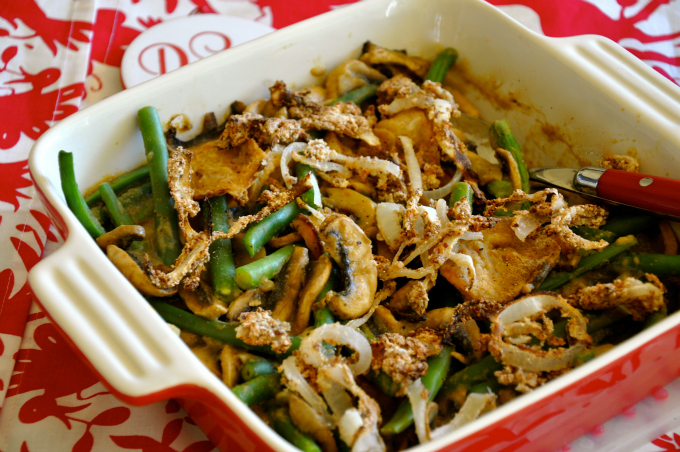 Vegan Green Bean Casserole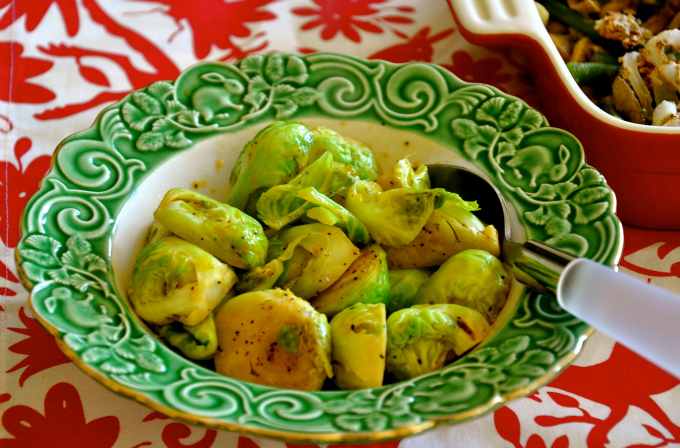 Caramelized Brussels Sprouts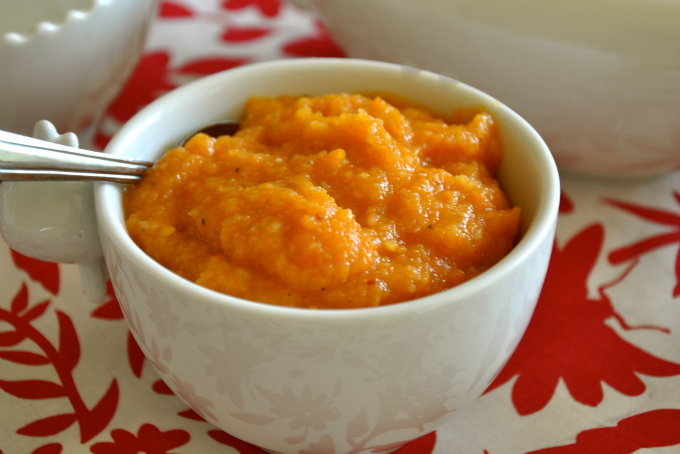 Carrot and Parsnip Sauce
 Leek Mashed Potatoes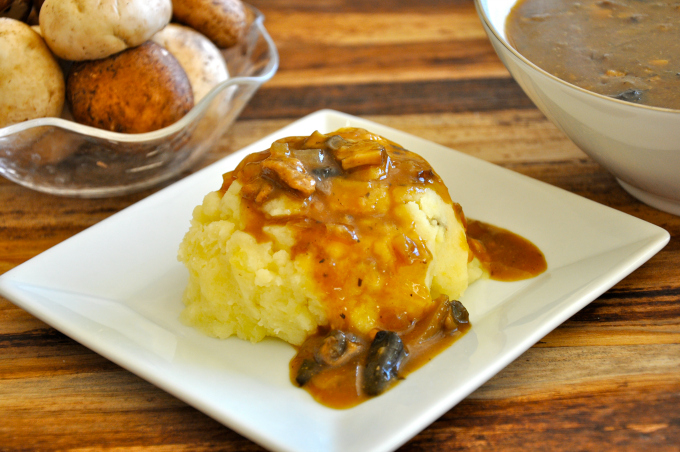 Rich and Delicious Vegan Mushroom Gravy
Sometimes time management gets the best of me and when that happens I like to roast my vegetables with familiar holiday seasonings like this roasted green bean recipe with sage.

Here's a link to last year's  
vegan Thanksgiving recipes