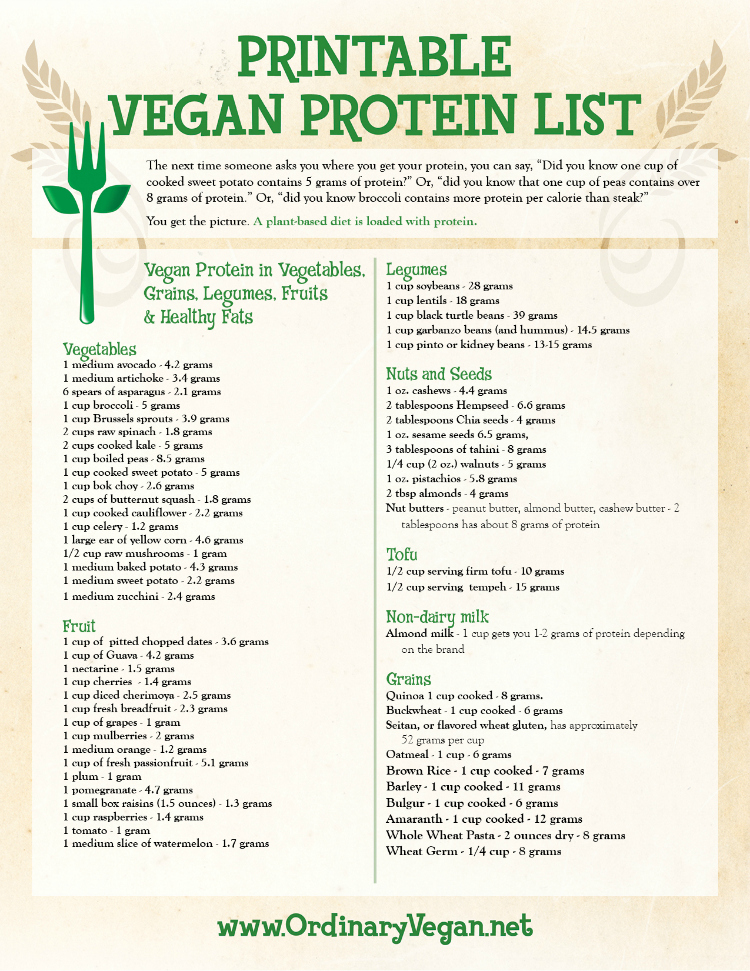 This downloadable vegan protein list is provided to help you transition to a plant-based diet with confidence. CLICK HERE TO DOWNLOAD NOW >
But just because your new vegan diet is free of animal products, there is still a danger of making unhealthy food choices. Try to avoid a lot of vegan processed cheese, sweets, faux meat and snacks that are loaded with unhealthy oil.
Instead choose a beautiful variety of whole plant-based foods like grains, legumes like beans and lentils, vegetables, fruits and small amounts of healthy fats like nuts, seeds, and avocado.
If you are having a hard time giving up cheese, I recommend you listen to Ordinary Vegan's "The Cheese Trap Podcast" with Dr. Neal Barnard to learn how to kick the habit.
This vegan protein list will help you become healthy and vigorous, and see with your own eyes how much protein is in a plant-based diet.
Always remember to keep it simple. Make every main meal a vegan power plate that includes grains, legumes, vegetables, fruits and a small healthy side of nuts or seeds. You can incorporate these ingredients in soup, stews, stir fry or just a simple, beautiful plate of food.
This list should give you the confidence to start embracing a plant-based diet, full or part-time and never worry about protein.
Thanks for stopping by today. I hope this vegan protein list assists you in making better food choices because my number one goal is to make you as healthy and as happy as possible.
Don't miss any of Ordinary Vegan's FREE recipes by signing up here.
Today's live Facebook video included one of my favorite 10-minute high protein meals called – Hemp Seeds, Cannellini Beans, and Greens. Here is the recipe.
If improving your overall health and wellness is among your goals, don't miss Ordinary Vegan's Podcasts on plant-based nutrition. You can listen to them on iTunes or right here on my website.