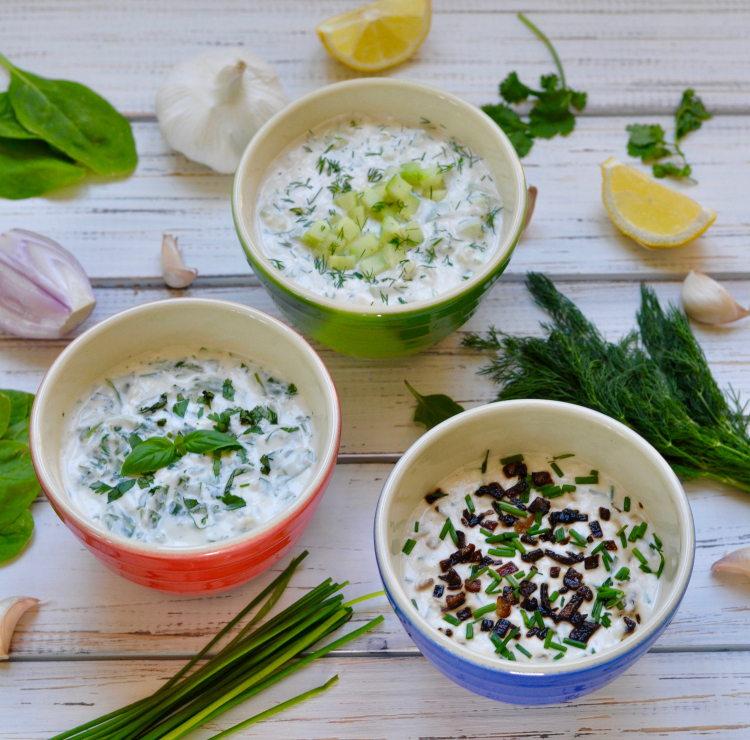 Creamy summer dips are usually laden with fat, but yogurt dip is a healthy and delicious option.  Dairy-free yogurt is one of the few foods that work in both savory and sweet presentations, and there aren't many foods that don't go well with yogurt.
Non-dairy yogurt is also versatile. You can grab a container in the morning and top it with seeds, nuts, and fruits for a healthy breakfast.
Scent it with cumin and dollop on top of your favorite vegetable for something refreshing and light. I also like yogurt dip to brighten or balance hot foods like curries.
These recipes feature Silk plain yogurt – soy or almond. What I love about the unflavored Silk Dairy-Free Yogurt Alternatives are the low sugar content and no saturated fat. Silk products are also non-GMO verified.
When purchasing dairy-free yogurt, always look at the label's ingredients. Many yogurt manufacturers add corn syrup for sweetness, artificial sweeteners, and other ingredients that are not healthful.
Today I made three quick and easy yogurt dip recipes. Yogurt dip provides a healthy base for vegetables, crackers, or pita bread.
To create a thicker, more Greek-style dip, just place the yogurt in a fine mesh sieve that is lined with cheesecloth or coffee filters. Then put the yogurt into the strainer over a bowl, and refrigerate overnight. Discard the liquid at the bottom of the bowl, and you are now left with a thicker yogurt. To be honest, it really isn't necessary for these yogurt dip recipes.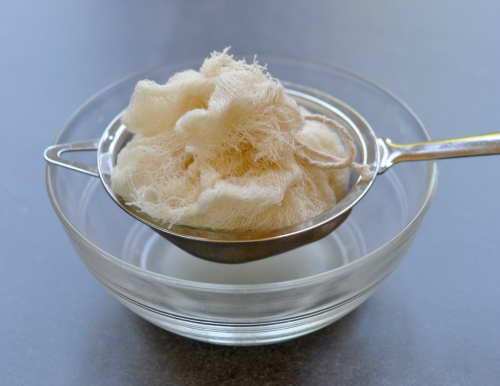 Also, substitute your favorite herbs in any of these recipes. During the summer I love my holy trinity of mint, basil, and cilantro in pretty much everything.

Cucumber and Dill Yogurt Dip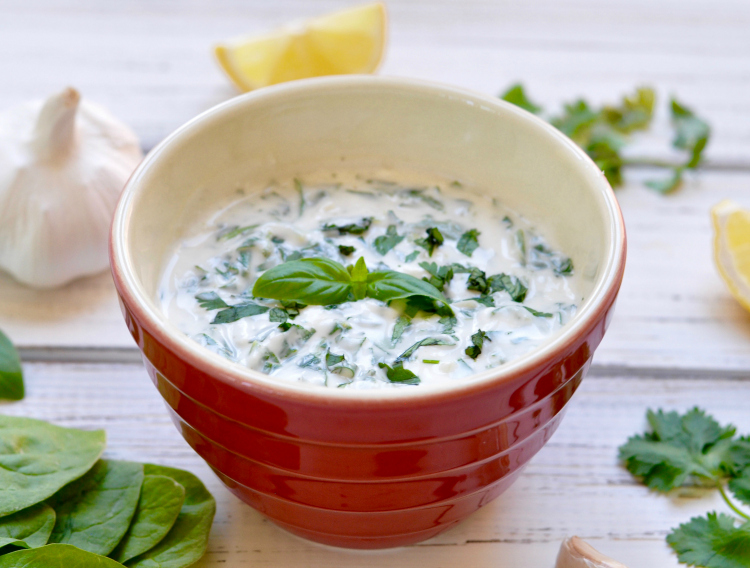 Healthy Spinach Cilantro Yogurt Dip
Crispy Shallots & Chives Onion Yogurt Dip
Hope you enjoy these healthy, non-dairy yogurt dips as much as we did. I would like to thank Silk for sponsoring this post. It isn't easy to find brands who align with our health and wellness message, but Silk is at the top of the stack.
You can sign-up for Silk's newsletter here to receive coupons, recipe ideas, life hacks and more. Follow Silk on Facebook, Instagram, Pinterest, and YouTube.
Don't forget to subscribe to our email list, so you don't miss out on any yummy, plant-based recipes. Follow my podcasts for the latest news in plant-based nutrition on iTunes or here on my website.
Hope you have a peaceful and compassionate week!
This is a sponsored conversation written by me on behalf of Silk. The opinions and text are all mine.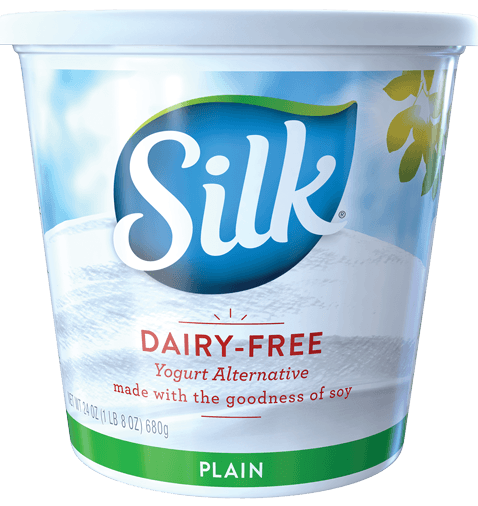 Cucumber Dill Yogurt Dip
A cool, slightly garlicky spread that is great with vegetables, bread or crackers.
Ingredients
1 small cucumber, seeded, finely chopped (approximately 1 cup)
1 garlic clove, grated (or more to taste)
1 tablespoon fresh chopped dill
1 tablespoon fresh lemon juice
¼ teaspoon of salt (or more to taste)
fresh ground black pepper
1 cup non-dairy, unsweetened, unflavored yogurt
Instructions
In a medium bowl, mix yogurt, cucumber, garlic, dill, lemon juice, salt and ground black pepper. Taste and add additional seasoning if needed. Garnish top with a few chopped cucumbers and dill. Cover and refrigerate until serving.
Onion Dip with Crispy Shallots & Chives
Ingredients
¼ cup vegetables broth (plus more for sautéing)
2 large shallots, finely chopped
1 cup non-dairy, unflavored plain yogurt
1 tablespoon apple cider vinegar
1 garlic clove, finely grated
1 tablespoon chopped chives, plus more for serving
¼ teaspoon salt (or more to taste)
Fresh ground black pepper
Instructions
In a small saute pan heat the vegetable broth. Season with salt and ground black pepper. Add the shallots, stirring constantly and cook until the shallots crispy and brown adding more vegetable broth if sticking.This can take 10-15 minutes. Make sure you don't burn them. Let cool slightly.
In a medium bowl, mix the yogurt, apple cider vinegar, garlic, chives, salt and ground black pepper. Add the crispy shallots saving some for garnish and combine.
Garnish with crispy shallots and chives. Cover and chill.
Healthy Spinach Cilantro Yogurt Dip
A light and healthy version of spinach dip.
Ingredients
1 5-ounce package of baby spinach
1 garlic clove, finely grated
1 carton of non-dairy, unflavored yogurt (about ¾ cup)
1 tablespoon fresh lemon juice
⅓ cup fresh, chopped cilantro
1 teaspoon maple syrup
¼ teaspoon salt
Fresh Ground Black Pepper to taste
Instructions
Place a steamer basket in a pot of boiling water. Steam the spinach until just wilted. Let cool.
Squeeze spinach well to remove excess water, than coarsely chop.
Mix the yogurt, spinach, garlic, lemon juice, cilantro, maple syrup, salt and ground black pepper in a medium bowl. Taste and adjust seasonings.
Cover and chill for at least one hour before serving.