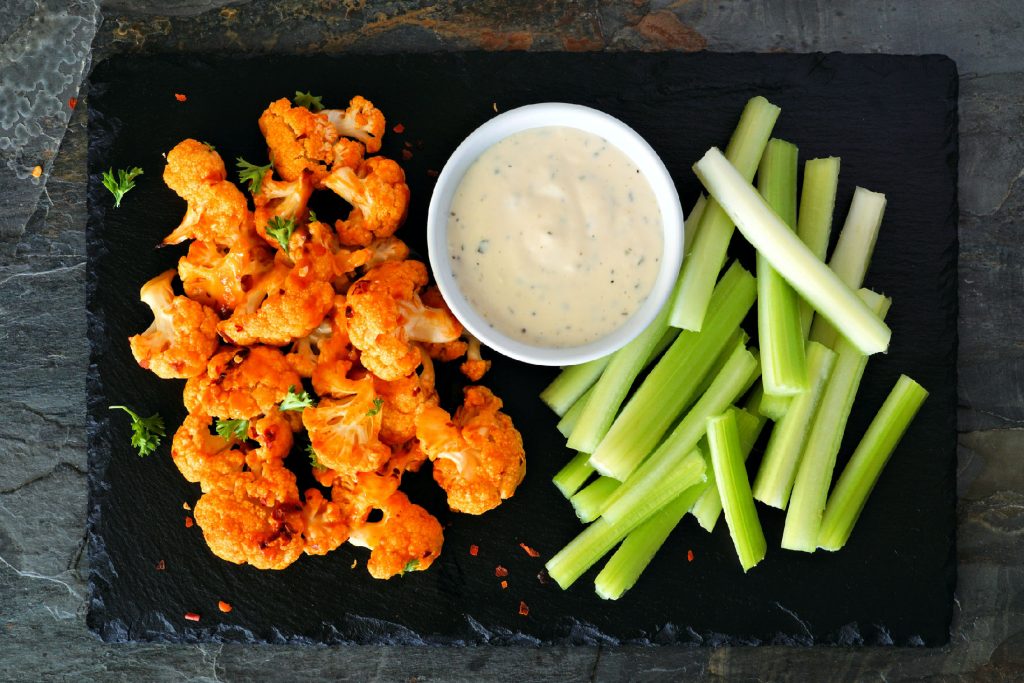 "If all you can do is crawl, start crawling" – Rumi
Before we discuss these healthy cauliflower buffalo wings, I want to say the only way you can change your life is to create new actions.  New actions lead to new opportunities.
A fresh era is only 24 days away and a possible beacon for change.  If you think of this new year as a book with 365 blank pages, what do you want to write? What is it that you really want? Lose weight, improve your health, find love, be a better person?
I know the first thing that most people do. They go on a diet.
Here is what I have to say about that. Dieting is a big mistake.
We must get away from the diet mentality that is so self-defeating, and ends up creating a cycle of depression and worthlessness. Challenge that old way of thinking. Let go of the calorie counting. You don't need a diet. You need a health intervention and lifestyle change. Trust me, it is so much easier than a diet.
You begin by making nutrition the central element of your lifestyle.
You ignore the bombardment of nonsense and half truths about food. You decide that your health is the most important thing in your life because you love yourself,  and you love your family, and you don't want to suffer from chronic disease.
You accept the truth that the cause of disease is what you eat. It is really that simple. You are in charge. I know you can do it.
Make a commitment to  a plant-based lifestyle in 2014, and see how quickly your health improves. With improved health, you find your true gentle spirit, and nothing can dim that light once it shines. The best news is you will never have to diet again in your life.
Here is how you can get started on a delicious plant-based diet. Please remember, your Ordinary Vegan community is always here to support you.
Now on to delicious, easy plant-based recipes.
Lets think ahead. Planning a Superbowl party? These plant-based cauliflower buffalo wings will be a culinary touchdown at your soiree. Easy to make and so darn healthy, but don't tell anyone that. I recommend making a big platter.
Hope you enjoy these cauliflower buffalo wings as much as I did.
Wishing all of you a compassionate and plant-filled 2014. Don't miss any of Ordinary Vegan's free recipes by signing up here.
Cauliflower Buffalo Wings
Ordinary Vegan Hot & Spicy Cauliflower Buffalo Wings
Ingredients
⅛ cup extra-virgin olive oil
2 tablespoons soy sauce
2 tablespoon rices vinegar
2 tablespoons Sriracha sauce
1 head of cauliflower, leaves removed, cut into florets
chopped fresh cilantro, for garnish
Instructions
Preheat the oven to 400 degrees F. Spread baking paper on a cooking sheet or lightly grease one.
In a large bowl, combine the oil, soy sauce, rice vinegar and Sriracha sauce.
Gently add the cauliflower to the bowl and coat with marinade.
Arrange the cauliflower on a baking sheet and roast for 10 minutes. Turn and roast for another 10 minutes, or until tender.
Garnish with fresh cilantro and serve.