Former President & Vegan Bill Clinton
I once read the most wonderful book on writing by horror and suspense author Stephen King. It is called "On Writing – A Memoir of Craft".  In that book, he said, "writing is like driving a car at night. You can see only as far as your headlights,  but you can make the whole trip that way – you don't have to see your destination."  That is not only great advice about writing, it is also excellent advice about living your life. My favorite way of finding happiness and preventing stress is trying to live in the moment. Not worrying about what is ahead and appreciating the here and now.  I know it is easier said than done, but just because something isn't easy doesn't mean it is impossible. Now on to food.
Fall and winter are a challenging time for many new vegans because they are craving those comfort foods we all grew up with. No worries though. You can stay happy on a vegan diet throughout the winter. There are lots of delicious, affordable plant-based comfort food recipes we can make like this quinoa lentil loaf smothered in tomato sauce with mashed potatoes and a snappy green vegetable. You could also serve this with my Ordinary Vegan mushroom gravy. Either way, you can eat your way to more energy and a stronger immune system by sticking to a plant-based diet this winter and for the rest of your life.
Last but not least, I would like to extend my appreciation to our former President Bill Clinton for supporting Ordinary Vegan. The newly vegan Bill Clinton is spreading a compassionate message all over the world with his plant-based diet. I know some of you will say he is not the perfect vegan but no one is perfect and when famous people speak about and try a plant-based diet, they use their platform and voice to raise awareness. The first step towards change is awareness.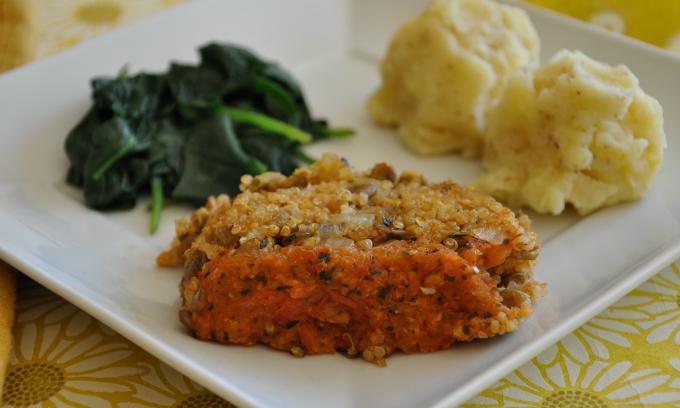 Quinoa Lentil Loaf with Tomato Sauce
Quinoa & Lentil Loaf with Tomato Sauce
Serve with some creamy mashed potatoes. I like mine with Earth Balance butter, non-dairy unflavored milke and a couple of tablespoons of nutritional yeast. This loaf would also be delicious topped with Ordinary Vegan Mushroom Gravy.
Ingredients
1 small onion, chopped
4 cloves garlic, minced
2 cups quinoa cooked
1½ cups lentils, cooked, roughly mashed
2 flax eggs - 2 tbsp ground flax seed, 6 tbsp of water
3 tbsp low sodium soy sauce or tamari
1 tbsp extra virgin olive oil
2 tbsp worchestershire sauce
2 tbsp dijon mustard
¼ cup of your favorite barbeque sauce or ketchup
1 tbsp sirichia
1 tbsp fresh oregano
small handful fresh chopped parsley
1 teaspoon dried basil
Topping
¼ cup bbq sauce, spicy ketchup or fresh tomato sauce.
Instructions
Pre-heat oven to 375 degrees
Combine ground flax seeds and 6 tbsp water, whisk and refrigerate for 10 minutes to thicken
In a medium saucepan add olive oil and heat on medium high. Add onions and reduce heat to medium. Saute onions for about five minutes. If pan gets dry, add some veggie broth.
Add in garlic and cook for another minute.
In a measuring cup whisk together worchestershire sauce, soy sauce, mustard, bbq sauce, and sirichia.
In a large bowl add onion garlic mixture, cooked quinoa, lentils,worchestershire mixture, flax eggs basil, oregano and parsley. Mix well
Transfer mixture into a 1½ quoart loaf pan and top with your favorite sauce.
Place in oven and cook for 30 minutes.
Remove from oven and let cool for 5 minutes. Serve.