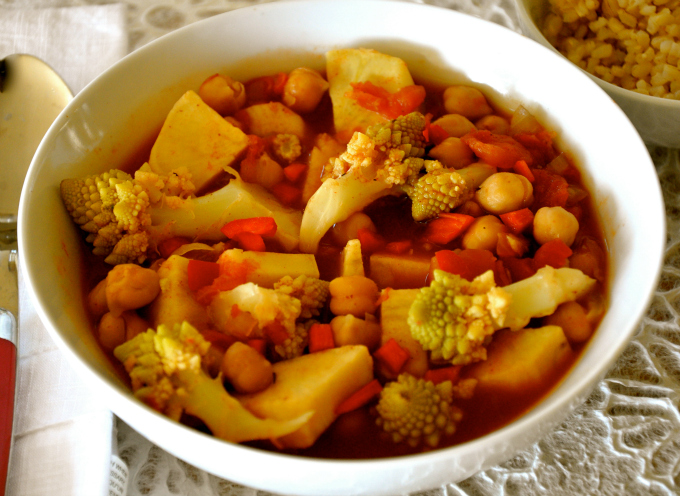 Whether you are on a vegan diet full or part-time, you will love this satisfying and easy one-pot vegan meal. This chickpea, cauliflower and sweet potato stew is quick, delicious, high protein and full of everything your body needs to thrive on. It is also oil free and low fat.
Chickpeas are considered a nutrient-rich food and provide high amounts of fiber, iron, vitamin B-6, potassium and protein making them the perfect satisfying replacement for animal protein. Combine that with the powerful nutritional punch of the cauliflower and sweet potatoes and you have a super-food meal.
Also, this one-pot vegan stew is prepared and cooked from start to finish in 40 minutes.  I like to serve it with a side of brown rice and a leafy green.
Hope you enjoy this plant-based recipe as much as I did. Don't miss any of Ordinary Vegan's free healthy recipes by signing up here.  Also, if you love the combination of cauliflower and chickpeas, check out one of Ordinary Vegan's most popular recipes – Golden Chickpea Curry with Cauliflower and Spinach.
Easy One-Pot Vegan Chickpea, Cauliflower & Sweet Potato Stew
Easy One Pot Chickpea, Cauliflower & Sweet Potato Stew
A simple and quick healthy, high protein stew for the family.
Ingredients
1 onion, chopped
3 cups vegetable broth plus ¼ cup for sautéing
2 sweet potatoes, peeled, and cut into bite sized pieces
1 head cauliflower, stemmed and separated into florets
2 cartons, 13 ounce cooked garbanzo beans (approximately 3 cups cooked)
2 cartons, 14 ounce diced tomatoes
1 tablespoon chili powder
sprinkling of cayenne pepper (optional)
¼ teaspoon salt
¼ teaspoon ground black pepper
2 red Fresno chilis chopped for garnish (optional)
Instructions
In a large soup pot, heat ¼ vegetable broth. Add onion and cook until softened about 5-7 minutes adding more vegetable broth if needed to keep from sticking.
Add the chili powder, cayenne (if using), salt, pepper, sweet potatoes, cauliflower, garbanzo beans, and tomatoes. Stir and cover with vegetable broth adding more broth if necessary.
Bring mixture to boil and reduce heat to a simmer. Partially cover and cook until sweet potatoes are tender about 25-30 minutes. Taste for seasonings.
Garnish with some chopped red Fresno chili if you like a little heat. This is also delicious over brown rice or quinoa.