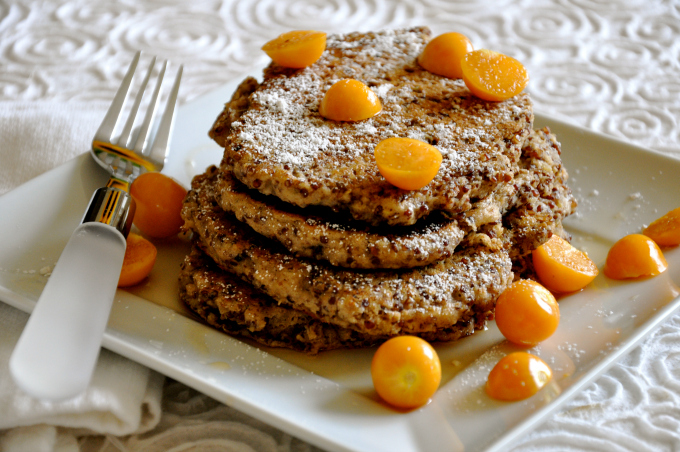 Red Quinoa Pancakes with Golden Gooseberries
OK, I admit it. I am quinoa crazy.
I just can't get enough of this inexpensive super nutritious grain. Lately, I have been buying black and red quinoa to compliment the colors of other ingredients. I also think there is a subtle difference in taste and my palette says the red quinoa is a little nuttier.
At any rate, it worked wonderfully in this pancake recipe.
By the way, these red quinoa pancakes don't have to just be for breakfast. They make a perfect snack food for any time of the day.
I like making a big batch to freeze individually so I can just grab one, thaw and snack on it.
As far as the gooseberries go, this was my first time. They were a little tart but tasty. Which is why they are usually made into jams and tarts with a good dose of sugar to balance the sour taste.
Feel free to use your favorite berry of choice and you could also add berries to the batter while they are cooking. Hope you enjoy this plant-based recipe as much as I did. If you love pancakes, you might also want to try these easy vegan buttermilk pancakes. Recipe here.
Don't miss any of Ordinary Vegan's FREE recipes by signing up here.

Red Quinoa Pancakes with Gooseberries
Gooseberries are very exotic so don't worry, you can use any berries that you love.
Ingredients
3 cups cooked quinoa (red was festive but you can use plain quinoa) *see directions below - you will need 2 cups uncooked, rinsed
2 cups all-purpose flour
¼ cup maple sugar (I also like replacing with maple syrup)
2 heaping tablespoons of baking powder
1 teaspoon ground cinnamon
2 cups non-dairy unsweetened milk (I like almond)
2 flax eggs *recipe below
1 teaspoon vanilla extract
1 teaspoon of vegan butter
mixed berries for garnishing
Maple syrup, for serving
Instructions
In a large saucepan combine 4 cups of water and 2 cups of quinoa. Bring to a boil. Lower the heat to a simmer, cover and cook until the quinoa is dry and fluffy about 15-20 minutes. Keep a close eye. Let cool. Scoop out 3 cups of cooked quinoa and refrigerate the rest for another meal.
Make flax eggs by whisking together 2 tablespoons of ground flax seed and 6 tablespoons of water. Place in refrigerator for 10 minutes or more to thicken.
Combine the flour, sugar, baking powder, cinnamon and salt in a large bowl. Whisk to combine.
In another bowl combine the milk, thickened flax eggs and vanilla.
Add the dry ingredients to the wet ingredients and stir until blended.
Fold in the cooked quinoa and no need to over mix. Let the batter rest in the refrigerator for 30 minutes to an hour.
Heat the vegan butter in a large non-stick frying pan or griddle over medium heat.
Ladle about ⅓ cup of the batter into the hot pan. When bubbles form in the batter, flip onto the other side until cooked through and lightly browned.
Continue with the remaining batter. Serve topped with berries and maple syrup. Sometimes I put a dollop of non-dairy yogurt on top!