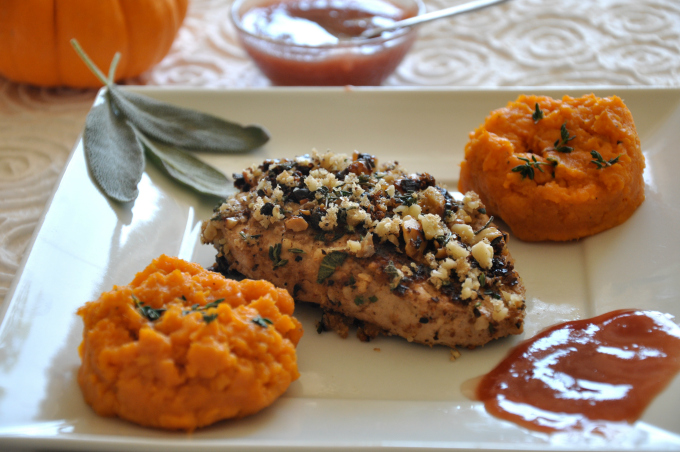 Walnut Crusted Vegan Chick'n Scallopini with Cranberry Vinaigrette
Every day I see an elderly woman with a walker taking a very slow stroll in my neighborhood. Each tiny movement she makes looks extremely painful, but she keeps on going. When I see her,  I get so filled with emotion. I don't know why exactly, but something about watching her frail body and determined steps moves and inspires me. I stop my complaining mind. Not because I feel sorry for her.  It's because she triggers something in me to want to do better, be better, feel better, and appreciate everything I have. She has a reverence for her body and makes an effort to take care of herself. Many of us don't have to live with physical handicaps, but for some reason we don't want to take advantage of what we have. We don't want to take that extra step to understand our bodies and treat our bodies with the respect they deserve. Unfortunately, it often takes a crisis, a tragedy or a disease for us to realize how precious our bodies are too us. If you haven't already, you can begin improving your relationship with your body by changing your diet today. Just think about it.  You will no longer have to take all those medications, you will feel energized, and most importantly you will experience a personal liberation that will bleed into every aspect of your life. I know you can do it, and Ordinary Vegan is here to help you every step of the way.
On to food. The holidays are coming up, and temptation lurks everywhere. Since I became vegan, I have learned that I don't have to miss the tastes and smells of a traditional Thanksgiving dinner because I can recreate them. Like this walnut crusted scallopini chick'n breast flavored with savory, fresh earthy spices that remind me of the holidays like sage, rosemary and thyme. The sweet yams with maple syrup are as delicious as anything you will find on any traditional Thanksgiving table. The cranberry vinaigrette ties it all together like a beautiful red bow. Add a side of Ordinary Vegan stuffing and gravy, some green beans and viola! A delicious guilt free, plant-based, holiday meal that maximizes your health and leaves you feeling energized. Hope you enjoy this scallopini recipe as much as we did! Don't miss any of Ordinary Vegan's free recipes by signing up here.

Walnut-Crusted Scallopini with Mashed Yams and Cranberry Vinaigrette
Peel and cut the yams (approx 2 pounds) and boil until soft. Mash with 2 tsp grated orange zest, 1 tbsp maple syrup, 2 tbsp fresh orange juice, 1 tsp chopped fresh thyme leaves, ½ tsp ground cinnamon, pinch of nutmeg, salt and pepper to taste.
Ingredients
Walnut-Crusted Scallopini
6 Gardein or Beyond Meat Chick'n Breasts
1 cup coarsely ground walnuts
½ cup dry whole wheat bread crumbs
4 teaspoons chopped fresh thyme leaves
4 teaspoons chopped fresh sage leaves
2 teaspoons chopped fresh rosemary leaves
½ teaspoon salt
½ teaspoon fresh ground black pepper
2 tbsp Earth Balance vegan butter
Cranberry Vinaigrette
1 tablespoon thinly sliced shallot
½ cup fresh or frozen cranberries
1 tbsp light brown sugar
2 tbsp fresh orange juice
½ teaspoon maple syrup
pinch of salt and ground black pepper
Instructions
Cranberry Vinaigrette
Lightly oil a small saucepan and heat over medium heat. Add the shallot and cook, stirring until translucent. Add the cranberries, brown sugar, and ½ cup water. Bring to a simmer and cook until the cranberries have popped and the liquid is a vibrant red color, about 6 minutes.
Transfer the mixture to a blender and add the orange juice, maple syrup, salt and pepper. Blend on high until smooth. Store in a tightly covered container in the refrigerator for up to four days.
Scallopini
On a large rimmed plate, combine the ground walnuts, bread crumbs, thyme, sage and rosemary. Season both sides of each Gardein chick'n breast with a small amount of salt and pepper and then press each side into the nut mixture. Arrange the breasts on a baking sheet in a single layer.
Spray a large, nonstick saute pan with olive oil and add the earth balance vegan butter over medium heat until hot but not smoking.
Add the breasts to the pan in a single layer. You should hear a sizzle. Cook until deep golden brown on each side, approximately 2-3 minutes per side.
Serve with mashed yams and drizzle some cranberry vinaigrette on each plate.