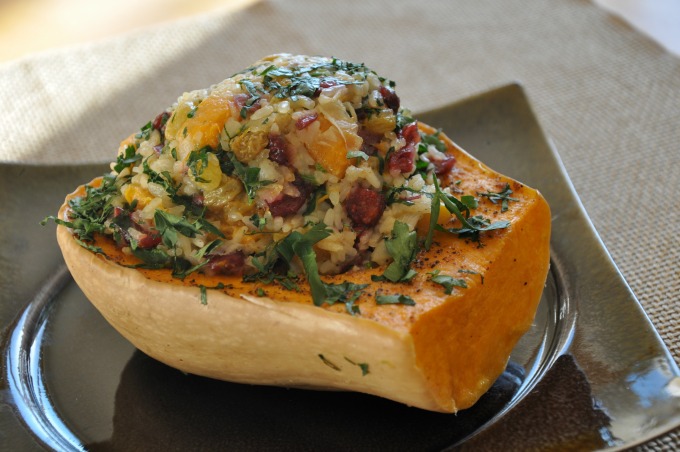 Stuffed Squash with Jasmine Rice, Cranberries and Raisins
Tis the season for all things squash and I am putting the butternut squash bounty to good use. Yesterday, I made this stuffed squash with jasmine rice, cranberries and lots of herbs. Butternut squash can be a wonderful side dish, but filled with this hearty stuffing, it is a meal in itself.
Did you know butternut squash is a super food?  Winter squash has long been recognized as an essential food source of carotenoids (Vitamin A), but new reasearch has shown that it is also high in antioxidants. Not only that, it is low in fat and delivers an ample dose of dietary fiber.
Seeds from winter squash make a great snack food, just like pumpkin seeds. If you scoop the pulp and seeds from inside the squash and separate out the seeds, you can place them in a single layer on a cookie sheet and lightly roast them at 160-170°F (about 75°C) in the oven for 15-20 minutes.
Always remember – winter squash is a vegetable that is especially important to purchase organic. Hope you enjoy this healthy stuffed squash recipe! Don't miss any of Ordinary Vegan's free recipes by signing up here.

Roasted Butternut Squash Filled with Jasmine Rice & Cranberries
Butternut squash is a wonderful side dish, but filled with a hearty stuffing of rice, squash and cranberries, it is a meal in itself.
Ingredients
1 medium butternut squash (about 1½ pounds), halved lengthwise and seeds removed
½ cup small cubed butternut squash
2 tablespoons vegan butter
1 tablespoon vegan butter, melted
½ yellow onion, finely chopped
1 stalk celery, finely chopped
1 cup cooked jasmine rice (you can also use brown rice)
¼ cup dried cranberries, chopped
⅛ cup yellow raisins
2 teaspoons of chopped fresh sage
2 tablespoons of chopped fresh parsley
3 teaspoons of cinnamon (divided)
3 tablespoons of maple syrup (divided)
Salt & Fresh Ground Black Pepper
Veggie broth (if needed)
Instructions
Preheat the oven to 350 degrees F.
To prepare the squash: In a shallow baking pan, arrange the squash cut side up. Add enough water to fill the pan to a depth of ½ inch. Drizzle the squash with 4 teaspoons of maple syrup and sprinkle with 2 teaspoons of ground cinnamon. Cover and bake for approximately 30 minutes or until just fork tender.
Steam the cubed butternut squash for 5-10 minutes until tender but still firm.
Meanwhile, melt the vegan butter in a large non-stick pan over medium heat. Add the onion and celery, season with salt and pepper and cook until just softened, about 5 minutes. Add the cubed butternut squash and cook another minute. Remove from heat.
In a large bowl combine the cooked rice, cooked onions & celery, squash, cranberries, raisins, sage, parsley, 1 teaspoon cinnamon and 1 tablespoon maple syrup. Season with salt and pepper. If needed, add a little veggie broth to moisten and hold together.
Taste and add more parsley and sage if needed. I like lots.
Divide the rice filling among the roasted squash halves and drizzle with melted vegan butter. Return to oven. Continue roasting until the squash is completely fork tender, the edges have started to brown, and the filling is hot. (approximately another 10-15 minutes)