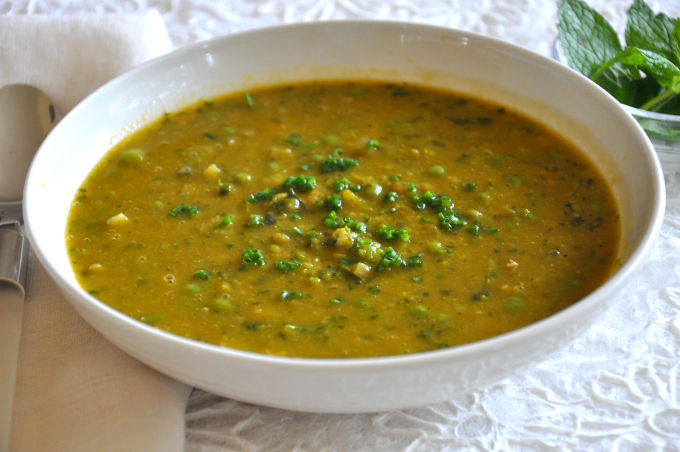 If you want to put a different spin on traditional vegan pea soup definitely try this split pea green pea combo.
It is delicious, inexpensive and plant-based healthy. Did you know that green peas are extremely low in fat and a mega source of vitamin K, manganese, fiber, B1, copper, folate, phosphorus and vitamin C?
Green peas also contain a unique assortment of health-protective phytonutrients that can lower the risk of stomach ailments.
Wow! What more could you ask for in a yummy soup?
If you love peas as much as I do, you will probably enjoy this Sugar Snap Peas with Mint, Lemon & Pistachios and my Green Minestrone Soup with Crushed Pine Nuts.
If you try this recipe, please let me know!  Leave a comment, rate it, and don't forget to tag a photo #ordinaryvegan on Instagram so I can see your photo.
I have a podcast on plant-based nutrition. You can listen here on this website or in iTunes. This podcast is dedicated to helping people like you live a long and healthy life.
Don't miss any of Ordinary Vegan's FREE recipes by signing up here.
You can join our health and wellness community on Facebook. There are over 317,000 healthy, vibrant community members waiting to embrace you.
Also, many people in the wellness world are turning to cannabidiol, commonly referred to as CBD, for its powerful anti-inflammatory and anti-anxiety effects. I believe it is the next step in health and wellness.  You can now purchase a safe and effective vegan Plant-based CBD Oil made from Hemp from me. Link here.
Hope you enjoy this plant-based, easy vegan pea soup as much as I did. Wishing you a compassionate and peaceful day.
Split Pea and Green Vegan Pea Soup with Fresh Mint
Split Pea and Green Pea Soup with Fresh Mint
Yummy and simple to make
Ingredients
½ cup vegetable broth for sautéing
2 leeks, chopped about 2 cups (white and pale green parts only)
¼ teaspoon salt
¼ teaspoon ground black pepper
1 bay leaf
1½ cups green split peas, rinsed
2 cups frozen green peas
5 cups of vegetable broth (or more if needed)
¼ cup fresh mint, chopped (or more to taste)
¼ cup fresh parsley, chopped
3 tablespoons fresh chives, chopped (for topping - optional)
Instructions
Heat the ½ cup of vegetable broth in a large non-stick pot over medium-high heat. Add leek and bay leaf. Saute until leek wilts, about 3 minutes. If leek is sticking, add a little more veggie broth, Add split peas, salt & pepper and stir. Add 4 cups of veggie broth and bring to boil. Reduce heat to medium-low. Simmer until split peas are tender, about 30 minutes or more.
Add frozen peas and another cup of broth if needed. Bring to boil and simmer for another 5-10 minutes.
Remove from heat.
Add mint and parsley. Remove bay leaf.
Transfer approximately half of the soup to a blender. Puree until smooth. Return puree to soup.
Taste and season.
Serve in large bowls with a spinkle of fresh chopped chives.