Braised Tofu with Mushrooms, Dried Cherries & Garlic Sauce
Giving up an old part of ourselves can be depressing. That even applies to making new food choices. When you make the decision to no longer eat foods that are not healthy for your body, you are experiencing the highest form of love. Love for thyself. Once you make that commitment, you will be able to manifest love in all areas of your life. So if you haven't already taken the plant-based leap, right off the bat, I can promise you five things that will happen when you do.
1. You will live longer and have a better quality of life.
2. When you are in a healthy state of mind, you will make good choices in all areas of your life.
3. If you suffer from depression, that is a signal that a major change is required. Nurturing yourself with healthy food choices will make you a happier person.
4. The more you nurture your body, the more you nurture your spiritual growth.
5. You will never have to diet again. Vegans are, on average, up to 20 pounds lighter than meat-eaters
Now on to delicious plant-based food for the body, mind and soul.
I don't cook tofu often but when I do, I like to jazz it up. Today I made a braised tofu with potatoes, cremini mushrooms and dried cherries in a garlic vegan sour cream sauce. It was absolutely delicious. There are a few steps to organize this dish but once you take a mouthful, you'll know it's worth it. Besides being delicious, all the ingredients in this dish are loaded with health benefits. The braised tofu is a great protein source, low in fat and naturally gluten-free.  The extra step to crust the braised tofu is well worth it and people who don't often like tofu like this preparation. I use it in many of my tofu recipes. As far as the mushrooms go, there isn't a big difference between cremini and portobello mushrooms. Both are intensely flavored so I favor one of those mushrooms in this dish as opposed to the more common white mushroom.  Did you know mushrooms are rich in B vitamins and and also the only vegetable dietary source of vitamin D? Don't skimp on those dried cherries because they're also a star of this dish adding a vibrant, tart and sweet taste. Dried cherries are also a good source of copper which aids collagen production for beautiful skin. Hope you enjoy this braised tofu recipe as much as I did. Don't miss any of Ordinary Vegan's free recipes by signing up here.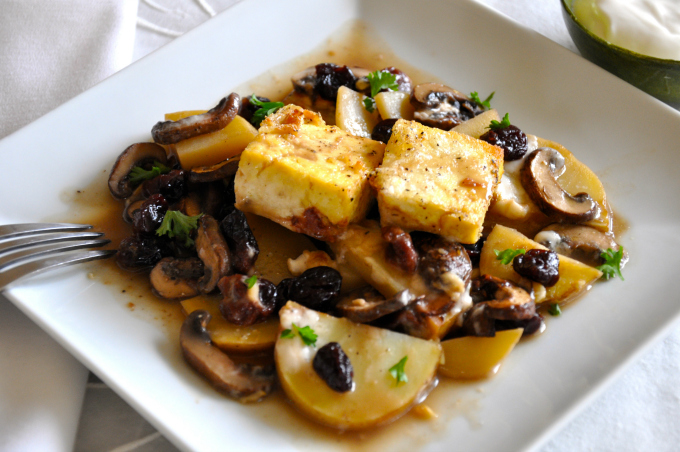 Braised Tofu with Mushrooms, Dried Cherries & Garlic Sauce
Braised Tofu with Potatoes, Cremini Mushrooms & Dried Cherries
This braised tofu is infused with flavor from the garlic sour cream sauce, cremini mushrooms, sweet tart cherries and golden potatoes.
Ingredients
2½ cups of vegetable broth (separated - see steps)
2 teaspoons extra-virgin olive oil
12 garlic cloves, 9 chopped, 3 crushed
½ teaspoon salt
fresh ground black pepper
½ cup vegan sour cream (add more if you would like it a little richer)
1 lb of Cremini mushrooms, sliced
1 10-ounce package of extra-firm organic tofu
¼ cup (or more) of tapioca starch or organic corn starch
4 Yukon Gold potatoes, sliced ⅛ inch thick (I don't peel mine but if you don't like the skin, peel first)
½ cup unsweetened dried sour cherries
Instructions
Pre-heat oven to 375 degrees F.
Remove the tofu from package. Wrap in a clean kitchen towel and place a heavy object on top to remove moisture. Set aside.
Garlic Sour Cream Sauce
In medium sauté pan , heat ¼ cup of the vegetable broth. Season with ½ teaspoon of salt and fresh ground black pepper. Add the 9 chopped garlic cloves. Sauté until soft and fragrant about 3-5 minutes. Adding more vegetable broth if sticking. Add 2½ cups of vegetable broth and bring to a boil. Lower heat, cover and simmer for 5-7 minutes. The sauce will reduce. Strain the garlic sauce into a bowl and set aside.
Mushrooms
In same sauté pan, heat another ¼ cup of vegetable broth. Season with a few sprinkles of salt and ground black pepper. Add mushrooms and sauté for approximately 5 minutes or until the mushrooms are a deep brown and have released some juices. Remove from pan and set aside with juices.
Tofu
Unwrap tofu from kitchen towel. Cut into squares approximately 2 inches thick and 3 inches wide.
Place in large bowl and toss with tapioca starch until each piece is well covered. Add a little fresh ground black pepper.
In same sauté pan, heat the two teaspoons of olive oil. . Add the coated tofu and crisp on both sides. Keep the flame low-medium so the tofu coating doesn't stick. The tofu should have a slight crisp on each side. Remove from heat.
Assemble
In a large baking dish, arrange the sliced potatoes in the bottom of the dish. Top with the mushrooms and mushroom juices. Whisk together the sour cream and garlic broth. Pour over the mushrooms and potatoes. Top with tofu squares. Scatter the cherries and crushed garlic around the tofu. Bake for approximately 40-45 minutes or until the potatoes are very tender.
Garnish with a little chopped parsley and a dollop of vegan sour cream if you desire.