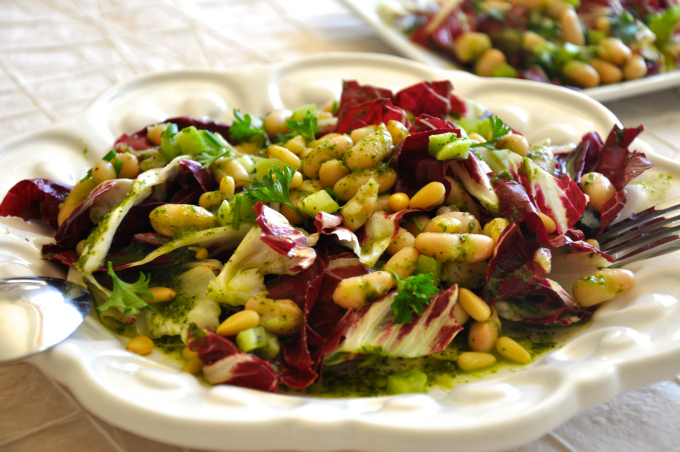 Before we discuss this simple and delicious cannellini bean salad, I had an interesting conversation yesterday with a man in the cash register line at Whole Foods.
Me, always the inquisitive one, noticed he was purchasing a six-pack of plant-based Tofurkey Brats. I immediately asked him if he was vegan. He said no and went on to say, "I have to buy these for those vegans!" As if vegan was a dirty word. Of course, anyone who knows me knows I couldn't leave it at that.
I asked him "what vegans?" He said he owned a bar and was having an Octoberfest party and he was buying these, holding the brats up, for "the vegans."  I said, "you mean to tell me you are only buying six vegan brats for an entire Octoberfest party?" I proceeded to inform him that veganism is the fastest growing trend in the world and we live in Los Angeles so I recommended stocking up on more than one six pack of vegan brats.
After my remarks, I could tell from the look on his face that he was annoyed. He said, "you vegans are all alike" and left the cash register with his six-pack of vegan brats. What is interesting to me about that conversation is how restaurants and bars have to redefine themselves as the plant-based movement grows.
I don't think he was being rude, he was just being frustrated because he didn't have the knowledge to cook for vegans. Last month I went to a catered party where I was told they were serving vegan quinoa cakes. I thought they were amazing and asked for the recipe. Sure enough they sent the recipe and the recipe called for eggs.
Uggh. I try so hard to be vegan and then I find out I ate an egg. Oh well, that is all part of the growth and education we all need to share so people do understand what vegan food is and how easy it is to implement into their establishments. Now on to delicious, plant-based cannellini bean salad with radicchio, pine nuts and parsley vinaigrette
This is a very simple recipe to make and so good for you. I love radicchio and scored some at the Farmer's Market at a reasonable price. Radicchio is usually available year round with a peak season from January to April when you will find it most affordable. Radicchio is part of the cabbage family but tastes more bitter sweet with a gorgeous red and white leaf.
The bitter principle in radicchio is lactucopicrin which has a sedative and analgesic effect. Radicchio is also one of the most excellent sources for Vitamin K. Vitamin K is essential for bone health especially as we age and have a greater risk of hip fractures. It is also a good source of minerals like manganese, copper, iron, zinc, and potassium. Hope you enjoy this easy cannellini bean salad recipe as much as I did. Here is another simple vegan salad you might also enjoy. Don't miss any of Ordinary Vegan's free recipes by signing up here.
Cannellini Bean Salad with Radicchio, Pine Nuts and Oil-Free Parsley Vinaigrette
Cannellini Beans & Radicchio Salad with Pine nuts and Parsley Vinaigrette
This can be made with chickpeas or any bean of your choice. You can also use endive or escarole instead of the radicchio or use all three.
Recipe type:
High Protein Salad or Main
Cuisine:
American Italian
Ingredients
Salad
1 15-ounce carton cannellini beans, drained & rinsed
1 small head of radicchio, cored and leaves torn
2 celery stalks, sliced
2 tablespoons chives, chopped
2 tablespoons parsley, chopped
¼ cup pine nuts, toasted for a minute or two
Salt & Pepper to taste
Parsley Vinaigrette
1 cup of chopped parsley
3 tablespoons fresh lemon juice
2 tablespoons champagne vinegar
1 garlic clove, chopped
2 tablespoons water (or more for thinning)
½ tablespoon organic maple syrup
1 tablespoons chopped chives (or more to taste)
1 tablespoon extra-virgin olive oil
Salt & fresh ground black pepper
Instructions
Place all vinaigrette ingredients into food processor and pulse until well blended. Taste and add salt and pepper to taste. Add another tablespoon of water if the consistency is too thick. It should be on the thinner side.
Put radicchio in a large bowl; drizzle with 1½ tablespoons of parsley vinaigrette and toss to coat. Season radicchio with salt and pepper to taste. Transfer to a serving platter.
In the same bowl, combine the beans, sliced celery, pine nuts and 1½ tablespoons of parsley vinaigrette.
Toss to coat. Season to taste with a little salt and ground black pepper.
Arrange bean mixture on top of radicchio. Garnish with chopped chives and chopped parsley.
Drizzle a little more vinaigrette over it.