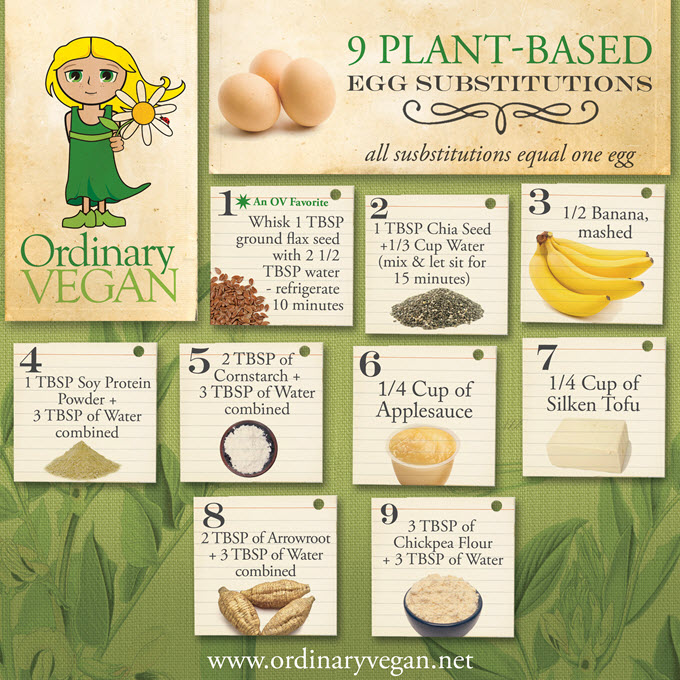 Top 9 Plant-Based Egg Substitutes
When I began my vegan journey and stopped using eggs, I ended up with a lot of loafs and veggie burgers that simply fell apart when I cooked them. Since then I've learned a lot about egg substitutes. Eggs help food bind because they have saturated fats which our body doesn't want or need. So the most challenging part of plant-based cooking is finding replacements to hold food together. There are many good commercial vegan egg replacers like Ener-G and The Vegg. My personal favorite egg substitute is 1 tablespoon of ground flax seed with 2 1/2 tablespoons of water whisked together and put in the refrigerator for 10 minutes to thicken. I use this method in any baking or roasting recipes that call for eggs. It is very versatile.
Having too much moisture in burgers and loafs can also create a problem. Vegetables that contain a lot of moisture include onions, zucchini, cauliflower, eggplant, spinach, radish, celery and broccoli. If you are using those vegetables in your burger or lentil loaf, try some chickpea powder, rolled oats or vegan breadcrumbs to help absorb some of that moisture so it stays compact.
At any rate, I hope this chart helps make your recipes healthier and cholesterol-free by using plant-based egg substitutes. Don't miss any of Ordinary Vegan's free plant-based recipes by joining here. You can embed this image on your site with the code below or print it for the refrigerator. Wishing you a peaceful and compassionate week!