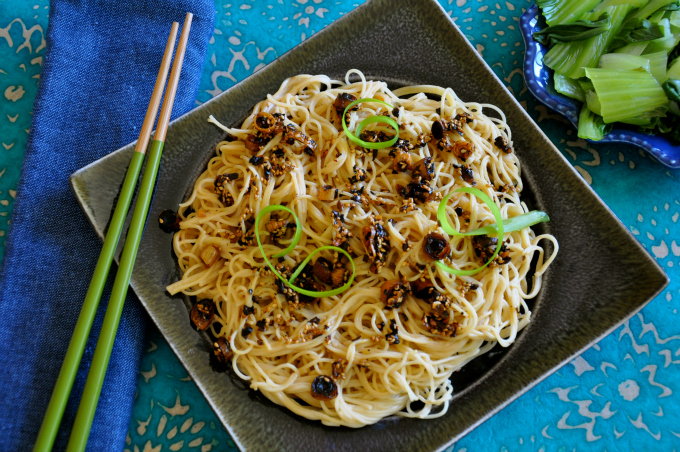 Spicy Sesame Noodles with Spicy Chili Oil and Scallions
Warning: This dish is not for the weak-hearted.
I love hot peppers. The heat from hot peppers bring on a massive endorphin rush and endorphins will make you feel happier, more relaxed and full of energy. If you are a college student facing final week exams or working hard to make a deadline, a spicy hot pepper dish like this is the perfect pick me up. Did you know that eating spicy foods on a hot day can actually cool you down? If that wasn't enough, hot peppers also help with appetite suppression.  At any rate, that's a lot of perks for one spicy dish. Here is my latest addition to my heat seeking recipe collection. Hope you enjoy it as much as I did.

Sesame Noodles with Spicy Chili Oil and Scallions
Ingredients
4 scallions, white parts thinly sliced
¼ cup vegetable oil
1 Tbsp crushed red pepper flakes
2 tsp sesame seeds
2 tsp Sichuan pepper, coarsley choppped *see note
12 oz thin ramen noodles (or spaghettini)
kosher salt and fresh ground pepper
¼ cup tahini (sesame seed paste)
¼ cup unseasoned rice vinegar
3 Tbsp reduced sodium soy sauce
2 tsp sesame oil
1 tsp sugar
squeeze of fresh lime
Instructions
Cook sliced scallions, vegetable oil, red pepper flakes, sesame seeds and pepper in a small saucepan over low heat, stirring occasionally, until oil is sizzling, and scallions are golden brown. 10-12 minutes.
Meanwhile, cook noodles in a large pot until al dente, drain and rinse under cold water. Drain well.
Whisk tahini, vinegar, soy sauce, sesame oil, sugar, lime juice and 2-3 Tbsp of the chili oil, depending on desired heat. In a large bowl, add noodles and season with salt and some fresh ground pepper to taste. Add tahini mixture slowly, making sure you don't overdress. Top with scallion greens and drizzle with more chili oil.
*Sichuan pepper is available at Asian markets and some specialty food stores. If you can't find it, add an extra teaspoon of red pepper flakes.
I like to serve this dish with a side of bok choy