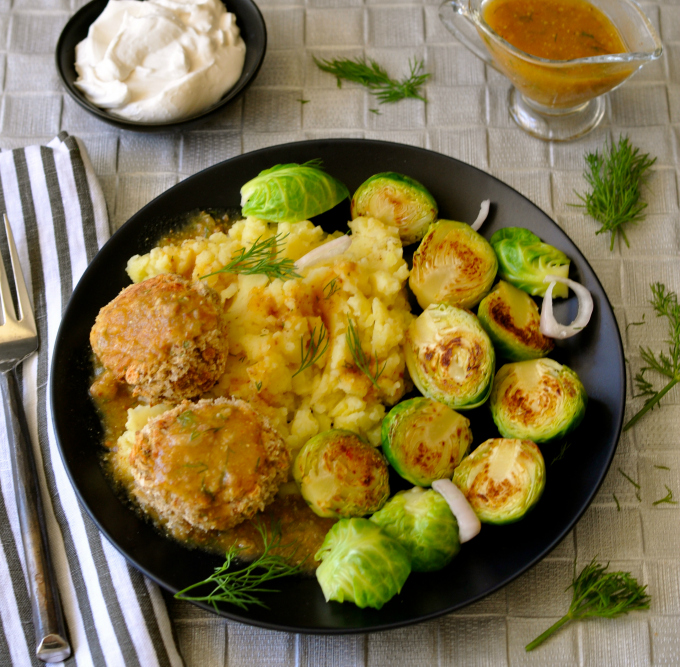 Meatless meatballs, mashed potatoes, and brussels sprouts smothered in dill gravy. Yum!  I love a hearty Sunday suppah! As we like to call it in Boston.
Fall is right around the corner, and I am gearing up and practicing hearty vegan meals to keep you warm and satisfied all winter.
Why? Because so many of you reach out to me about family meals after you make the switch to a vegan diet. As we all know, satisfying the entire family at dinner isn't easy to accomplish.
But, I would say this is the kind of meal you could serve to a carnivore spouse or family member and not get any complaints.
Today I prepared the meatless meatballs with white cannellini beans, but you could use chickpeas or black beans.
It's really about the seasonings.
The more fresh herbs, the better. I used parsley and basil for the meatless meatballs and fresh dill for the gravy. The brussels sprouts were lightly steamed and caramelized in a saute pan with a little spray of olive oil.
The gravy's base is one of the uncooked meatballs with a sautéed chopped shallot. Then I made a paste of tamari, apple cider vinegar, flour and nutritional yeast.
However, you could also add some vegan sour cream to the gravy for richness like they use for Swedish meatballs.
Meatless Meatballs Smothered in Dill Gravy
Not only are beans one of the most economical sources of protein, but they are also one of the healthiest choices you can make.
Beans can lower cholesterol because of the soluble fiber. Soluble fiber forms a gel and helps bind acids and cholesterol in the intestinal tract, preventing their reabsorption into the body.
Some studies have shown that beans can lower cholesterol by as much as 10% in 6 weeks.
Also, using beans in place of meat cuts out the saturated fat and toxins. So the next time you want a hearty dinner, try these little meatless meatball wonders. Serve them with mashed potatoes and vegetables and smother them with gravy. I promise, no one will complain.
Hope you enjoy this plant-based recipe as much as we did. Don't miss any of Ordinary Vegan's free recipes by signing up here. You can also learn more about plant-based nutrition by listening to my podcasts, available here, or on iTunes.
Last but not least, many people in the wellness world are turning to cannabidiol, commonly referred to as CBD Oil from Hemp for its powerful natural anti-inflammatory properties for regulating muscle pain and stress response.
No matter what your particular ailment may be, CBD oil from hemp may help. You can now purchase a safe and effective vegan CBD Oil from Ordinary Vegan. My mission is to provide you with the highest quality CBD Oil from Hempon the market. I hope it can help you.
Don't hesitate to email me with any questions – questions @ ordinaryvegan.net. Learn more about CBD Oil from hemp here.

Meatless Meatballs
These high protein, meatless meatballs are a delicious vegan substitute for meat. Smother them in this rich and delicious vegan gravy.
Ingredients
1 15-ounce carton of cooked cannellini beans, rinsed (save one tablespoon of the starchy liquid) also known as aqufaba
or use 1 flax egg (whisk 1 tablespoon ground flax plus 2.5 tablespoons of water - put in refrigerator for 10 minutes or longer to thicken)
⅓ cup vegetable broth for sautéing
3 cloves chopped garlic
¼ cup chopped onion
¼ cup chopped fresh parsley (or more to taste)
¼ chopped fresh basil (or more to taste)
½ teaspoon fennel seeds
½ teaspoon salt
Fresh ground black pepper
a light sprinkling of red pepper flakes (optional)
½ cup bread crumbs (or more) you don't want the meatballs to be too wet
Instructions
Preheat oven to 375 degrees.
Line a baking sheet with parchment paper.
Heat the vegetable broth in a medium saute pan. Add the onion and saute until soft and translucent. Add the garlic and saute for another minute or two. Adding more vegetable broth if sticking. Remove from stove and let cool.
Add the cannellini beans, starchy liquid or flax egg, onion garlic mixture, salt, pepper and red pepper flakes to a food processor. Pulse/blend a few times until combined keeping it chunky.
Add the bread crumbs and parsley and pulse a few more times. I like it to have a little texture.
Taste and adjust seasonings.
Scoop out about 2 tablespoons of the mixture and gently form a small ball. Place on baking sheet. You will have approximately 10-12 meatballs depending on size. Place one of the uncooked meatballs aside and put the rest into the oven.
Cook for approximately 25-30 minutes or until browned and firm. You may want to flip them.
Or you can gently saute them in a non stick pan over medium heat being careful when you flip them. Brown on both sides.
Serve with vegan gravy.
Vegan Dill Gravy
Add some vegan sour cream for richness.
Ingredients
1 small shallot, chopped
1 uncooked vegan meatball
⅓ cup of vegetable broth for sautéing (additional ½ to 1 cup or more for gravy)
1 tablespoons chopped fresh dill or parsley
¼ teaspoon salt
¼ teaspoon ground black pepper
2 tablespoons of vegan sour cream (optional)
Paste
1½ tablespoons Tamari or low-sodium soy sauce
1½ teaspoons apple cider vinegar
2 tablespoons nutritional yeast
1 tablespoon flour
¼ teaspoon ground black pepper
Instructions
Make the paste by combining the Tamari, apple cider vinegar, nutritional yeast, flour and ground black pepper. It will be a very thick paste.
Heat ⅓ cup of vegetable broth in a large saute pan. Add the shallots and one uncooked meatball to the pan. Cook for 3-4 minutes, stirring to crumble the meatball. Add the additional ½ cup of vegetable broth and bring to boil. Lower heat and whisk in the paste until completely dissolved. Cook another few minutes. Add the salt, pepper and dill. If you like a thinner gravy, add more broth. Taste for seasoning. Serve over mashed potatoes and meatballs.
Sprinkle chopped dill over the top.
*If you would like the gravy to be richer, whisk in 2-3 tablespoons of vegan sour cream.**