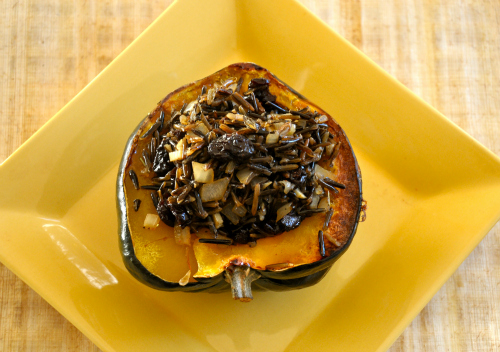 Wild Rice Stuffed Squash with Pecans & Sweet Dried Cherries
Today is Veterans Day in the United States. For our vegans outside of the USA, Veterans Day is an official holiday honoring our armed service veterans. I always feel emotional on this holiday. Veterans put themselves in harm's way, fight battles, perhaps become injured and face the possibility that they might never see their loved ones again. I have a hard time grasping what that must be like, and I could never thank our veterans enough.
My dream for the future is for people to live in peace everywhere. Becoming a vegan is the first step to a nonviolent and just world. When you honor not only humans, but also nonhumans, you are declaring that you want to live in a world where speciesism is unacceptable and non-violence towards all living beings is the only path to take. My favorite peaceful warrior,  Mahatma Gandhi,  wrote extensively about vegetarianism and once said "The greatness of a nation and its moral progress can be judged by the way its animals are treated. To my mind, the life of a lamb is no less precious than that of a human being."
So I say to you today, that the greatest way to honor veterans is to achieve world peace.  Speak up. You and your beautiful, peaceful vegan heart, much like Ghandi, can inspire thousands. That's what I am hoping to do. Vegan Day 559 – Wish me luck

Wild Rice Stuffed Squash with Pecans & Sweet Dried Cherries
Wild Rice Stuffed Squash with Pecans & Sweet Dried Cherries
Ingredients
2 acorn squashes (1½ pounds each), halved lengthwise, seeds removed
2 tablespoons earth balance butter (or olive oil but I like the richness of the earth balance butter)
1 shallot, minced
2 garlic cloves, minced
½ teaspoon dried rubbed sage
½ teaspoon rosemary
½ teaspoon thyme
⅛ teaspoon allspice
Coarse salt and ground pepper
1 box (6 ounces) wild-rice blend (seasoning packet discarded)
½ cup dried cherries
½ cup pecans, chopped
Instructions
Preheat oven to 450 degrees.
On a rimmed baking sheet, arrange squash cut side down; cover sheet tightly with aluminum foil.
Roast until tender when pierced with the tip of a paring knife, about 40 minutes.
Meanwhile, in a large saucepan, heat earth balance butter over medium.
Add shallot, garlic, thyme, allspice, rosemary and sage; season with salt and pepper. Cook, stirring occasionally, until tender, 3 to 5 minutes.
Add rice and 1¾ cups water; bring to a boil, cover, and reduce heat to low. Cook until tender, without stirring, about 25 minutes.
Remove rice from heat, and stir in cherries and pecans; Taste and adjust seasonings - you may need more - season stuffing with salt and pepper.
Season the inside of each squash half with salt and pepper. Dividing evenly, mound stuffing into halves, and serve.