This super easy and healthy dish pairs pulled jackfruit with a spicy Sriracha and garlic sauce topped with cooling herbs for a delicious flavor combination.
If you have never used jackfruit before, this pulled jackfruit recipe is a good place to start.
In the past year jackfruit has gone from a relatively unknown food to one of the fastest rising food trends. It saw a 131% increase in popularity in 2017.
Jackfruit is an exotic fruit grown in tropical regions of the world and is native to South India. It is the largest tree-borne fruit in the world and can weigh up to 100 pounds and grow up to three feet long.
A ripe, unopened jackfruit has a pungent odor. But the pulp of the opened fruit smells sweet. The best thing about green pulled jackfruit is that  it doesn't have a strong taste on its own, so it's able to soak up all kinds of flavors.
The reason why jackfruit is so popular is because it is an excellent vegan meat substitute based on its texture, which is similar to pulled meat like pork. Another selling point is that it's a whole ingredient, rather than a processed faux meat.
Since jackfruit can withstand tropical climates, it is also a sustainable food.  It could be a major source of calories and nutrients for people in developing countries who are at risk for starvation. And researchers say jackfruit could replace wheat, corn and other staple crops threatened by climate change.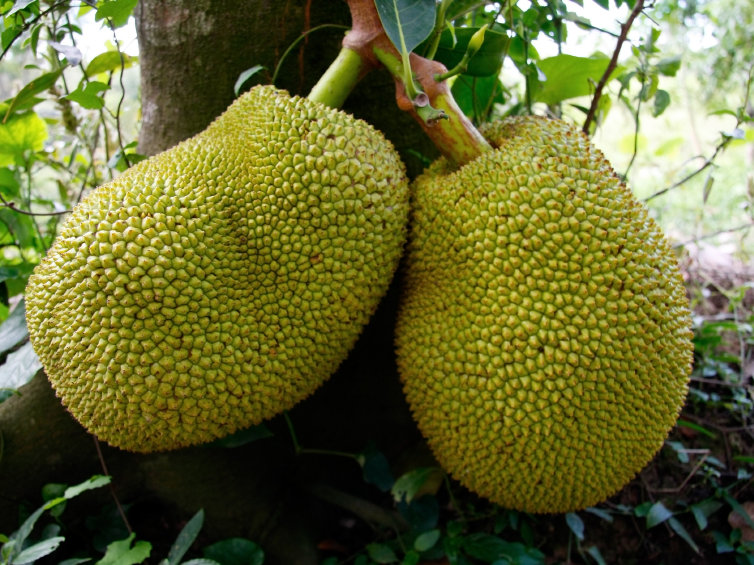 Young Green Jackfruit
Most importantly, jackfruit is considered a miracle fruit because it rich in energy and can provide so many nutrients including vitamin A, vitamin C, magnesium, vitamin B6, and fiber.
For those of you who are new to jackfruit, there a many ways it can be used. Many people substitute jackfruit when creating barbecue sandwiches like this No Bones Baby Jackfruit Barbecue Sandwich. I love to make Jackfruit Tacos with Roasted Tomato Salsa & Coleslaw.  Like tofu, it is a good base for any flavors you enjoy so the sky is the limit for pulled jackfruit.
Last but not least, jackfruit can be found fresh in the U.S., but I always buy my pulled jackfruit canned. Make sure you always buy young green jackfruit in brine and not in syrup.
Hope you enjoy this Sriracha & Garlic Pulled Jackfruit with Mint and Cilantro over Cabbage Leaves.
Don't miss any of Ordinary Vegan's FREE recipes by signing up here.
Join our health and wellness community on Facebook. There are over 315,000 strong, vibrant community members waiting to embrace you.
Many people in the wellness world are turning to cannabidiol, commonly referred to as CBD oil from Hemp, for its powerful anti-inflammatory and anti-anxiety effects. You can now purchase safe and effective vegan CBD Oil on Ordinary Vegan. Link here.
My mission is to provide you with the highest quality CBD oil from hemp on the market.
Learn more about how CBD Oil from Hemp can help you.
Sriracha & Garlic Pulled Jackfruit with Mint & Cilantro Recipe
Sriracha & Garlic Pulled Jackfruit with Mint & Cilantro
You can find cans of young green jackfruit in brine in most mainstream grocery stores or Asian grocery stores.
Ingredients
1 10 ounce can of young green jackfruit in brine, drained, rinsed and shredded into bite-sized pieces
1-2 teaspoons of olive oil (or use a non-stick pan if you are oil-fee)
4 cloves garlic, minced
2 tablespoons of soy sauce
4 tablespoons of water
2 tablespoons Sriracha sauce
¼ cup chopped fresh mint
2 tablespoons chopped cilantro
2 sliced green onions
Lime wedges for garnish
Lightly steamed cabbage leaves (optional)
Instructions
Pat dry the drained, rinsed, shredded jackfruit.
Heat the oil in a large saute pan. When hot, add the jackfruit. Sear on both sides for 2-3 minutes to make the jackfruit a little golden brown.
Add the soy sauce, water, garlic and Sriracha to the pan. Cook for another minute or two.
Toss with the mint and cilantro. Serve over some steamed cabbage leaves and top with sliced green onions and a squeeze of lime.