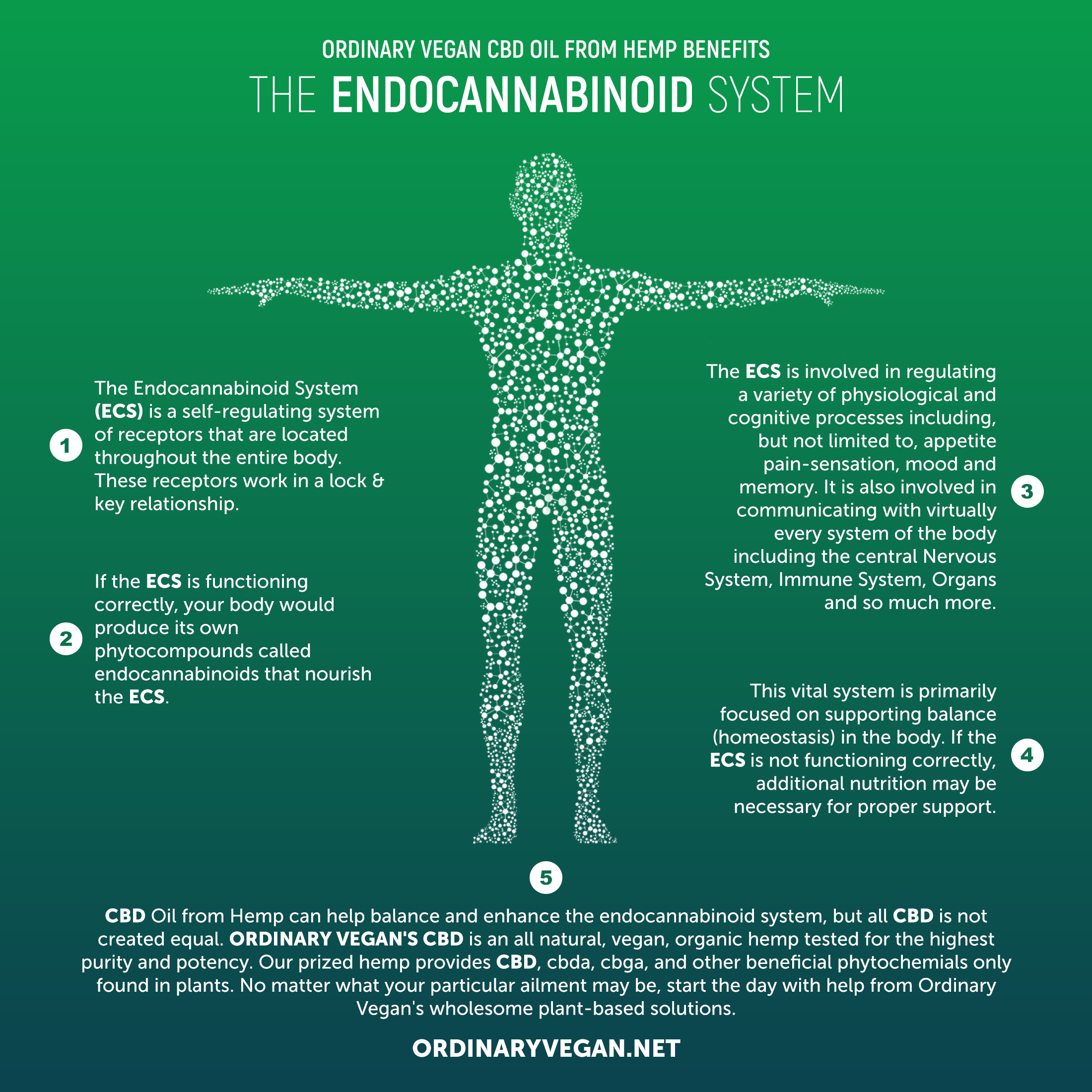 Ordinary Vegan is committed to providing the highest grade of pure CBD oil with no added unnatural ingredients. 
Most people don't understand precisely how and why pure CBD oil from hemp works so today I want to explain The  Endocannabinoid System (ECS) and how it affects virtually every system of our body. 
First and foremost, what is the history of CBD oil from Hemp?
CBD  has a long and rich history with mankind. Humans have been cultivating the hemp plant since 4000 years BCE. 
North America was first introduced to hemp in 1606. Ever since, American farmers grew hemp for different products like paper, lamp fuels, and ropes. In the 1700s, farmers were even legally required to grow hemp as a staple crop. Thomas Jefferson wrote the draft of the Declaration of Independence on hemp paper. 
The death of farming hemp came in 1970 when the Controlled Substances Act classified hemp as an illegal Schedule 1 drug because it looked so much like it's cousin plant – marijuana. Yes, they are both from the cannabis family, but hemp is non-psychoactive meaning you can't get high from hemp. The government thought it would be too much trouble for their agents to distinguish between marijuana and hemp so they made both of them illegal .
This was a sad state of affairs because hemp could build cars, homes, textiles, food and more. It is also one of the most sustainable crops you can grow.
After years of fighting to get the government to let farmers in the US grow hemp, The Hemp Farming Act of 2018 was passed. This bill legalized commercial production of hemp in the United States. Since pure CBD oil is extracted from hemp, CBD from hemp is now legal in all 50 states.
What is pure CBD oil from hemp?
Cannabidiol, also known as CBD, is one of over 60 plus naturally occurring cannabinoid compounds found in the hemp plant. CBD is the most abundant non-psychoactive cannabinoid found in hemp. 
How does CBD oil from hemp work?
As you can see from the graphic above, CBD oil can help balance and enhance the  Endocannabinoid System also known as ECS. 
The ECS is a self-regulating system of receptors that are located throughout the entire body. These receptors work in a lock and key relationship. 
The ECS is involved in regulating a variety of physiological and cognitive processes including, but not limited to, appetite, pain-sensation, mood, and memory. It is also involved in communicating with virtually every system of the body. 
When the ECS is not working correctly, it can create a wide range of ailments and symptoms.
Pure CBD oil from hemp can help balance and enhance the Endocannabinoid System, but all CBD is not created equal. It is very important that you obtain CBD from trusted sources. 
Since 2011, Ordinary Vegan has dedicated her life to health and wellness and educating others on the power of vegan nutrition.
Ordinary Vegan's CBD is an all natural, pure, vegan, organic hemp tested for the highest purity and potency. It provides CBD, cbda, cbga, and other beneficial phytochemical only found in plants.
No matter what your particular ailment may be, pure CBD oil may help. 
Thanks for stopping by and being part of our healthy community. My number one goal is to help you live a long and healthy life.
You can find all Ordinary Vegan's products here. If you have any questions or concerns, don't hesitate to reach out to me at questions@23.235.200.4.