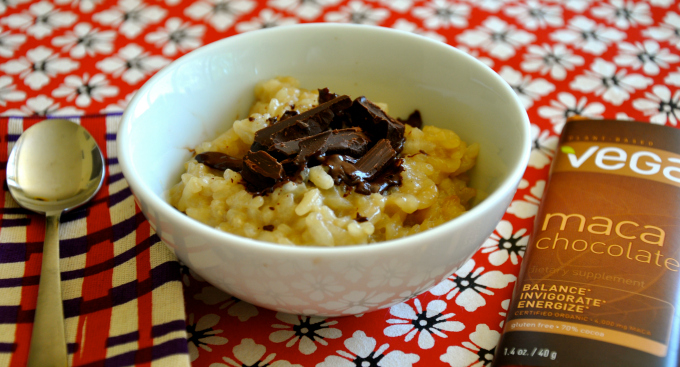 Orange Rice Pudding with Shaved Dark Chocolate
For me, there is nothing like the combination of orange and dark chocolate. It brings back wonderful memories of the orange sherbert chocolate ice cream bars I ate as a child.
As a homage to these orange sherbert bars,  I decided to make this creamy orange rice pudding. I topped it with some shaved dark chocolate with maca.
If you are not familiar with maca, it is becoming a very popular "superfood."  It is said that maca has the capability to regulate, support, and balance the hormonal systems of men and women, and can enhance fertility and sexual performance.
Maca is also used to treat numerous conditions including anemia, fatigue, depression and PMS.
Hope you enjoy this healthy plant based vegan orange rice pudding with shaved maca chocolate as much as we did. Wishing you a peaceful and compassionate week.

Vegan Rice Pudding with Shaved Vega Mac Chocolate
Ingredients
⅔ cups short-grain rice
3 cups water
3 cups non-dairy nut milk (I like almond)
½ teaspoon salt
1 4-inch cinnamon stick
zest from ½ orange, cut in large strips
¼ cup vegan brown sugar
¼ cup organic pure maple syrup
1 teaspoon vanilla extract
shaved vegan Vega Mac Chocolate bar (You can use a grater or sharp knife)
Instructions
Rinse the rice several times until the water runs clear. In a large saucepan, combine the water and non-dairy milk with the salt, cinnamon stick and zest, and bring to a simmer over high heat.
Place the rice in a separate heavy saucepan. Stir in 2 cups of the simmering nut milk (avoiding orange strips & cinnamon stick) and bring to a simmer over medium-high heat. Cook, stirring occasionally, until the rice has absorbed almost all the liquid.
Continue cooking the rice as you would risotto, adding the nut milk, a ladleful at a time. When the rice is almost tender, stir in the brown sugar, maple syrup and vanilla extract. Continue cooking, stirring frequently to make sure the rice does not stick to the bottom of the pan, 25 to 30 minutes total. The finished rice will be thick and creamy.
Put the rice in a medium bowl and cover with plastic wrap pressed flat against the surface. Refrigerate until chilled, and serve garnished with shaved Vega Maca Dark Chocolate Bar.
*You can also serve hot with shaved melting maca dark chocolate.