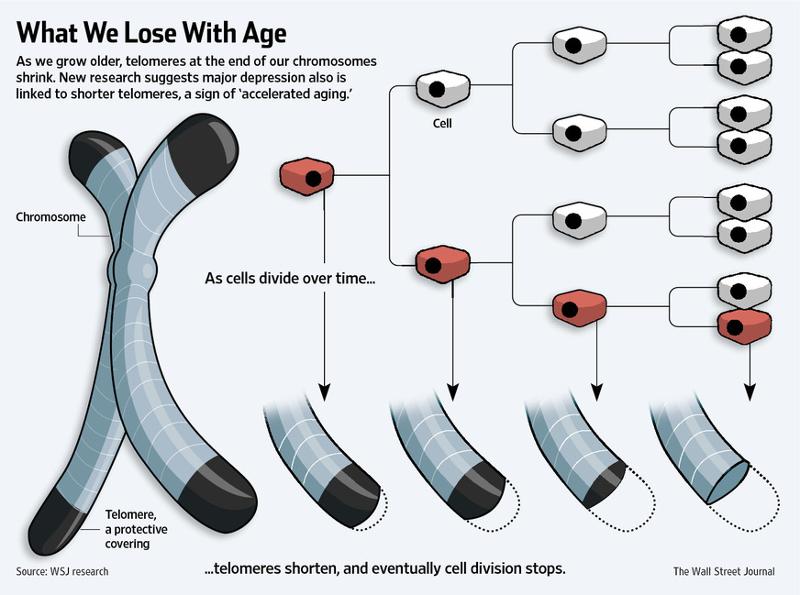 How Long Are Your Telomeres?
I was very intrigued by a television segment I saw this week on the Today Show. It was about telomeres which are a DNA sequence at the tip of a cell's chromosome in human beings. The telomere protects the chromosome from deterioration and plays a crucial role in cells replication. We all have telomeres and the longer your telomeres the longer you live. I'm no scientist but I get that. Pretty simple.
My first question was "how does my vegan lifestyle affect the size of my telomeres and is there anything I can do to improve their length??" Come to find out – my vegan lifestyle has already impacted my telomeres and here is how.
According to scientific studies, one of the most powerful ways to extend life and increase telomeres size is to reduce food intake while still satisfying nutritional needs. For instance, experiments with rodents, (never thought I would use the word rodents in a food blog) have increased telomeres length and life span by 50% through dietary restrictions. Fortunately, it is never to late to make these changes. Mice whose caloric intakes weren't reduced until they were 19 months old (equivalent to late middle age in humans ) showed significant increase in telomeres size and life span after just a couple of months on less calories.
OK – so what does that mean to me?
As we all know, the vast majority of Americans eat considerably more calories than required. Many people who overeat are surprised to find out they're still nutritionally deficient despite the quantity of food they eat. Nutritional science is providing compelling evidence that we're poisoning ourselves with excess food and shortening our lifespan and promoting disease. Although a vegan diet can be difficult to maintain – it can also help you lose weight because your daily calorie intake is likely to drop when you give up animal-derived foods. Most vegan diets help you eat an average of 500 fewer calories per day which is approximately a pound a week. Even though I did not become a vegan for weight loss, I personally lost 6 lbs in less than 60 days and never felt hungry. Even if you are not vegan – reducing your calories by 25% have shown to lengthen telomeres and help you live a longer, healthier life for the people you love.
The Future of lengthening your Telomeres
A company called TA Sciences is currently manufacturing a supplement in a pill called TA-65 which is suppose to stop telomeres from shortening resulting in heaping halt the aging process. TA-65 comes from extracts of the chinese herb astragalus which has been used for medicinal purposes for over a 1,000 years. You can buy an astragalus supplement (400mg) online and at many health food stores. Always check with your doctor or trained natural healer about amounts. The only side effects I can find online are mild gastro discomfort and sometimes an increase in inflammation in existing skin disorders. There is also a powder that you can boil with water and drink. The suggested amount is 5-15 grams a day. It might also help with insomnia.
Now on to the good stuff – my favorite vegan food recipes! I want to share this yummy, super healthy, sunflower-seed bran bread. I know some of you are saying – I don't have time to make homemade bread. Make time if you can because it is worth it and very good for the soul. It will last a long time in the freezer (wrapped in plastic) and you can slice a piece every morning – thaw and toast. I like to eat mine with canola spread or almond butter. It is very filling and a great way to start the day. Also good for snacking. Heading into day 77 – wish me luck!

SUNFLOWER SEED BRAN BREAD
Ingredients
1 tbsp active dry yeast
1 tbsp maple syrup
1¼ cups lukewarm water
2 tbsp canola oil
2 tbsp dark molasses
1½ tsp salt
½ cup wheat bran
½ cup sunflower seeds
2½ to 3 cups whole wheat flour, plus more for dusting
Instructions
In the bowl of an electric mixer fitted with a dough hook, dissolve the yeast in the water. let stand 10 minutes - Add the maple syrup, oil and molasses.
With the mixer running, add the salt, bran, sunflower seeds and 2½ cups of flour. Continue mixing until the dough is smooth and elastic and pulls away from the sides of the bowl. Add more flour if necessary.
Transfer the dough to a bowl dusted with flour, cover, set aside in a warm area, and let rise for 30-40 minutes, or until doubled in volume.
Pre heat the oven to 350 degrees - Lightly spray a 9½ by 4½ inch load pan with vegetable oil spray.
Turn the dough out onto a lightly floured board and knead vigorously for 7 to 8 minutes until smooth. Form into a loaf and put in the prepared pan. Cover and let rise again for 20 to 30 minutes.
Bake for about 50 minutes, or until the bread is browned on top and the bottom is firm. Turn out of the pan and cool on a wire rack.