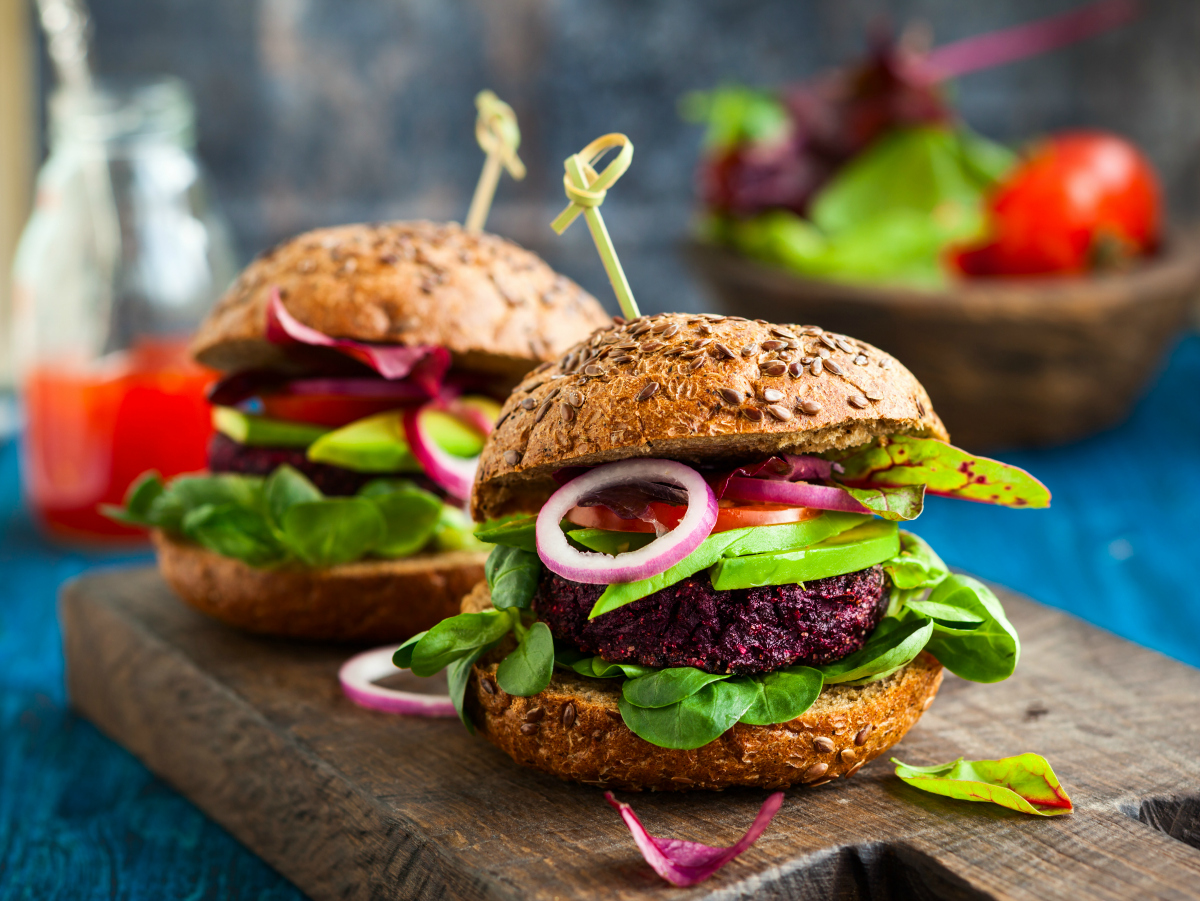 For the past couple of years, I have been on a quest to create the perfect vegan black bean burger.
After many different attempts, I believe that I may have accomplished my goal with this vegan black bean burger with quinoa and beets.
Burgers made with animal protein have lots of sticky saturated fats which helps them bind together. One of the problems I have had in the past with my vegan black bean burger was it would fall apart because there was no fat binding it together.
Now with the discovery of aquafaba liquid, I have been able to create the perfect vegan burger.
If you are not familiar with aquafaba, it is that liquid hiding in your can of chickpeas. Not only can aquafaba replace an egg in a recipe, but also be used to make a meringue or whipped cream.
So not only does this vegan black bean burger bind together, it is nutritious, packed with flavor, and easy to prepare.
While the beets, quinoa, and black beans give it a great texture and a sweet and smoky flavor.
Therefore I have feeling this is going to be one of your favorite vegan burgers too.
Thanks for stopping by. Don't miss any of Ordinary Vegan's free recipes by signing up here. If you are a fan of vegan burgers, you will probably enjoy my vegan burger with a spicy mango ketchup.
You can also download a free vegan protein list.
Don't miss Ordinary Vegan's  podcasts on plant-based nutrition. You can listen in iTunes or right here on this site.
Vegan Black Bean Burger with Beets and Quinoa
Vegan Black Bean Burger with Beets and Quinoa
This gluten-free vegan black bean burger is hearty, flavor packed and binds perfectly together with aquafaba liquid.
Ingredients
For The Veggie Burger
1½ cup cooked quinoa
1¼ cup cooked black beans, drained and rinsed
8 ounces cooked beets, chopped fine*
1 small shallot, finely chopped
2 cloves garlic, finely chopped
2 tablespoons apple cider vinegar
2 tablespoons fresh lime juice
2 tablespoons gluten-free flour (or any flour)
2 tablespoons ground flaxseed
½ teaspoon salt
½ teaspoon fresh ground black pepper
3 tablespoons of aquafaba liquid*
¼ cup cilantro leaves, chopped
For Assembly
6 gluten-free buns
Spicy brown mustard or Dijon mustard
Lettuce
Red onion, sliced
Instructions
Preheat the oven to 400
In a large mixing bowl, add the black beans and beats and use a potato masher to mix them together. Stir in the quinoa, shallot, garlic, vinegar, lime, flour, flaxseed, salt, pepper, cilantro and aquafaba and combine well. You could also use a food processor but keep it a little chunky.
Use your hands to divide the mixture into 6 equal portions, shaping each into a patty.
Transfer to a baking sheet lined in parchment paper and bake for 15 minutes or until the the tops are firm.
*Roasted Beets - Heat the oven to 400 degrees F. Wrap the beets tightly in aluminum foil and place on a baking sheet. Bake until fork-tender, 50-60 minutes. Unwrap and cool enough, remove peels.
*Aquafaba liquid is the liquid in a can of chickpeas. You could also use 1 flax egg.