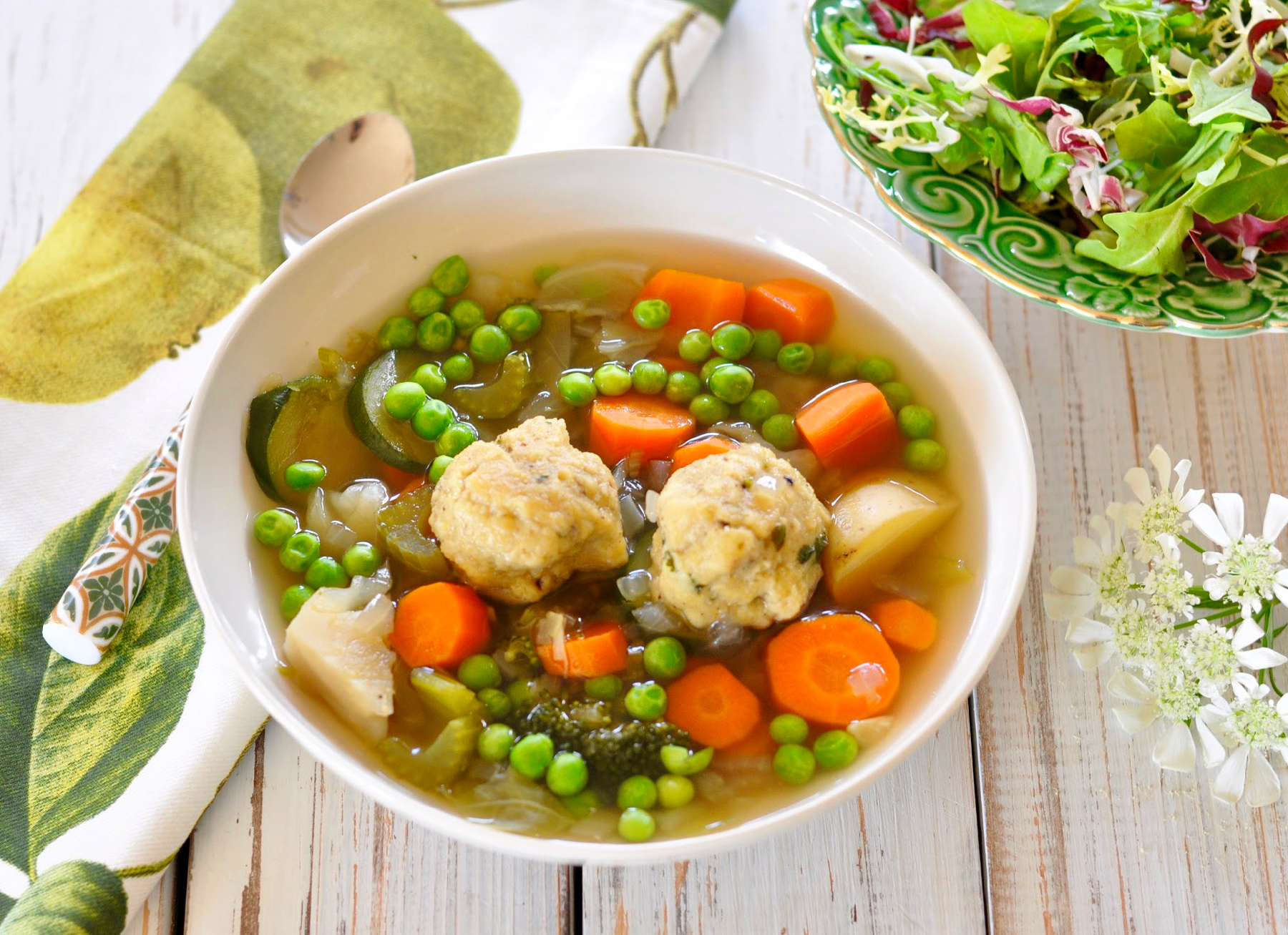 One of the secrets to a successful vegan diet is consuming satiating meals like these rich homemade vegan dumplings over soup. Cozy, hearty, comfort food!
What makes these vegan dumplings extra special is that they are made with chickpea flour. Unlike all-purpose flour, chickpea flour is high in protein, fiber, and micronutrients, while being low in calories and carbohydrates.
Chickpea flour is also naturally gluten-free and contains an impressive 11 grams of protein in half a cup.
You can substitute all-purpose flour with chickpea flour for many recipes including pancakes and muffins.
When shopping, another name for chickpea flour is garbanzo bean flour.
Take it from me, these vegan dumplings can make any soup or stew a special occasion. Just use your imagination.
Vegan Dumplings with High Protein Chickpea Flour Atop Vegetable Soup
As far as the soup goes, anything goes. Add all your favorite ingredients. The best thing about vegetable soup is all you need is a bright, colorful array of vegetables and herbs.
Hope you enjoy this vegan vegetable soup with chickpea dumplings as much as we did.
The current wintery weather pattern is showing no signs of giving in to spring.  So here are some more flavorful soups to help keep you warm and cozy. Like my easy Hot and Sour Cabbage Mushroom Soup, Vegan Chicken Dumpling Soup or my Tomato Soup with Fire Roasted Tomatoes and Crunchy Roasted Chickpeas.
Don't miss any of Ordinary Vegan's recipes by signing up here.
Please follow me on Instagram and if you create any of my recipes, please hashtag #ordinaryvegan so I can share them.
Last but not least, Ordinary Vegan now has a line of all natural CBD oil products made from American grown organic hemp.
Many people are turning to cannabidiol, commonly referred to as CBD oil, for its powerful anti-inflammatory and anti-anxiety effects. I believe this powerful plant can be a natural remedy for many conditions.
And my goal is to provide you with the safest and most reliable vegan CBD oil available.
No matter what your particular ailment may be, start the day with help from Ordinary Vegan's CBD Oil made from hemp.
If you have any questions about CBD Oil, don't hesitate to reach out to me at questions@23.235.200.4. Or visit our FAQ page.
Thanks for stopping by.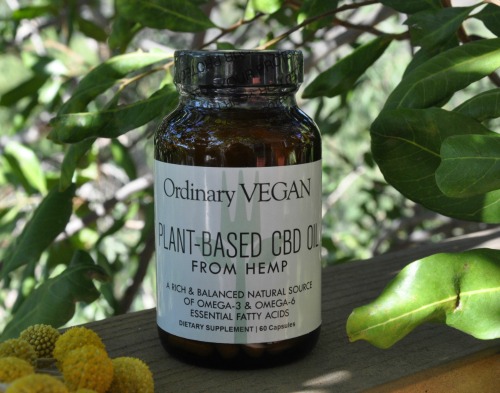 Vegan Dumplings with High Protein Chickpea Flour Atop Vegetable Soup
In order for these to stay firm, make sure you lower the heat to the lowest of low - barely a simmer, gently gently drop the tablespoons on top, cover with the lid and cook for 10 minutes. Try not to peek. 🙂
Ingredients
Vegetable Soup
½ cup vegetable broth for sautéing
4-6 cups vegetable broth for soup
2 celery stalks, chopped
1 red onion, chopped
4 garlic cloves, chopped
2 large carrots, diced
½ head Savoy cabbage, finely sliced
1 large waxy potato, peeled and cut into ½ inch cubes (if you are using red or yellow you can leave the skin on)
1 cup of frozen or fresh peas
2 cups of spinach, coarsely chopped
1 teaspoon salt
Fresh ground pepper
1 boquet garni - 4 sprigs of thyme, 1 bay leaf and a handful of parsley * see below
Vegan Dumplings
1 cup of Garbanzo bean flour (aka Chickpea flour)
½ cup Cornmeal
2 teaspoons baking powder
½ teaspoon salt
2-3 tablespoons vegan butter
⅔ cup unflavored, unsweetened, non-dairy milk
2 tablespoons minced fresh parsley
Instructions
Vegan Dumplings
In a medium bowl, toss together the chickpea flour, cornmeal, baking powder and salt. With your fingertips, work the butter into the flour until the mixture is crumbly. Using a fork, stir in the milk until blended. Stir in the minced parsley and set aside.
Vegetable Soup
Heat the ½ cup of vegetable broth in a 4-quart pot over medium-high heat. Add the onion and celery and cook, stirring, until soft, about 5 minutes adding more vegetable broth if sticking. Add the garlic and saute for another minute.
Add 4 cups of of vegetable broth, carrots, cabbage, potato, salt, pepper and bouquet garni. Bring the soup to a gentle simmer and cook for about 25 minutes. Add the spinach and peas. Remove the the boquet garni. Add more vegetable broth if needed and bring back to a high simmer.
Drop tablespoons of the dumpling batter in 16 clumps over the top of the soup. Reduce the heat to a low simmer, cover until the dumplings are cooked through, about 10 minutes. Try not to peek.
Ladle the soup into bowls and serve with 2 dumplings each.
Bouquet Garni
*Spread out a small piece of cheesecloth and place the herbs in the middle. Bring the four corners of the cheesecloth together and tie them with kitchen string, forming a secure bundle with no gaps.