Vegan Spring Rolls with Hot & Sweet Dipping Sauce
There are so many reasons I love spring, but my favorite part is the fresh crop of seasonal vegetables that appear at my local farmer's market. Asparagus, sweet peas, snow peas, artichokes, arugula, beets, purple carrots and green onions. I love them all and any of those vegetables can be part of these fresh vegan spring rolls.
At first, I was a tad intimidated to make spring rolls. But with a little practice, I discovered that vegan spring rolls are easy to prepare and a lot less expensive than store-bought.
Of course, I must be honest. My favorite part of making vegan spring rolls is creating a dipping sauce. This week's dipping sauce contains two of my favorite flavors. A hint of sweet and hint of hot. I also added ginger to the sauce to give it a little zing.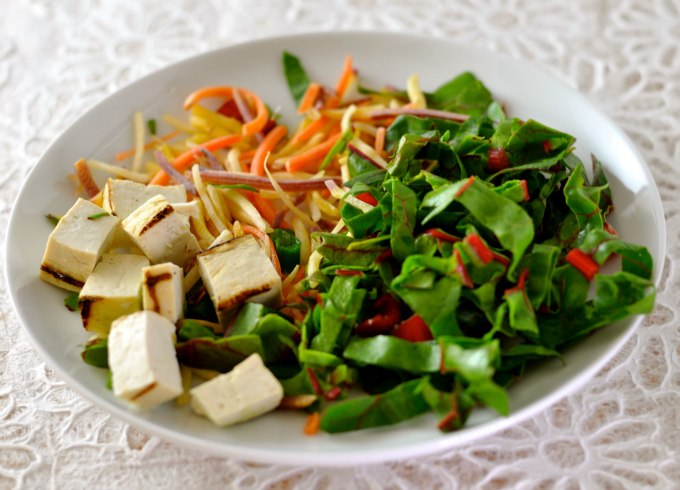 To sweeten the dipping sauce I made sure I used 100% Zulka vegan sugar.
In the month of March, I teamed with Zulka Sugar to bring awareness to vegan sugar. Most people don't realize that bone char is used to make refined sugar white.
Bone char is made from the bones of cattle from as far away places as Afghanistan, Argentina, India and Pakistan. The bones are sold to traders in countries like Brazil and Egypt, who then sell them to the U.S. sugar industry.
Bone char is also used in other types of sugar. Brown sugar is created by adding molasses to bone char refined sugar. Confectioners sugar which is sugar mixed with cornstarch is also made with bone char refined sugar.
If you want to avoid all bone char refined sugars, try Zulka.
Zulka will be the first sugar company that will label it's sugar Bone Char Free.  It's available at most mainstream grocery stores, or you can use this handy store locator. You can also learn more about vegan sugar here.
Vegan Spring Roll Recipe
Now let's talk about this yummy vegan spring roll. It's much easier to prepare than it looks.
All you need are some of your favorite vegetables julienned and shredded and some rice paper wrappers. I also like to add some grilled tofu and noodles, but anything goes.
Hope you enjoy this vegan spring roll as much as I did. You can sign up here for all of Ordinary Vegan's free recipes.
Learn more about plant-based nutrition on my podcasts on iTunes. Or you can listen to them right here on my website.

Vegan Spring Rolls with Hot & Sweet Sauce
Vietnamese inspired spring rolls with crispy tofu and a hot and sweet dipping sauce.
Recipe type:
appetizer or main
Ingredients
Dipping Sauce
1½ teaspoons of fresh ginger, minced
¼ cup tamari or low-sodium soy sauce
4 tablespoons vegan sugar
¼ cup fresh lime juice (about 2 to 3 limes)
1 teaspoon sriracha hot sauce
Spring Rolls
6 (8-inch) rice paper wrappers
½ cup of julienned carrots
3 cups of shredded greens (swiss chard or kale)
4 ounces of super thin rice noodles like vermicelli
3 tablespoons chopped fresh mint
3 tablespoons chopped fresh cilantro
6 slices of avocado (optional)
Tofu
8 ounces of tofu, drained and dried, cut into 6 rectangles about 6 inches each
1 teaspoon of olive oil
3 tablespoons of cornstarch
Instructions
Dipping sauce
In a small bowl, combine the soy sauce, sugar, ginger, lime juice and sriracha. Whisk until the sugar is completely dissolved. Can be up to 4 days in advance tightly covered and refrigerated.
Noodles
Add the rice noodles to boiling hot water. Cook according to instructions on package, Drain and set aside.
Tofu
Toss the tofu in the 3 tablespoons of cornstarch. Heat the olive oil in a large non-stick skillet over medium heat. Add tofu and cook until crispy and brown on both sides. Takes about 5 minutes. Remove from heat and set aside.
Assemble Spring Rolls
Pour very hot water into a shallow dish and immerse the rice paper to soften about 15 seconds.
Remove from water and pat both sides dry with a paper or clean towel.
To the bottom third of the wrapper add a small handful of noodles. Layer the carrots, fresh herbs, greens and 1 piece of tofu on top. Add a slice of avocado if using. Gently fold over once, tuck in edges, and continue rolling until seam is sealed.
Set the roll on a platter and cover with a damp kitchen towel. Repeat with the remaining wrapper and ingredients.
To serve, slice each roll diagonally in halt and place two halves on each of six plates.
Divide the dipping sauce among six small serving bowls and serve.