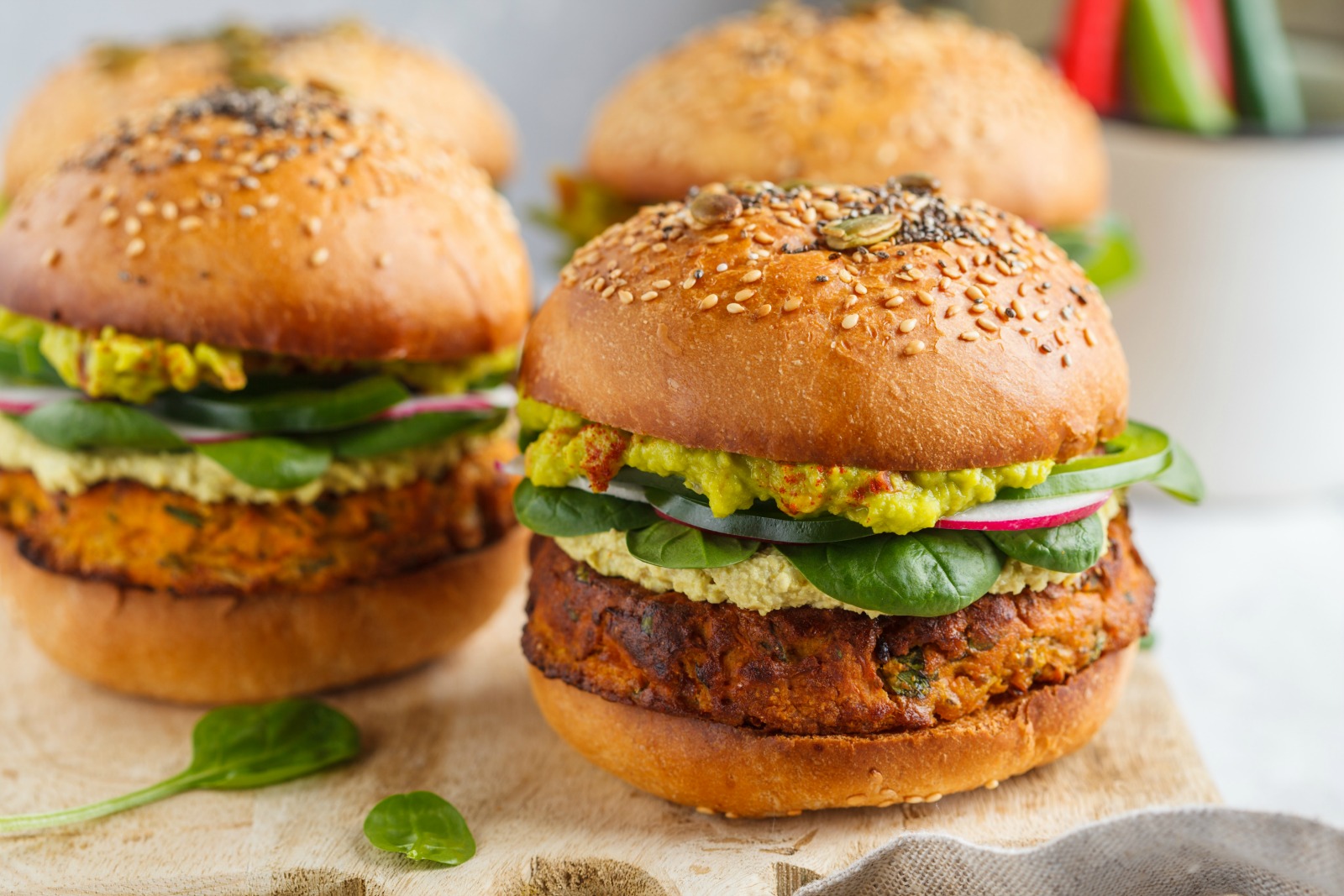 Before we discuss my favorite new recipe, vegan sweet potato burger, I want to talk about the key ingredient; sweet potatoes.
If you are an active member of our health and wellness community, you have probably heard me speak of the health benefits of sweet potatoes a few times. But it is worth repeating because they are a true superfood.
Here are my top 5 favorite reasons to consume more sweet potatoes and I recommend 3-5 servings a week.
Sweet potatoes are high in vitamin B6, vitamin E and an excellent source of vitamin C. Vitamin B6 can impact your mood, your sleep, and your pain levels. B6 is often depleted by stress. If you don't replace your B6 with the right food, anxiety and stress can worsen. So if you have a lot of pressure in your life, I highly recommend lots of sweet potatoes.
Sweet potatoes are a good source of iron, potassium, and manganese. Manganese is often called the anti-stress mineral and manganese-rich foods can help a person feel calmer
Sweet potatoes do not cause sugar spikes. Although most calories in sweet potatoes come from carbs, they are low-glycemic carbs and rich in fiber, which helps with blood sugar control.
Sweet potatoes help ward off cancer because they are high in carotenoids. Beta-carotene, lycopene, and lutein are all different varieties of carotenoids in sweet potatoes. They all act as antioxidants with potent cancer-fighting properties and protect cells from free radicals.
Last but not least. Sweet potatoes are the fountain of youth! The people from Okinawa have a life expectancy among the highest in the world, and 27% of their diet consists of sweet potatoes.
If you are asking yourself how are you going to eat 3-5 servings of sweet potatoes a week?  There are many ways to consume them.  Like this vegan sweet potato burger which will go down as one of my favorite new recipes.
Or keep it simple. Just peel, cut and roast the potato chunks in the oven until they are soft and caramelized for extra sweetness. Or cut into wedges, toss with some seasoning and bake to make sweet potato fries.
Also, don't feel like you always have to use the same spices for this vegan sweet potato burger. Switch it up. You could create an Asian inspired version by adding garlic, ginger, basil and soy sauce.
Try Mexican flavors, by adding some oregano, cilantro, cumin and chili powder. That selection of spices would taste delicious topped with a roasted poblano pepper.
So anything goes.
If you love this vegan sweet potato burger recipe as much as I did, I know you will enjoy my Twice-Baked Stuffed Sweet Potato with Cashew Cream and this Chickpea Stew with Sweet Potatoes, Spinach, Lemon and Roasted Red Pepper Puree. 
Thanks for joining me today and I hope you enjoy today's plant-based recipe.
If you try this recipe, please let me know!  Leave a comment, rate it, and don't forget to tag a photo #ordinaryvegan on Instagram.
Don't miss any of Ordinary Vegan's FREE recipes by signing up here.
If you want to learn more about plant-based nutrition and how to get started on a vegan diet, Ordinary Vegan has a podcast. You can listen here on this website or in iTunes.
Join our health and wellness community on Facebook. There are over 315,000 strong, vibrant community members waiting to embrace you.
Many people in the wellness world are turning to cannabidiol, commonly referred to as CBD oil, for its powerful anti-inflammatory and anti-anxiety effects. You can now purchase safe and effective vegan CBD Oil on Ordinary Vegan. Link here.I believe CBD oil can help many people living with anxiety disorders or chronic pain, and my mission is to provide you with the highest quality CBD oil from hemp on the market.
Because my number one goal is to keep you as healthy and as happy as possible. To learn more about how CBD oil may help you click here.
Vegan Sweet Potato Burger with Chickpeas & Spinach Recipe
Vegan Sweet Potato Burger with Chickpeas & Spinach
Swap out the beef for one of the healthiest foods on earth - sweet potatoes.
Ingredients
1½ pounds sweet potatoes
1 cup drained, rinsed cooked chickpeas
2 tablespoons Vegan Worcestershire sauce
4 tablespoons aquafaba liquid (liquid from the cooked chickpeas)
2 garlic cloves, minced
2 cups spinach
2 tablespoons chopped scallions, white part
1 teaspoon paprika (sweet or smoked)
1 teaspoon chili powder
½ teaspoon cumin
¼ teaspoon baking powder
½ teaspoon salt
Fresh ground black pepper
Light sprinkle of red pepper flakes (optional)
1½ cups of garbanzo bean flour (aka chickpea flour)
½ cup Panko bread crumbs (or more if needed)
1 teaspoon of extra-virgin olive oil to keep from sticking to saute pan or non-stick saute pan
Instructions
Pre-heat oven to 450 degrees f. Wash an scrub sweet potatoes, poke a few holes in the skin and place on a baking sheet
Cook until soft about 45-55 minutes. Skin sweet potatoes when cooled, and place into the food processor.
Add all the other ingredients to the food processor except for the garbanzo bean flour and bread crumbs and process until smooth.
Remove the mixture to a large bowl and mix in the garbanzo bean flour.
Add the gluten-free panko breadcrumbs and combine. Adding more breadcrumbs if still too sticky. Form into 4-6 patties.
Spray a large non-stick saute pan with a little oil and heat over medium-high heat. Add the patties and cook until brown, turning, about 3-4 minutes on each side.
Remove and keep warm.
To serve, place buns on a sheet tray and place in the oven. Toast until golden brown, about 3-5 minutes.
On the bottom of the bun place sweet potato patty. Top with mashed avocado, spinach leaves and lettuce. Spread the horseradish sauce on the top bun and place on top of the burger.
Horseradish Cream
Ingredients
½ cup raw unsalted cashews, soaked for 2-24 hours, rinsed and drained
¼ cup unflavored almond milk
2 tablespoons lemon juice
1 tablespoon organic maple syrup
4 tablespoons (or more) of freshly grated horseradish (add gradually and taste for. spiciness)
¼ teaspoon salt (or more to taste)
¼ teaspoon ground black pepper
Instructions
Add all the ingredients to a food processor. Blend until smooth. Taste for seasonings.