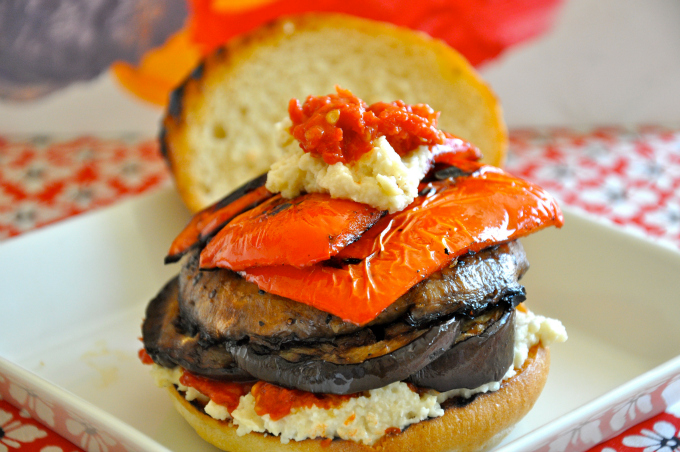 Roasted Vegetable Sandwich
with Vegan Ricotta & Tomato Relish
There will be a lot of grilling going on this weekend, and I look forward to another meatless Memorial Day.
Certainly not having meat, isn't a sacrifice compared to what we are celebrating this weekend. The real sacrifice is the one that the Military men and women make to our country.
I would like to send a big thanks to all of them, past and present, for their dedication and service.  Although I have always been a pacifist, I am in awe of the people who are willing to put their life on the line for us.
When I was a small child, I wrote a Memorial Day essay that won a contest. Unfortunately I don't have it anymore, but I do remember the first two lines went something like this. "I never understood the tingles that went up my spine as I watched a flag in a passing parade until I met my first veteran.
The flag was a symbol of everything he had to protect and I am grateful for his service".
Happy Memorial Day to all of you. Sending you lots of vegan love and support!
Now, on to food. Nobody is going to miss the meat if you serve them this yummy grilled roasted vegetable sandwich with ricotta and sun dried tomato relish. Messy, delicious, vegan burger heaven!  Hope you enjoy this roasted vegetable sandwich as much as I did.

Ordinary Vegan Roasted Vegetable Burger with Vegan Ricotta & Sun Dried Tomato Relish
Ingredients
1 vegan burger bun
1 red pepper, sliced
1 Japanese eggplant, sliced
1 Portabello mushroom
½ cup sun dried tomatoes
½ cup raw unsalted cashews
1 tablespoon lemon juice
¼ cup olive oil
⅛ cup balsamic vinegar
salt and fresh ground pepper
Instructions
For Burger
Cut the eggplant and red pepper into pieces that will cook quickly and evenly. All pieces should be of consistent thickness. Leave the portabello mushroom intact.
Marinate eggplant, mushroom and red pepper in olive oil and balsamic vinegar for 10 minutes or longer. Cover cashews with water.
Brush a grill with olive oil and heat.
When the grill is hot, place the red pepper, eggplant and portabello mushroom on the grill. Turning every couple of minutes until a little charred, soft and juicy. Do not overcook.
Remove from grill.
Split the bun open, place it cut side down on the grill, and grill until light golden brown, about 10 to 30 seconds. Turn over. Add ricotta on cut side. Cover grill and heat for approximately 15 to 30 seconds just warming the ricotta up. Remove from heat. Add about 2 tablespoons of sun dried tomato sauce. Stack grilled veggies on top. Add another dollup of ricotta and a dollop of sun dried tomato sauce and top with bun cover and dig in.
Ricotta
half cup of cashews, soaked in water for ten minutes and rinsed
one tablespoon lemon juice
half teaspoon salt
one eighth cup water
Puree until light, fluffy and ricotta like. Add more water if needed. Save left-overs in refrigerator.
Sun Dried Tomato Relish
half cup sun dried tomatoes soaked in boiling water for 10 minutes
one eighth cup of extra virgin olive oil
Fresh ground pepper
Puree to a chunky paste. Save left-overs in refrigerator.