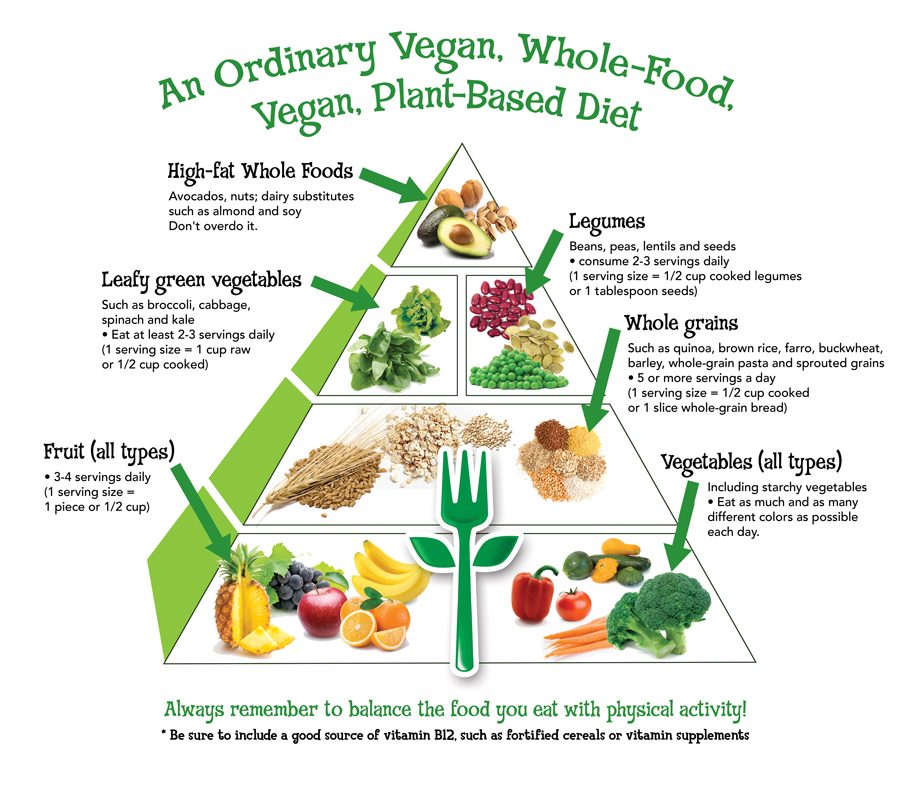 Welcome to the vegan food pyramid.
If you are here for the first time, congratulations on wanting to improve your health.
A vegan food pyramid consists of grains, vegetables, fruits, legumes and healthy fats like nuts, seeds and avocado.
There are many reasons to begin a healthy vegan diet.
Did you know that a vegan diet can lower your blood pressure and cholesterol? Since cholesterol is found only in animal products such as meat, dairy, and eggs, vegans consume a cholesterol-free diet. Many studies show that replacing animal protein with plant protein can lower blood cholesterol.
Vegan diets are also linked to lower blood pressure. There is now an abundant amount of scientific evidence that people who follow a vegan diet tend to have lower blood pressure.
A whole foods plant-based diet is also the number one way to improve your chances of not getting cancer. Many studies point to red meat and dairy as cancer promoters.
Diet changes are the cornerstone to treating type-2 diabetes and according to the American Diabetes Association, whole grains, legumes, proteins low in saturated fat, and non-starchy vegetables are the optimal diet for a type-2 diabetic.
The worst options are any foods that increase bad cholesterol like cheese, red meat and processed foods. If you are obese, you can expect dramatic weight loss. Research has shown that the average weight and BMI was lowest among vegans.
Additional health benefits are healthy kidneys, gallbladders and glowing skin. A plant-based diet can drastically improve your energy.
Vegan Food Pyramid For Health and Wellness
Plants also have high levels of dopamine and serotonin which can help boost levels in the human bloodstream creating feelings of peace and happiness.  There are so many reasons to follow a plant-based diet and this vegan food pyramid can guide you.
Don't miss Ordinary Vegan's podcasts for the latest nutritional information here on this website or on iTunes.
Thanks for stopping by. Wishing you a peaceful and compassionate week.