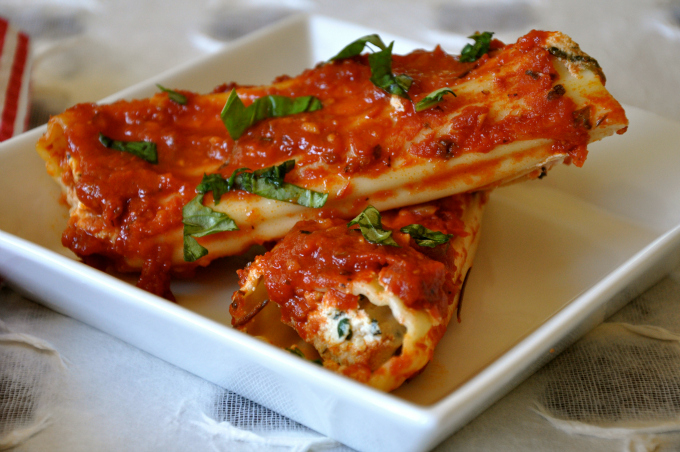 Often it can be a little challenging to be both crowd pleasing and plant-based especially when you are serving Italian baked manicotti.
People are definitely looking for cheese, but I had no complaints and no left-overs when I served this vegan baked manicotti with spinach ricotta made from tofu.
If you don't like the idea of using organic tofu, you could always replace it with a simple cashew ricotta cheese.
But the organic tofu is definitely more economical and mimics the ricotta quite nicely.
I like to serve my vegan manicotti with roasted vegetables,  salad and crusty toasted garlic bread.
Hope you enjoy this delicious vegan manicotti as much as we did. If  you love Italian cuisine as much as I do, you might enjoy this lasagna with zucchini, tomatoes and basil pistachio pesto or this yummy eggplant parmigiana with cashew ricotta.
Make sure you receive all Ordinary Vegan's free recipes by signing up here.
Wishing you a compassionate and peaceful week.
Vegan Manicotti with Spinach Ricotta
Ordinary Vegan Manicotti
Ingredients
Tomato Sauce
2 32 ounce cartons of crushed tomatoes
2 tablespoons extra-virgin olive oil
one small onion, chopped
2 cloves garlic, chopped
1 stalk celery, chopped
1 carrot, chopped
6 basil leaves, chopped
1 dried bay leaf
1 teaspoon sugar
½ teaspoon salt (or more to taste)
Fresh ground black pepper
Tofu Ricotta
1 pound extra-firm organic tofu (2 8 ounce packages)
2 garlic cloves, chopped
2 teaspoons dried basil
1 teaspoon dried oregano
1 tablespoon fresh lemon juice
2 teaspoons nutritional yeast
¼ cup fresh chopped parsley
Lasagna Rolls
15 eggless lasagna noodles (or 15 ricotta shells)
1 teaspoon olive oil
4 garlic cloves, minced
1 cup of cooked fresh or frozen spinach
2 tablespoons fresh chopped basil
1 teaspoon of salt
½ teaspoon of freshly ground black pepper
Instructions
Tofu Ricotta
Blend tofu, garlic cloves, oregano, basil, lemon juice and nutritional yeast in a food processor until combined. If you want a thinner ricotta, stream small amounts of vegetable broth into tofu mixture while blending until you obtain the desired consistency. Add the fresh parsley and combine.
Tomato Sauce
In a large non-stick pot, heat oil over medium high heat. Add onion and sauté until soft and translucent, about 3 minutes. Add garlic, celery and carrots and season with salt and pepper. Saute until all the vegetables are soft. Add a little veggie broth if the veggies stick instead of more oil.
Add tomatoes, basil, sugar and bay leaves and simmer on low heat for 1 hour. Remove bay leaves and check seasoning.
Add half the tomato sauce into a food processor. Process until smooth. Continue with remaining sauce.
You can freeze any left over sauce up to 3 months.
Lasagna Rolls Assembly
Cook the noodles in a large pot of boiling water until al dente according to instructions. Do not overcook. I like to undercook them by 1 or 2 minutes. You don't want them mushy. Drain and rinse the noodles and toss them with a little splash of olive oil to prevent sticking.
Preheat oven to 350 degrees F
Heat 1 teaspoon of olive oil in a large, nonstick saute pan over medium-high heat. Add the garlic and saute for a minute. Add the spinach, basil, salt and pepper. Cook for another 2-3 minutes.(Or you can steam the spinach. If steaming just add basil, salt, pepper and garlic directly to tofu in food processor)
Add the vegetable mixture to the tofu ricotta mixture.
Coat a 13 by 9 inch baking dish with 1 cup of tomato sauce.
Spread aprroximately four tablespoons of tofu ricotta on the lasagna sheet. Roll it up tightly and place it seam-side down in the baking dish. Repeat with the remaining noodles. Spread 1½ cups of tomato sauce over the lasagna rolls. Cover loosely with foil and bake for 45 minutes. Uncover and bake for 15 minutes more. Sprinkle with chopped basil or parsley or both and serve.