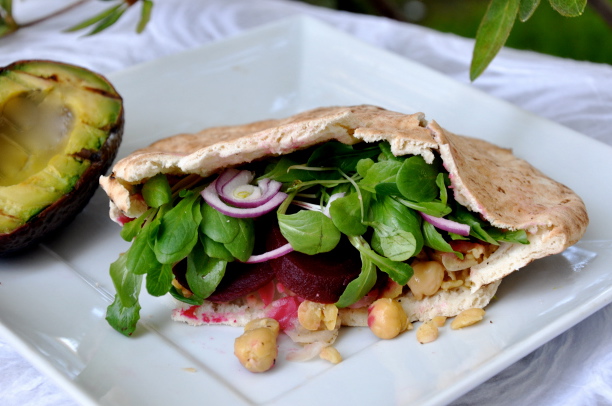 Often I am asked about vegan sandwich ideas especially from parents of vegan children. There are many simple recipes I recommend like peanut butter, bananas and strawberries or a wrap with hummus and avocado, but that can get boring.
I met a young boy on a plant-based diet who told me he was so sick of taking hummus and carrot sticks to school every day.  I really felt for him. So he and I came up with some vegan sandwich ideas that I wanted to share with you.
I also advised his mother to pack a lot of small containers with fruits, nuts, roasted chickpeas, grains, salads, edamame and sliced vegetables. It is crucial that vegan children eat a well-rounded whole foods diet that includes a grains, vegetables, fruits, leafy greens, legumes and healthy fats at every meal.
Now on to some vegan sandwich ideas.
One of my favorite plant-based sandwiches (pictured above) is this hummus, chickpea and beet sandwich stuffed with some microgreens and red onion with a squeeze of lemon.
Texture is everything so always add a lot of different textures to your sandwiches like red onion, radishes, beets, lettuce or garbanzo beans to make them stand out.  Also, all of these vegan sandwich ideas would taste delicious with a sprinkle of hemp or chia seeds for some added crunch and a healthy dose of amino acids.
Hope you enjoy all these plant-based sandwiches. Don't miss any of Ordinary Vegan's free recipes by signing up here.
Healthy High Protein Vegan Sandwich Ideas
Chickpea Pita Stuffed with Hummus, Sliced Beets, Red Onions & Greens
approximately 8 tablespoons hummus
2 pita pockets
1 cooked beet, sliced
1/2 cup cooked chickpeas
1/4 small red onion, sliced
Handful of your favorite greens or sprouts
Smear some hummus in a pita. Stuff with chickpeas, sliced beets and your favorite greens. You can also leave off the hummus and drizzle with my no-oil hummus salad dressing.
Makes 2
Avocado, Tomatoes & Red Onion Pita
Smear some mashed avocado in a pita. Stuff with tomatoes, red onion and sprouts. Sprinkle some sunflower seeds on top. Season with fresh ground pepper. Drizzle with olive oil or lemon juice.
White Bean, Artichoke Hearts & Baby Spinach Pita
Smear some mashed cooked white beans into a pita. Stuff with artichoke hearts, sliced red onion and baby spinach. Season with fresh ground pepper. Drizzle with harrisa.
Chipotle Beans & Avocado Pita
Combine 7 ounces of cooked red kidney beans with 1/2 of a chipotle in adobo (finely chopped) and a bit of the sauce. Smear on pita bread. Stuff with avocado, radishes and micro greens. Season with fresh ground pepper.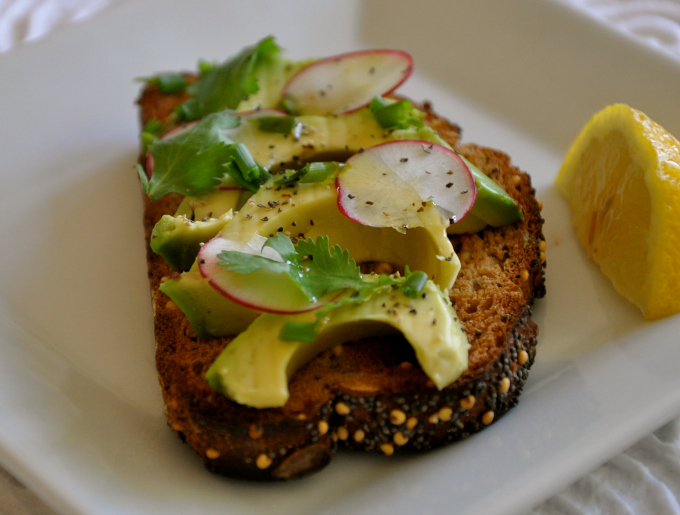 Avocado Toast with Sliced Radishes
One of my favorites. Toast a couple of pieces of whole-wheat bread. Slice an avocado and layer on top. Layer with thinly sliced radishes, chives and a tiny drizzle of extra-virgin olive oil. Serve with a lemon wedge for squeezing on top.