Top 15 Vegan Snacks & How To Stop Saving The Day
Is someone else's problem your problem? Does it seem like your happiness is connected to how other people live their lives?
Are you tired of always feeling like "the bad guy"? If you answered yes to any of those questions, odds are, you have lost sight of your own well being. I felt the same way once. I always say that going vegan was like taking a truth serum, and I have had many personal transformations,  but taking back my spirit, is on top of the list.
One of the greatest days of my life is when I finally accepted my powerlessness over people and events.
It didn't come easy, and took practice, but letting go of care-taking freed up energy in me to do more productive and exciting things in my own life.
Those unhappy feelings of helplessness and sadness disappeared. Somehow I found the courage to change the storyline. A storyline that doesn't benefit anyone when you always have to rescue people.
Try it today.
When that someone comes to you talking about their problems, make a decision to do nothing but listen. Easier said than done I know,  but try it and see how you feel later.
There may be some guilt but remember what you are doing is showing kindness and compassion to yourself. When you genuinely love and care for yourself, you won't need to rescue people anymore, and people will love you more for it.
Here, is a co-dependency questionnaire. If you identify with some of these,  and want help,  consider talking to a professional or reading some books on co-dependency like Melodie Beattie's "Codependent No More".
1. Do you keep quiet to avoid arguments?
2. Are you always worried about others' opinions of you?
3. Have you ever lived with someone with an alcohol, gambling or drug problem?
4. Have you ever lived with someone who hits or belittles you?
5. Are the opinions of others more important than your own?
6. Do you have difficulty adjusting to changes at work or home?
7. Do you feel rejected when significant others spend time with friends?
8. Do you doubt your ability to be who you want to be?
9. Are you uncomfortable expressing your true feelings to others?
10. Have you ever felt inadequate?
11. Do you feel like a "bad person" when you make a mistake?
12. Do you have difficulty taking compliments or gifts?
13. Do you feel humiliation when your child or spouse makes a mistake?
14. Do you think people in your life would go downhill without your constant efforts?
15. Do you frequently wish someone could help you get things done?
16. Do you have difficulty talking to people in authority, such as the police or your boss?
17. Are you confused about who you are or where you are going with your life?
18. Do you have trouble saying "no" when asked for help?
19. Do you have trouble asking for help?
20. Do you have so many things going at once that you can't do justice to any of them?
Tough questions I know, but worth the consideration. Now, on to food. Today I wanted to share my healthy vegan snacks list especially for many of you who are  just getting started on this vegan adventure. They are in no particular order and they are all equally delicioius. Hope you enjoy these healthy vegan snacks as much as I did. Don't miss any of Ordinary Vegan's free recipes by signing up here.
Ordinary Vegan's Top 15 Vegan Snacks
Gluten-Free High Protein Blueberry Muffins
1. Healthy muffins! I like to make a batch and freeze them individually for easy, go-to vegan snacks like these delicious, gluten-free blueberry muffins.
2. Hummus is one of my favorite high-protein vegan snacks. Serve with carrots, cucumber, cherry tomatoes or spread inside some whole wheat pita bread with cucumbers & sprouts. I also love it on toast topped with raisins and nuts.
3. Sliced avocado on toast topped with thin slivers of radish, parsley and a touch of fresh lemon juice. (pictured on top)
4. Whole wheat pita chips – Cut whole wheat pita bread into triangles and put on a cookie sheet. Roast at 400 until crispy. Serve with salsa, hummus or this delicious eggplant dip.
5. Baked sweet potato – Sweet potatoes are one of the healthiest foods you can eat. Wash your sweet potato, poke some holes in it and bake until tender. Add some maple syrup on top. You can also bake and stuff it with your favorite vegetables as an entrée like this Twice Baked Stuffed Sweet Potato.
Fun fact. Okinawa has the world's longest life expectancy and over 50% of their diet is sweet potatoes.
6. Cheesy popcorn – 1/2 cup popcorn kernels and 1 tablespoon nutritional yeast. Pop popcorn kernels in air popper. Transfer popcorn to large bowl. Sprinkle with nutritional yeast and mix evenly.  Nutritional yeast adds a cheese-like flavor and keeps the crunch of popcorn. Red Star makes a nutritional yeast with a B12 supplement.
7. Edamame – 6 cups water, 1 pound edamame – Bring water to a boil in large pot. Add soybeans return to boil. Cook approximately 10 minutes. Or get the shelled frozen.
8. Sliced apple smeared with a little almond butter and seeds on top.
9. Bowl of chia pudding topped with fruit and a drizzle of maple syrup.
1o. Salads. Anything you can muster up to make a yummy salad. I like to pour a high protein, oil-free dressing on it. Here is one of my favorite oil-free dressings. Top your salads with hemp seeds for added taste and omega 3 fatty acids which are essential for great health.

Vegan No Oil Hummus Salad Dressing
Vegan No Oil Hummus Salad Dressing
Ingredients
3 tbsp plain hummus
2 tbsp balsamic vinegar
3 tbsp orange juice
1 tsp mustard
½ tsp fresh ginger grated (or from your spice rack just use ⅛ tsp or to taste)
½ clove garlic chopped (optional)
Instructions
Whisk together
11. Chocolate vegan snack – I love making my oil-free, heart healthy, cherry dark chocolate almond granola bars. Easy to make and freeze for an on the go snack!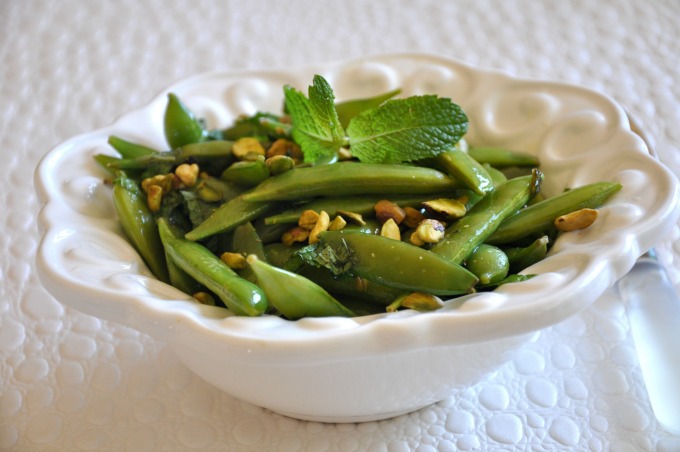 12. Think outside the box and mix your favorite vegetable with nuts like these sugar snap peas with mint, lemon & a small handful of pistachios. So fresh and yummy!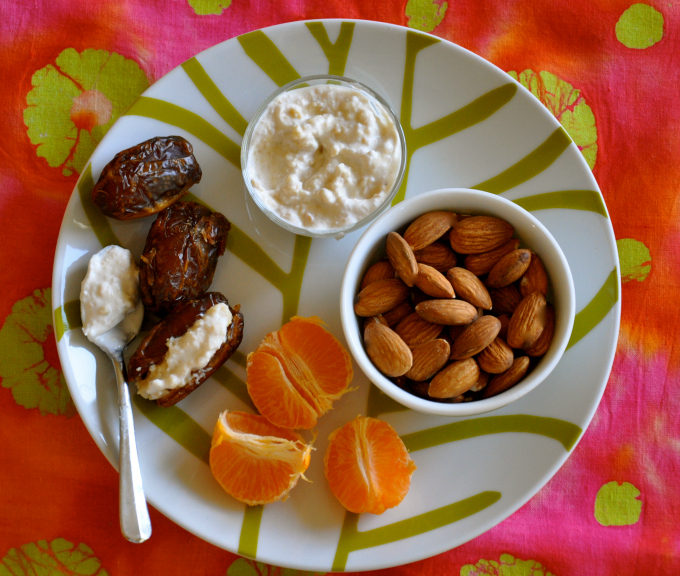 Tangerines, Dates & Almonds with Sweet Cashew Cream
13. Fruit and dates! I like to create a snack plate that includes my favorite fruit, some dates and a few almonds like the vegan snack attack pictured above.
14. Banana bread. Here is my favorite vegan recipe. Make a loaf for the week for quick and easy snacking.
15. Chickpeas!  Chickpeas are the perfect high protein snack. Buy low-sodium boxed, rinse and mash them with some vegan mayo, onion, celery and put on a cracker or bread. Or here is a delicious snack or appetizer for your guests compliments of my cousin Tony and pictured below.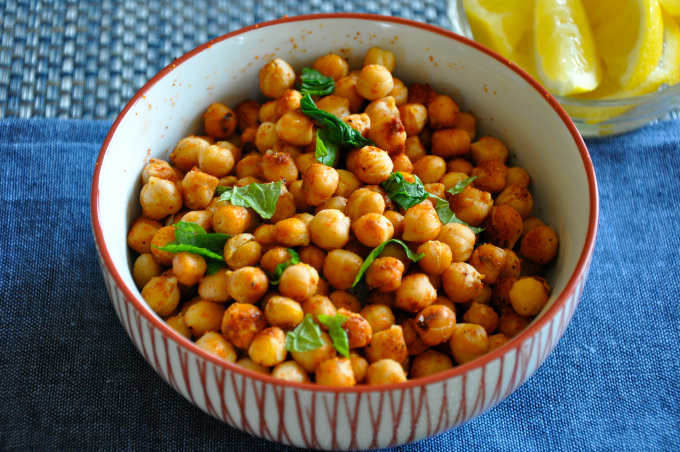 Spicy Roasted Garbanzo Beans
Cousin Tony's Roasted Garbanzo Beans with Lemon and Cayenne Pepper
Cousin Tony's Roasted Garbanzo Beans with Lemon and Cayenne Pepper
Ingredients
2 cans garbanzo beans (washed)
1 tbsp cayenne pepper
½ tsp salt
1 tsp of crushed black pepper
juice of 2 large lemons
Instructions
Preheat the oven to 400 degrees.
In large bowl, combine cayenne, salt, pepper and lemon.
Toss in garbanzo beans and mix.
Place on lightly greased pan and bake at 400 degrees for 35 minutes or until crispy golden brown.
Be careful not to burn and rotate the beans for even cooking.
Allow to cool and serve in a bowl.
Squeeze some lemon on top and some fresh chopped cilantro.
Or try my healthy, easy to prepare 
chickpea salad
.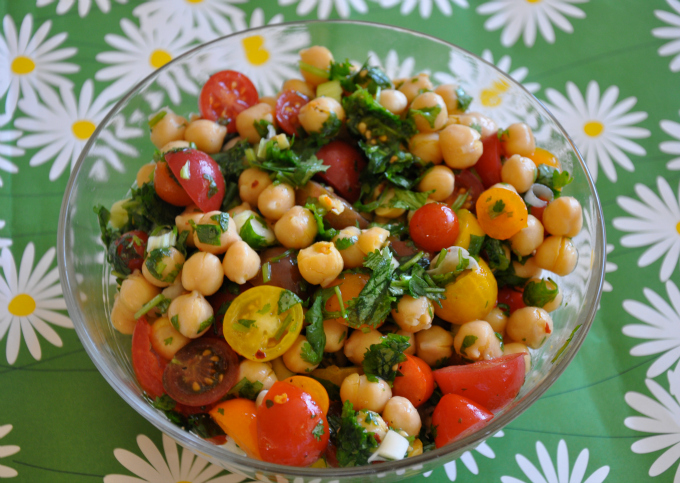 Hope you enjoy these vegan snacks as much as I do! Wishing you a peaceful and compassionate day.