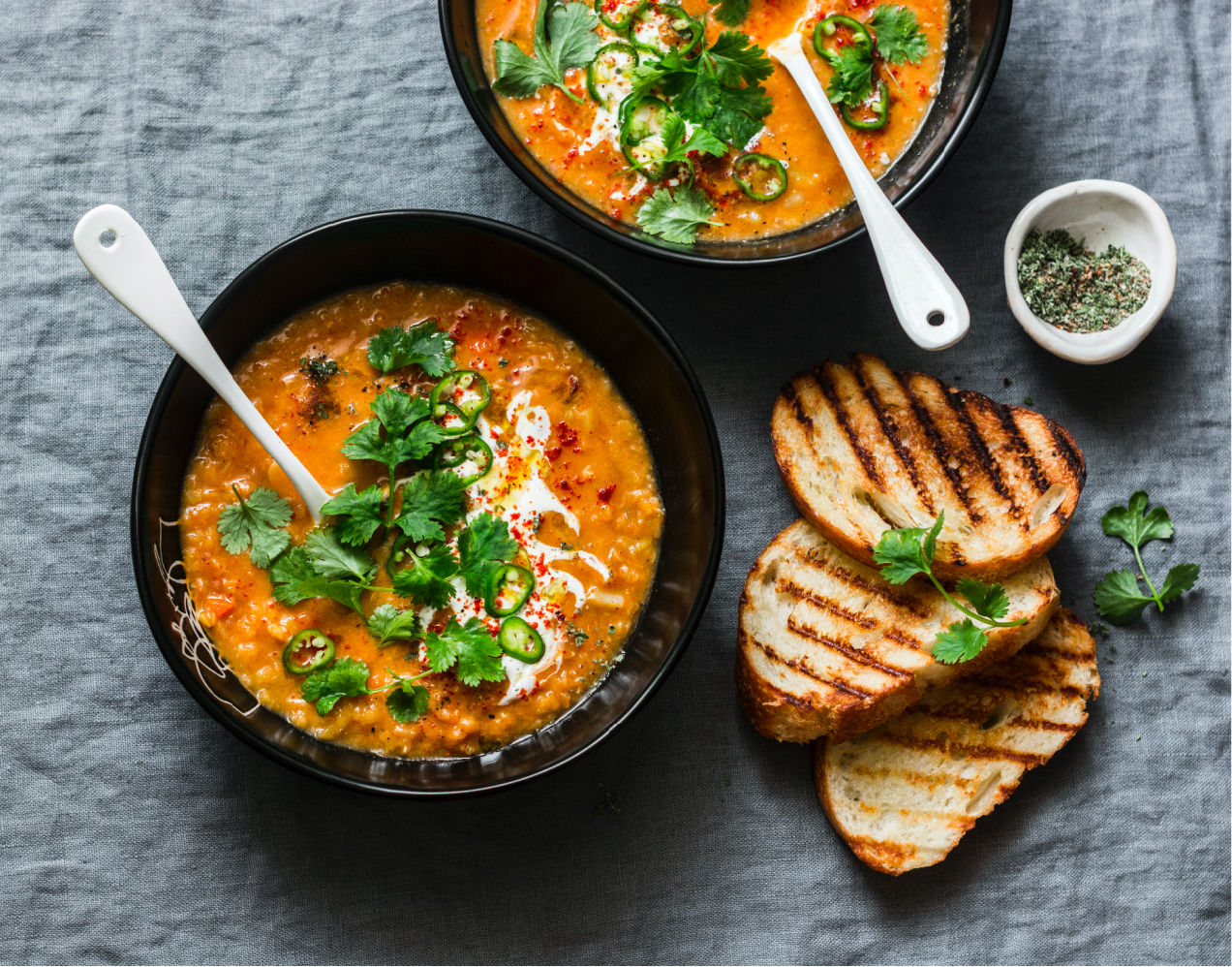 This velvety red lentil soup defies expectations of what lentil soup can be. It is packed with flavor from the ginger, shredded coconut, tomatoes, and the fragrant, warming Indian spices.
If you have never used this lentil before, red lentils are a quick-cooking legume with a mild, subtle sweet flavor.  Cooking red lentils is easy, as they don't require presoaking and can cook up in just 15-25 minutes.
Red Lentils Contain Substantial Amounts of Zinc
More importantly, this red lentil soup has high levels of zinc. Zinc is an essential mineral that is naturally present in some foods. It helps the immune system fight off invading bacteria and viruses. Zinc is also important to wound healing and your sense of taste and smell.
New research presented the week of September 20, 2020 at the Conference on Coronavirus Diseases in Barcelona, Spain, showed that having a lower level of zinc in the blood is associated with an increase risk of death in patients with Covid 19.
The authors concluded: "Lower zinc levels at admission correlate with higher inflammation in the course of infection and poorer outcome. Plasma zinc levels at admission are associated with mortality in COVID-19 in our study. Further studies are needed to assess the therapeutic impact of this association."
Unquestionably, it is crucial to keep our zinc levels high naturally. Hope you enjoy this red lentil soup as much as we did.
If you love lentils as much as I do, you might enjoy this Stuffed Red Lentil Loaf  with Mushrooms, Red Peppers and Spinach or my Indian Soup with Sweet Potatoes, Turmeric and Ginger. 
For recipes and inspiration, follow me on Instagram and Facebook.
Additionally, you can find my new book "The Easy 5 Ingredient Vegan Cookbook" HERE and all my vegan CBD products from hemp on my website.
Early studies show that the cannabinoids from CBD can possibly suppress inflammatory response and may also be beneficial to people with diseases triggered by chronic inflammation. Don't hesitate to reach out to me at questions@ordinaryvegan.net with any questions.
Thanks for stopping by. Stay safe and stay well.
Red Lentil Soup with Cherry Tomatoes & Shredded Coconut
Velvety Red Lentil Soup with Cherry Tomatoes & Shredded Coconut
Don't add salt to lentils while they are cooking. This will toughen them.
Ingredients
2 cups red lentils, rinsed and drained
1 bay leaf
1 teaspoon salt
Fresh ground black pepper
2 teaspoons olive oil
½ cup - ¾ cup vegetable broth
1 teaspoon cumin seeds
1 teaspoon mustard seeds
1 cup chopped onion
1½ tablespoons minced ginger
2 garlic cloves, chopped
2½ tablespoons shredded unsweetened coconut
1 cup cherry tomatoes, halved
¾ teaspoon curry powder
¼ teaspoon red chili flakes (optional for heat)
½ cup chopped cilantro
juice of 1 lemon
Instructions
In a medium saucepan, combine 2 cups of lentils with 4 cups of water. Add the bay leaf. Bring to a boil over medium heat. Skim any scum. Lower the heat, cover the pot with a lid and gently simmer until the lentils are tender, and almost falling apart. About 20 minutes. Add 1 teaspoon salt and little ground black pepper. Set aside.
In large saute pan heat the teaspoon of oil of medium high heat. Add the cumin and mustard seeds. Cook for approximately 1-2 minutes or until the seeds pop.
Add the onion. Add some vegetable broth if sticking. Cook until soft and translucent about 3 minutes. Add the coconut and stir until the coconut is golden brown.
Add the garlic, ginger, curry powder, and tomatoes. Cook for another 5 minutes until the tomatoes start to wilt and soften.
Add the tomato mixture to the lentils. Combine.
With an immersion blender pulverize the lentils so that the whole mixture is roughly blended, but not liquified. Reheat adding more vegetable broth if too thick.
When hot remove the soup from the heat and add the lemon juice and cilantro. Taste and season with salt and fresh ground pepper. Stir and serve.
Garnish options: Thinly sliced green or red Cayenne chili peppers and a swizzle of coconut cream.