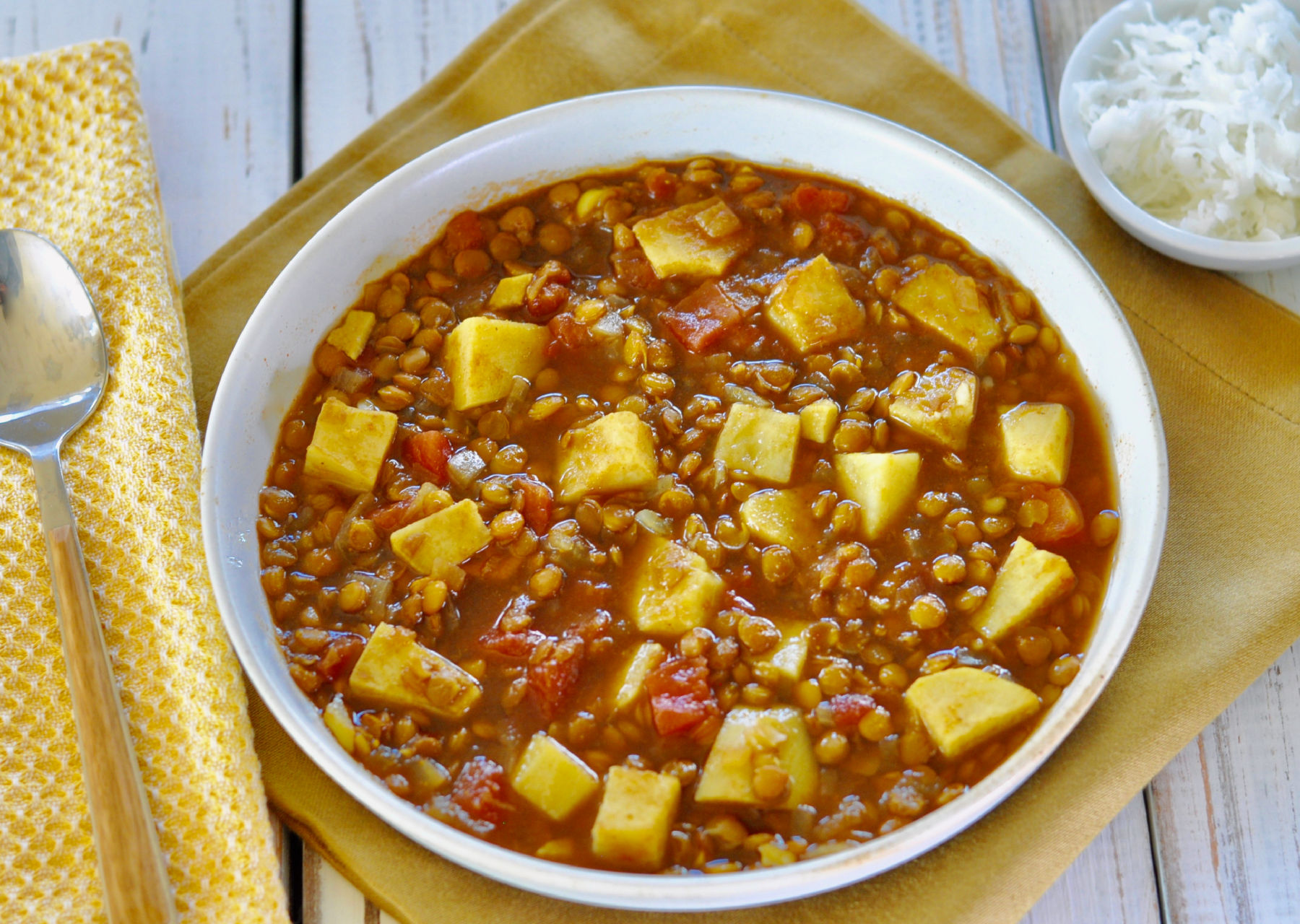 What I love the most about this Indian Lentil Soup are the bright and vibrant flavors. And no one would ever guess that you whipped this meal up in 35 minutes.
This recipe is also an inexpensive dish if you already have the spices. If not, don't be afraid to buy them. The combination of cumin, coriander, and turmeric can be used as a base for any soup or stew. Lately, I have been using coriander as a back note spice in many of my recipes. It has a light, sweet, refreshing citrus flavor.
Another thing I love about this Indian Lentil Soup is the health benefits. Turmeric has a very long history of medicinal use because it contains a powerful anti-inflammatory ingredient called curcumin. Because of its brilliant yellow color, turmeric is also known as Indian saffron. It is thought to benefit heart and brain health, and scientific evidence is backing that up.
Sweet potatoes are also one of the healthiest foods you can consume. They are an excellent source of vitamin A in the form of beta-carotene. Not only that, they are  a powerful source of vitamin C, manganese, copper and vitamin B6. Let's not forget that they are a food staple for the longest living population on earth, Okinawa.
Last but not least are the lentils. Lentils are an excellent source of folate, protein, iron, zinc, potassium and B vitamins.
Indian Lentil Soup with Sweet Potatoes, Tomatoes & Ginger
Hope you enjoy this Indian Lentil Soup as much as we did.
Interested in making more family meals with this inexpensive whole-food staple? You will. probably enjoy my Vegan Shepherd's Pie with Lentils, Mushrooms and Peas , Vegan Lentil and Quinoa Sloppy Joe and another Indian inspired Lentil Soup with tomatoes, Coconut and Cilantro.
If you have heard about the health benefits of CBD oil from hemp, please visit our FAQ page for answers to all your questions. CBD oil is a hemp supplement containing cannabidiol, or CBD.  Ordinary Vegan's CBD Oil from hemp products are rich in cannabinoids and packed with naturally occurring antioxidants.
While supplements are not intended to treat or cure any specific conditions, CBD is becoming more recognized amongst the medical community as a key supplement to maintain a healthy lifestyle. You can read the testimonials here.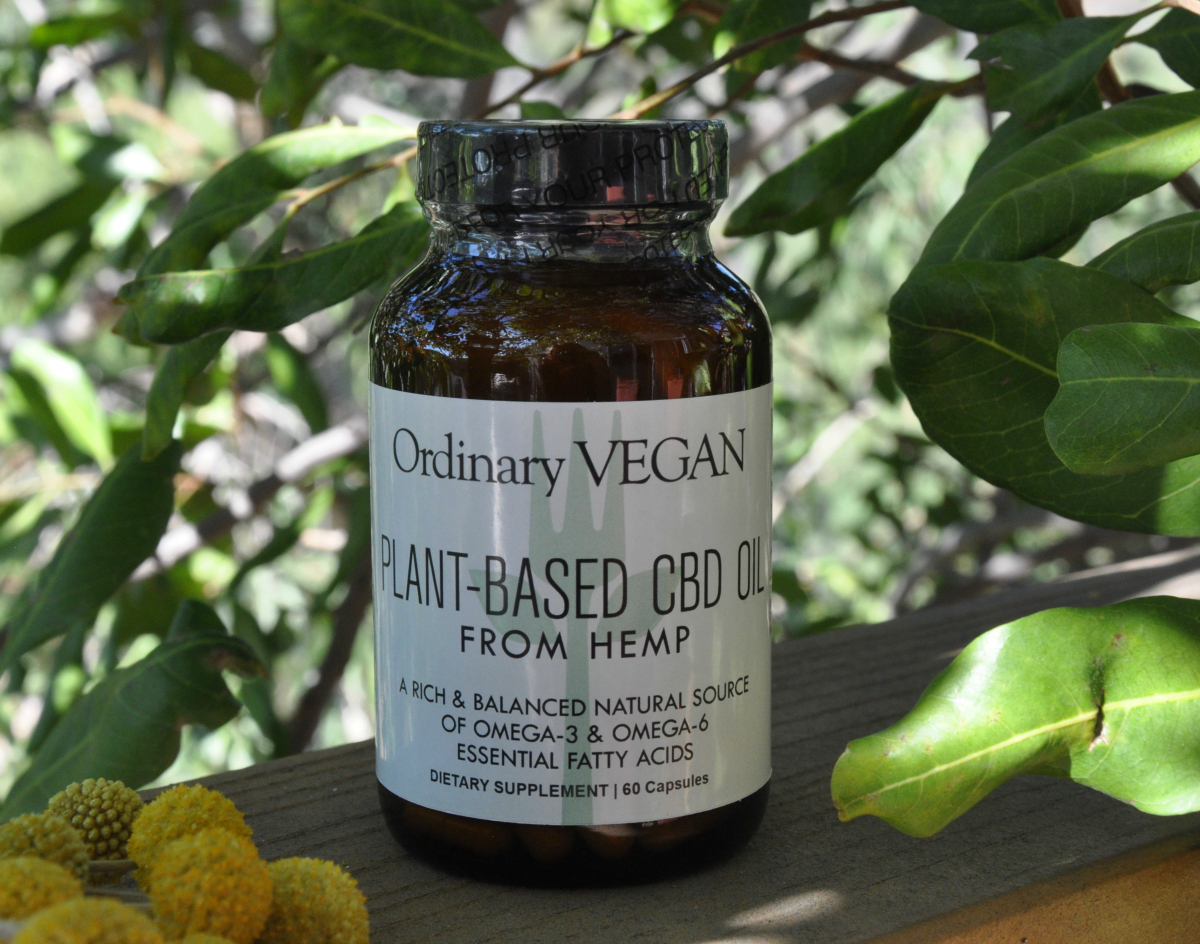 Indian Lentil Soup with Sweet Potatoes, Tomatoes & Ginger
A simple vibrant dish!
Ingredients
½ cup vegetable broth for sauteing
1 cup chopped onion
2 garlic cloves, minced
1 tablespoon minced fresh ginger
1 red chili, chopped, seeds removed (optional if you want heat)
1 medium sweet potato, peeled and diced into bite-size pieces
1 cup lentils
2 teaspoons ground coriander
1 teaspoon ground cumin
1½ teaspoons turmeric
½ teaspoon salt
Fresh ground black pepper
1 cup of canned tomatoes
4 cups vegetable broth (or more if needed)
Unsweetened shredded coconut for serving (optional)
2-3 tablespoons chopped cilantro for serving (optional)
Instructions
Heat the ½ cup of vegetable broth in a large saucepan over medium heat. Add the onion and saute until soft and translucent. Add the minced ginger, chili (if using), garlic and spices. Saute for another 1-2 minutes.
Add the sweet potatoes, lentils, tomatoes and 4 cups of vegetable broth. Raise the heat to a boil, then reduce to a simmer. Cook uncovered, stirring occasionally until the lentils and potatoes are soft. Approximately 20-25 minutes. If it becomes too thick, add more vegetable broth.
To serve, place in a serving bowl and sprinkle with chopped cilantro. Optional garnish is a sprinkle of the unsweetened shredded coconut.
You can also serve this over rice.