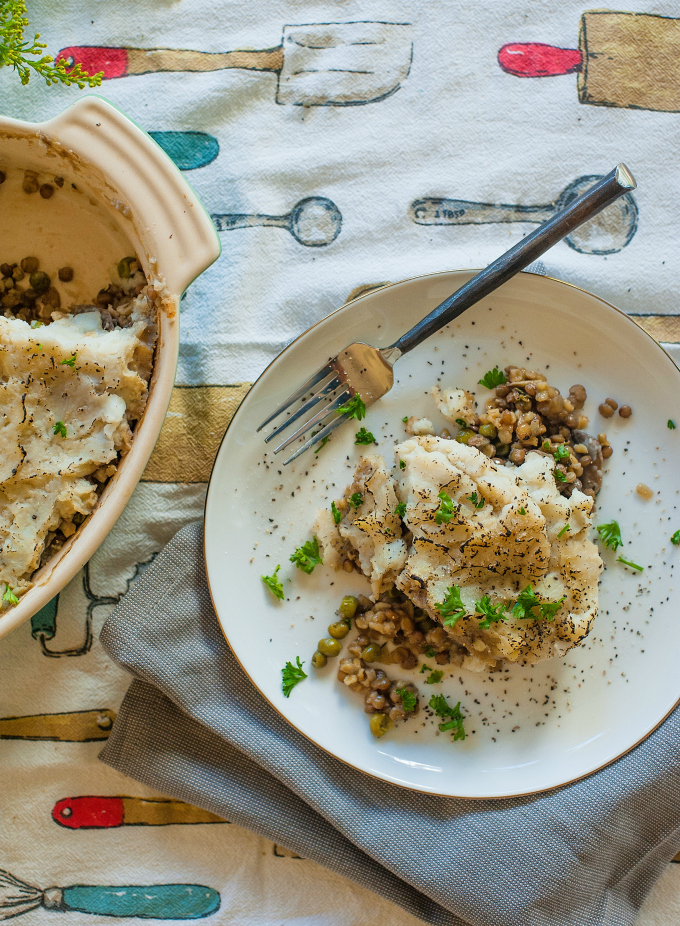 First of all, before we discuss this incredibly delicious vegan Shepherd's Pie, I wanted to share some of the things I love about fall and winter. People usually look at me strangely when I say I love the short days and cozy nights. But there is so much to celebrate, from cute sweaters to log fires.
Furthermore, it means Halloween, Thanksgiving and Christmas are all coming, and no matter how old I get, I love the holiday season!
I didn't use to like Halloween but now we have a six-year-old in our life, and I see the holiday through his eyes. He decides what costume everyone in the family will wear, and last year we all went as Star Wars characters.  This year he wants us all to dress up as dogs and go to the dog park and play with real dogs. He has quite the imagination.
But the thing I love most about fall and winter is cooking comfort food. Over five-years-ago, when I became vegan, I thought comfort foods were a thing of the past. But what I have found out over the years is that its not about the protein: it is about the flavors!  Now, most of Ordinary Vegan's most popular recipes are rustic comfort foods like my vegan mac n cheese with cauliflower béchamel or grilled portobello mushroom over cauliflower mash smothered in gravy.
That is especially relevant because I know many people are afraid to embrace a plant-based diet full-time because they believe they will miss the traditional foods they ate growing up, especially around the holidays. But trust me, there are ways to make most of your favorite recipes plant-based. It is just a learning curve.
Now on to healthy vegan Shepherd's Pie with lentils and mushrooms.

If you need comfort food or need a healthy plant-based meal for a hungry family, this vegan Shepherd's Pie is it!
Shepherd's Pie is also called cottage pie by some depending on the filling. This simple, hearty vegan version is loaded with lentils, mushrooms, peas, and bulgur. I love adding a resistant starch like bulgur. Resistant starch fills you up faster and keeps you full longer.
Vegan Shepherd's Pie With Lentils, Mushrooms & Peas
The mashed potatoes are made with unsweetened, non-dairy soy milk and a little salt and pepper. You could also add a little vegan butter for a little extra richness.
Now the good news. As a result of these plant-based ingredients, you save over 20 grams of saturated fat. So why not replace your next shepherds pie with plant-based protein? It is easy and delicious. If you want to save some time, you can buy cartons of cooked lentils and prepare your mashed potatoes ahead of time. Then you can throw it all together when you get home from work.
At any rate, I hope you enjoy this delicious plant-based version of shepherd's pie as much as we did. Don't miss any of Ordinary Vegan's free recipes by signing up here. Ordinary Vegan's nutrition podcasts are available on iTunes or here on my website. Just click play to listen.
Also, coming soon on Yummly – Ordinary Vegan's recipes!  Yummly shares lots of healthy vegan recipes!

Vegan Shepherd's Pie with Lentils
A lentil-packed twist on a comforting classic
Ingredients
2 lb. medium red or gold potatoes, quartered
¾ cup unsweetened non-dairy milk (I like soy for this recipe)
⅓ cup vegetable broth for sautéing plus 1¼ cups for broth
¾ teaspoon salt (separated)
½ teaspoon ground black pepper (separated)
1 onion, chopped
4 garlic cloves, chopped
10-12 ounces of brown or white mushrooms, sliced
2 tablespoons chopped fresh thyme
2½ cups cooked lentils **recipe below
½ cup uncooked bulgur
2 tablespoons reduced-sodium soy sauce or Tamari
¾ cup frozen green peas
¼ cup fresh chives, chopped
Instructions
Pre-heat oven to 350 degrees F
Place potatoes into a large saucepan and cover with water. Bring to a boil over high. Reduce heat and simmer 15-20 minutes or until tender
Return potatoes to saucepan. Add non-dairy milk, ½ teaspoon salt and ¼ teaspoon ground black pepper to potatoes and mash until smooth. I like a few lumps.
Heat ⅓ cup of vegetable broth in a large heavy pot.
Add the onion and sauté for 3-4 minutes. Add the garlic and cook another minute, stirring frequently.
Add the mushrooms and thyme and sauté for another 8-10 minutes or until the mushrooms are tender. Add more vegetable broth if sticking.
Add the lentils, bulgur, 1¼ cups of vegetable broth, soy sauce, ¼ teaspoon salt and ¼ teaspoon of pepper. Simmer 15 minutes until thickened. Stir in the peas.
Spoon the lentil mixture into a 13 x 9 inch greased baking dish. Top with mashed potato mixture.
Bake at 350 degrees for approximately 20 minutes.
Garnish with fresh chopped chives.
Nutrition Information
Calories:
320
Fiber:
10 grams
Protein:
14 grams
Pot of Lentils
Ingredients
⅓ cup of vegetable broth for sautéing
¼ cup sliced, diced carrots
¼ cup chopped, shallots
2 garlic cloves, chopped
½ tablespoon fresh thyme, chopped
¼ teaspoon salt
¼ teaspoon ground black pepper
1 cup of brown or green lentils
Instructions
Heat ⅓ cup of vegetable broth in a medium saucepan. Add carrot, shallots and garlic. Cook for 4-5 minutes, stirring frequently. Add more vegetable broth if sticking.
Add the lentils, thyme and 2 cups of water. Bring to a boil. Cover, reduce heat, and simmer for 25-35 minutes or until the lentils are tender.
Remove from heat and let stand for 10 minutes.