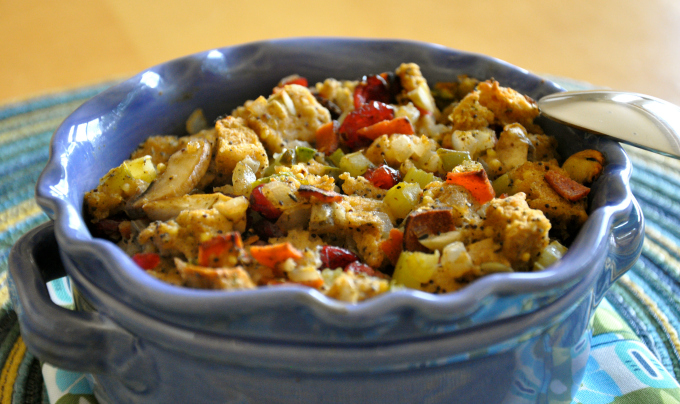 Hi Everyone and welcome to our Virtual Vegan Potluck. The easiest way to describe this virtual potluck is picture 136 vegans from around the world who will each share a yummy plant-based recipe with all of you. Following my bread stuffing and mushroom gravy recipes, you will find a go forward and go back button.
Each button links to the blog ahead of it and behind it in a chain so you can easily go from one recipe to another. The potluck begins with appetizers and ends with desserts. In between those appetizers and desserts,  you will find salads, soups, sides, main dish recipes including this vegan stuffing. Very exciting.
Thanks to An Unrefined Vegan blogger, Annie Oliverio, for creating this fun event.  There are so many amazing vegan food bloggers out there and this is a wonderful opportunity to try their recipes. Now on to food.
I choose vegan stuffing for this potluck because nothing says November more to me than some delicious vegan stuffing smothered in gravy. This recipe has a lot of ingredients but somehow they work so well together. You can omit the pistachios but I thought they really added another yummy component. Hope you enjoy this vegan stuffing as much as I did.
And to all the new people who landed here because of the virtual pot-luck….welcome and I hope you keep coming back. Sign up here so you never miss a free recipe and join our community on facebook – we are over 200,000 strong. Sending you lots of vegan love and compassion.
Serve with Ordinary Vegan Mushroom Gravy.
By the way, our friends over at Healthy Happy Life have a trio of stuffing ideas including a more comprehensive jalapeño bread stuffing.
Don't miss any of Ordinary Vegan's recipes by signing up here..
Ordinary Vegan now has a podcast on plant-based nutrition and vegan recipes. You can listen here on this website or in iTunes.
Join our health and wellness community on Facebook. There are over 315,000 strong, vibrant community members waiting to embrace you.
Thanks for stopping by and hope you have a peaceful and compassionate day.
Vegan Stuffing with Tempeh Bacon, Mushrooms, Cranberries and Pistachios
Bread Stuffing with Tempeh Bacon, Mushrooms, Cranberries and Jalapeno
I like this stuffing smothered in Ordinary Vegan mushroom gravy.
Ingredients
1 package of tempeh bacon, 8 ounces cubed (I used non-gmo Lightlife Smart Bacon and it worked well)
6-7 cups of diced bread cubes
3 Tablespoons of vegan butter
1¼ cups chopped onion (yellow or white)
1¼ cups chopped celery
1½ cups sliced white mushrooms (or use shiitake)
1 large jalapeno, diced (remove seeds)
½ cup parsley, finely chopped
¼ cup dried cranberries (add more if you like)
¼ cup pistachios (optional)
2 tsp poultry seasoning
1 tsp dried thyme
¼ tsp cumin powder
1 tsp apple cider vinegar
1 tsp maple syrup
1¼ cups veggie broth
¼ tsp black pepper
½ tsp salt
Instructions
Preheat oven to 375 degrees F.
In a large non-stick skillet, cook vegan bacon until crispy. Set aside
In the same skillet. Heat the vegan butter over medium heat. Add onion, celery, mushrooms, and jalapeno. Cook until vegetables are semi-soft, about 7-10 minutes. Add the thyme, poultry seasoning, cumin, cider vinegar, maple syrup, salt and pepper and stir for another minute. Stir in the vegan bacon.
In a large bowl, combine the cubed bread and onion mixture.
Add the cranberries, parsley and pistachios.
Slowly start adding vegetable broth mixing gently until all the bread cubes are well coated with liquid but not mushy.
Pour stuffing into a greased 9 x 13 pan. Bake covered at 375 degrees F for about 20-25 minutes, or until the stuffing is lightly browned and a little crisp on top. Remove from the oven and serve warm.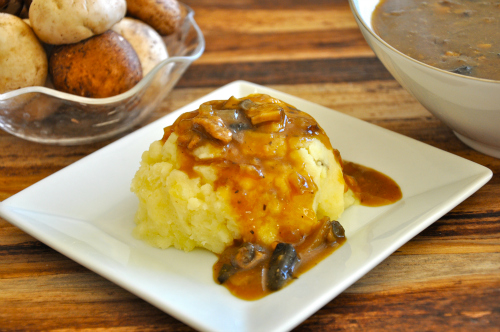 Ordinary Vegan Mushroom Gravy
Ingredients
2 tbsp olive oil
3 cups low-sodium vegetable broth
1 cup chopped white onion
4 cloves garlic, chopped
8 ounces of mushrooms - any kind I used portabello, white & brown
1 tsp poultry seasoning
2 tbsp fresh thyme, finely chopped
2 tbsp fresh rosemary, finely chopped
Salt & Pepper
¼ cup dry red wine
Paste
2 tbsp reduced-sodium tamari
3 tbsp nutritional yeast
2 tbsp whole-wheat flour (for gluten free gravy - use rice powder)
¼ tsp ground black pepper
Instructions
In a large sauce pan, heat olive oil.
Add onion and mushrooms and saute three minutes.
Add garlic and saute until onion is translucent about another minute or two.
Add red wine and cook one minute, stirring constantly. Stir in remaining 3 cups of broth and bring to a boil, reduce heat and simmer.
Paste
Meanwhile, in a small bowl, whisk together tamari, yeast and flour to form a thick paste.
Add mixture to pan, whisking constantly to make sure the paste dissolves. Bring to a boil and boil another minute, stirring constantly. Add salt and pepper.
Adjust seasonings.
If you prefer it thicker, thicken with flour or cornstarch. 1 tablespoon flour (or cornstarch) to 1 tablespoon of water to make a paste and add. Keep adding and whisking to desired thickness.