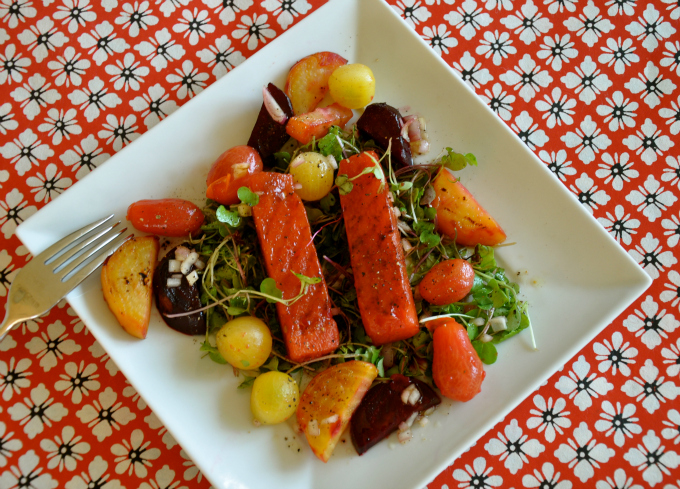 Top 5 Foods For Beautiful Skin and Grilled Watermelon Salad with Charred Beets & Tomatoes
One of the greatest benefits you get from removing meat and dairy from your calorie intake is a better complexion. That's because fruits and vegetables have a higher water content  than meat and eating foods with high water content hydrate our skin, plump out lines and bring on a radiant glow.  According to many studies, acne is linked to our western diet of excessive animal proteins and dairy.  So, if you want clear, radiant skin, eat the delicious plant-based foods that promote beauty from within. Here is a list of my top 5 foods for beautiful skin and a beautiful skin recipe you can make today.
Watermelon: Watermelon is a true hydrating moisturizer. It is 92% water which fills the spaces between your cells and plumps up your skin. As an added bonus, watermelon is a powerhouse of lycopene and vitamin C. Lycopene protects against free radicals, which age us, and vitamin C helps with collagen production.
Tomatoes: The acidity in tomatoes helps in reducing and clearing up acne. Tomatoes are also rich in vitamin A and vitamin C. Vitamin A helps us maintain healthy skin. Did you know that some dermatologists recommend mashing a tomato and using the pulp on the skin for an hour for clearing up acne?
Beets: Beets are an insane source of vitamins and minerals including A, B & C and a skin favorite, beta-carotene. Beta-carotene is a powerful antioxidant that can protect your skin from UV radiation from sunlight.
Sweet Potatoes: Sweet potatoes are a super source of beta-carotene, and they also contain a great amount of vitamin C.
Nuts: Nuts contain high amounts of Vitamin E.  Vitamin E plays an essential role in preventing free radical damage to the skin. Vitamin E is also acts as an anti-inflammatory for the skin.
Hope you enjoy these all these foods for beautiful skin. Here is a yummy skin enhancing salad which is perfect for the warm summer days ahead. Don't miss any of Ordinary Vegan's free recipes by signing up here.

Grilled Watermelon Salad with Charred Beets & Tomatoes
Ingredients
3 medium beets
12 cherry tomatoes
2½-inch thick slices seedless watermelon, cut into 8 pieces
2 Tbsp. pepper jelly
couple of handfuls of micro-greens

coarse sea salt
freshly ground black pepper
Sherry Vinaigrette
2 Tbsp. Sherry vinegar
2 Tbsp. shallots, finely chopped
4 Tbsp. extra-virgin olive oil
Squeeze of fresh lemon
Instructions
Preheat oven 350 degrees. Preheat grill.
Whisk together sherry vinegar, shallots, lemon juice and olive oil - set aside
Wrap beets individually in foil. Set on a baking sheet and roast in oven for 1 hour. Unwrap beets and cool to room temperature. Peel and quarter beets.
Bring a small saucepan of water to a boil. Drop tomatoes into boiling water for 30 seconds, then quickly drain and rinse with cold water. Slip the skins off the tomatoes, leaving tomatoes whole.
Brush watermelon pieces with pepper jelly. Set pieces jelly-side down on hot grill for 2 minutes, or until lightly charred. At the same time, set beet quarters on grill for 2 minutes.
To serve salad. Toss micro-greens with some vinaigrette. Divide among 4 plates. place two slices of watermelon on each plate. Top with grilled beets and tomatoes. Then drizzle with more sherry vinaigrette. Sprinkle with a bit of sea salt and a few grinds of black pepper and serve immediately.