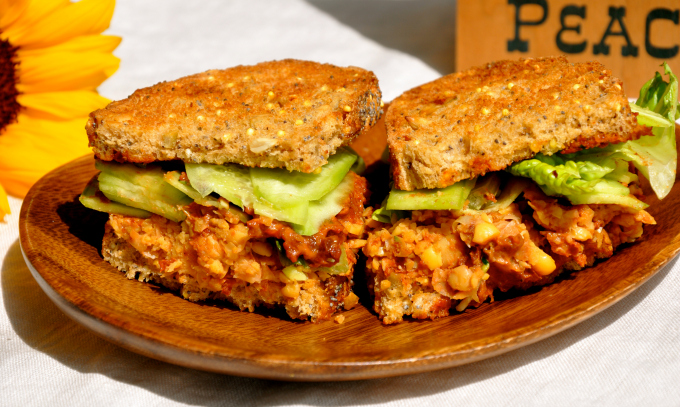 I wanted something quick and easy for lunch today, so I made this delicious vegan sandwich with chickpeas, basil and sun-dried tomato mayonnaise piled with my favorite vegetables.
You can't go wrong with chickpeas because they deliver an enormous amount of health benefits.
They are loaded with protein and fiber, and they are low in fat. They are also very versatile and you can use them in soups, stews, salads and sandwiches. They couldn't have tasted more lovely paired with the sun-dried tomato mayonnaise and basil.
I especially love this sandwich topped with a variety of thinly sliced vegetables.
A few months ago I bought an inexpensive mandoline, and now I use it all the time.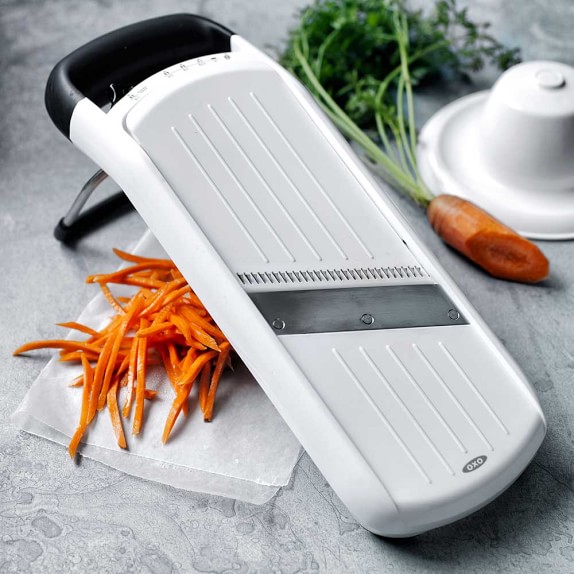 If you are not familiar with this kitchen utensil, it works like a food grater. You move the food over a shredding or cutting surface and it creates lovely thin slices of  your favorite fruits and vegetables.
When these thin slices of vegetables are layered on a sandwich, it makes the sandwich extra juicy and adds another texture of crunch.  One word of caution, when slicing with a mandoline, always use the hand guard that comes with it to hold down the vegetables otherwise you may cut yourself.
Hope you enjoy this easy vegan sandwich recipe as much as I did.
If you like this easy vegan sandwich, you might also enjoy my "no bones baby jackfruit barbecue sandwich." Recipe here.
Don't miss any of Ordinary Vegan's free recipes by signing up here.
Vegan Sandwich – Sun-Dried Tomato & Chickpea Sandwich
Sun-Dried Tomato Chickpea Sandwich
Chickpeas are very versatile and high protein.
Ingredients
14-ounce carton chickpeas, drained and rinsed
½ cup sun-dried tomatoes (either packed in oil and rinsed or dried tomatoes that have been soaked in boiling water for 15 minutes until soft)
¼ cup vegetable broth
2 tablespoons vegan mayonaise (or more if desired)
pinch of salt and fresh ground black pepper
1 garlic clove, chopped
¼ cup basil, chopped
spinkle of fresh red chili flakes (optional)
Instructions
Place all the ingredients except the chickpeas in a food processor and process until smooth. Add more vegetable broth if needed.
Add the chickpeas and process another 10-15 seconds. The chickpeas should still be lumpy, but somewhat mashed up.
Stir to combine sun-dried tomato mixture and chickpeas.
Toast your favorite vegan bread. Spread with the sun-dried tomato chickpea spread.
Top with lettuce, sliced cucumber, avocado or your favorite sandwich toppings.
Add extra vegan mayonaisse if desired.