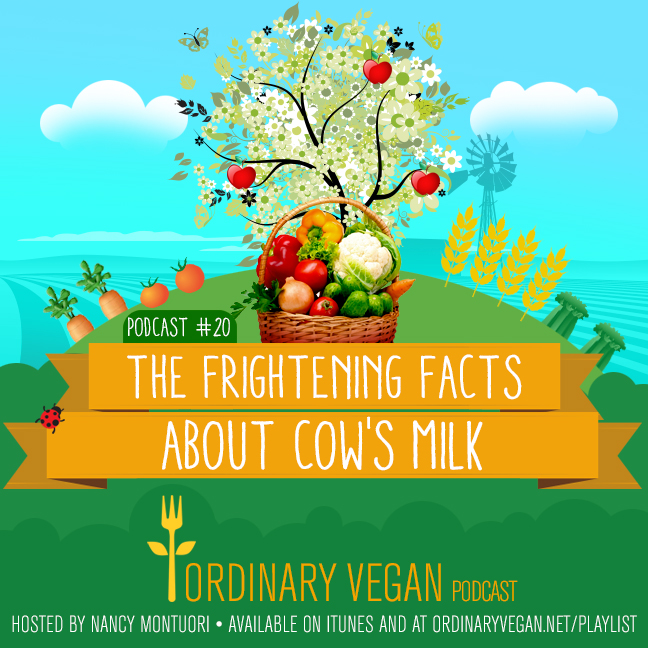 It's not always popular to speak negatively about commonly consumed and highly touted foods like dairy milk from cows.
But I felt personally bamboozled when I read all the research and discovered the negative effects of drinking dairy on my health, not to mention the planet and the exploitation of the animals who provide the milk.
How could I have been so misled?
Well, it wasn't my fault.  The United States Department of Agriculture and the milk industry has spent a lot of money over the years touting the importance of dairy milk, and marketing that message to all of us.
Because of this marketing, dairy milk was regarded, along with bread, as one of the staples of the Western diet.
Also, dairy milk isn't what it used to be. When it comes to the current controversy over antibiotic use on farm animals, milk is in a special category.
Cows are pumped full of antibiotics because they are routinely sick. This is caused by cows being packed into factory farm lots in filthy conditions.
The problem with the antibiotics being in your milk is the growing issue of antibiotic resistant bacteria. Antibiotics are an important tool in human medicine and if you build up a resistance to antibiotics, a health problem may not be able to be treated.
Learn all the frightening facts about cow's milk and join us in Ordinary Vegan's kitchen and create your own healthy cow's milk cheese alternative.
Always remember that most cheese is concentrated cow's milk. Learn how to kick the cheese habit from Dr. Neal Barnard in podcast 23. He is very convincing and wrote an entire book about it called  "The Cheese Trap."
Sign up for all of Ordinary Vegan's healthy recipes here.  You can download a FREE copy of a vegan protein list here.
Join our health and wellness community on Facebook where we are over 313,000 strong.
Thanks for listening to the Ordinary Vegan's health and wellness podcasts. Please subscribe so you don't miss a podcast.