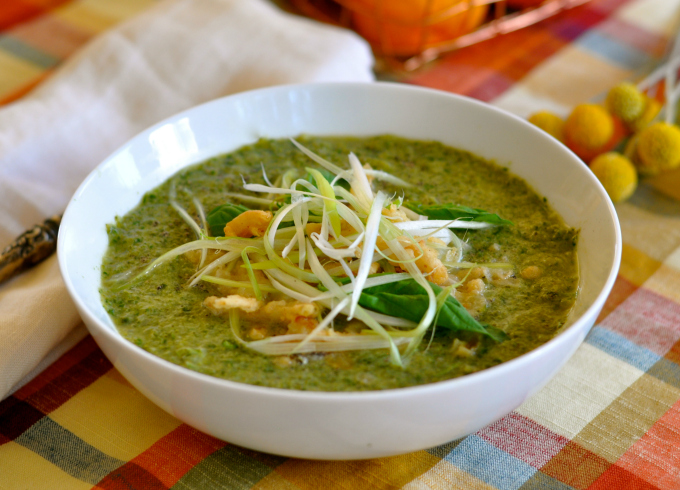 Healthy holiday eating is always a challenge.  On average people gain about 2 pounds between Halloween and New Year's Eve. Two pounds doesn't sound like much, but as the years go on, it can add up.
My #1 healthy holiday eating strategy is always begin your holiday meal with soup. Filling up on a healthy, high-fiber soup first can help prevent you from overeating later.
Several studies have shown that consuming low-energy-dense soup is a strategy that can be used to enhance weight loss and increase satiety.
Energy density is the number of calories in a particular weight of food. It means you can have satisfying portions of low-energy dense foods with a relatively low-calorie content.
For example, this nutritious broccoli and spinach soup has approximately 75 calories per serving. It also contains significant amounts of fiber, calcium, vitamin B12 and Riboflavin with virtually no fat.
Foods high in fiber and water, like broccoli, are high-volume foods. They add bulk to your meals and fill up your stomach without a lot of calories. They also keep you full longer.
My #2 healthy holiday eating strategy is to eat mindfully. It is practically impossible to overeat if you are eating mindfully. I know it can be difficult especially when you are surrounded by a table full of friends and family talking a lot, but if you just focus your full attention on chewing and the flavors of the food you are eating, I promise you will eat less and enjoy it more.
Remember, digestion involves a complex series of hormonal signals between the gut, and the nervous system and it can take about 20 minutes for the brain to register satiety, which is the feeling of being full.  When you eat mindfully, you eat slowly and give your body a chance to tell you it has had enough.
My #3 healthy holiday eating strategy is don't let the holidays get you down and make you vulnerable to overeating. Be realistic. The holidays don't have to be perfect. Try to accept family members and friends as they are, even if they don't live up to your expectations.
Not everyone is happy during the holidays. Embrace your feelings. When we don't acknowledge our personal pain, we can act out in harmful ways especially during the holidays. Maybe by eating too much or drinking too much or just trying too hard to be happy and then feeling immense disappointment. Buddhist monk Pema Chodron always says, "lean into the sharp points" and don't be afraid to feel bad. Embrace it, dance with it!  And always remember no feeling is final.
I would like to thank Silk for sponsoring this post. Silk and I have teamed up to spread health and wellness with the power of plants. What I love about Silk is that all of its products are non-GMO, free of gluten, lactose-free, dairy-free, cholesterol-free, and has no artificial colors or preservatives.
Today I added their non-dairy, unflavored soy milk to my broccoli soup for a creamy texture. You can find Silk at most grocery stores but if you haven't seen it, here is a handy locator to help you. Silk also has a newsletter with lots of groovy things like recipes and coupons.
Hope you enjoyed my healthy holiday eating strategies and this delicious plant-based broccoli and spinach soup with a crunchy topping of shaved leeks and crispy shallots.
If you are looking for more holiday ideas, check out Ordinary Vegan's Thanksgiving 2014 and Vegan Thanksgiving 2013.
Or check-out the ultimate holiday showstopper, Vegan Roast Wellington with Lentils, Mushrooms and Chestnuts.
And in my humble opinion, here is a recipe for the best vegan gravy you will ever taste!
Hope you enjoy this healthy dinner for the holidays.
Don't miss any of Ordinary Vegan's recipes by signing up here.. Just getting started on a plant-based diet? Here is a free downloadable list of delicious vegan protein.
Sending you lots of peace and compassion for the holidays.
This is a sponsored conversation written by me on behalf of Silk. The opinions and text are all mine.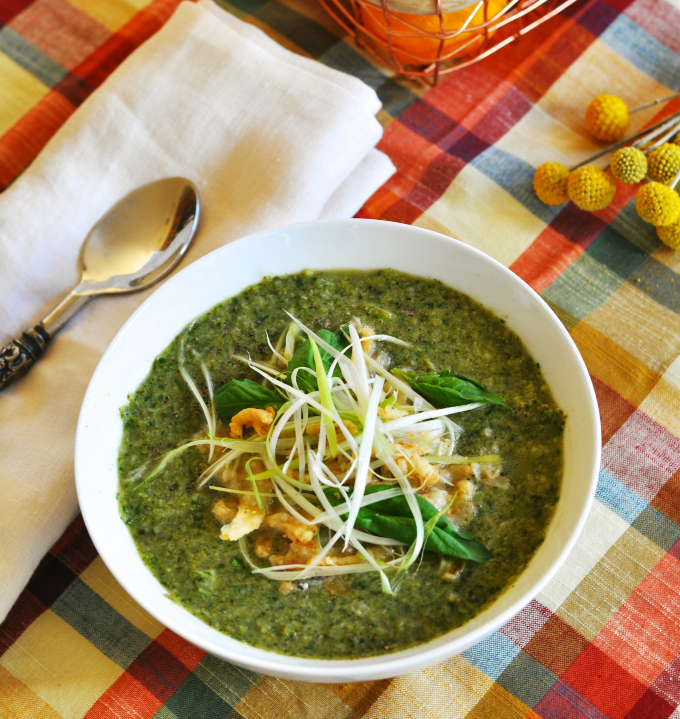 Healthy Holiday Eating Strategies That Work
Broccoli and Spinach Soup with Crispy Shallots
Ingredients
1 pound Broccoli florets, chopped
2 cups of baby spinach leaves
½ cup vegetable broth for sautéing plus 2-3 cups for soup broth
1 cup of non-dairy, unflavored Silk soy milk (or any unflavored non-dairy milk)
½ cup chopped onions
3 tablespoons fresh, chopped basil
½ teaspoon salt
¼ teaspoon freshly ground black pepper
Crispy shallots & 2 scallions shredded for serving (optional) *crispy shallot recipe below*
Instructions
in a medium saucepan, heat the ½ cup of vegetable broth over medium heat. Add the onions and sauté for about 5 minutes, until soft and translucent. Stirring occasionally and adding more vegetable broth if needed.
Add the broccoli, salt and ground black pepper and 2 cups of the vegetable broth. Bring to a boil over high heat, reduce the heat to medium low, and simmer, for about 7 minutes. Add the spinach and simmer for another 3 minutes or until the broccoli is fork-tender. Add the unflavored soy milk. Cool for 10 minutes.
In a blender or food processor, process the soup until fairly smooth. Add the basil and pulse a few times. Return the soup to the pan and reheat gently, adjusting the consistency with more vegetable broth if necessary. Taste for seasoning.
Garnish with crispy shallots, spinach leaves and shredded scallions.
**Crispy shallots -. Peel and slice 3 large shallots lengthwise about ⅙ inch thick. Heat 2 tablespoons of vegetable oil in a small saucepan. Add shallots and cook gently, stirring occasionally, for about 15 minutes until they gradually become brown. Add more oil if needed. Transfer shallots to paper towels to drain Sprinkle lightly with salt**