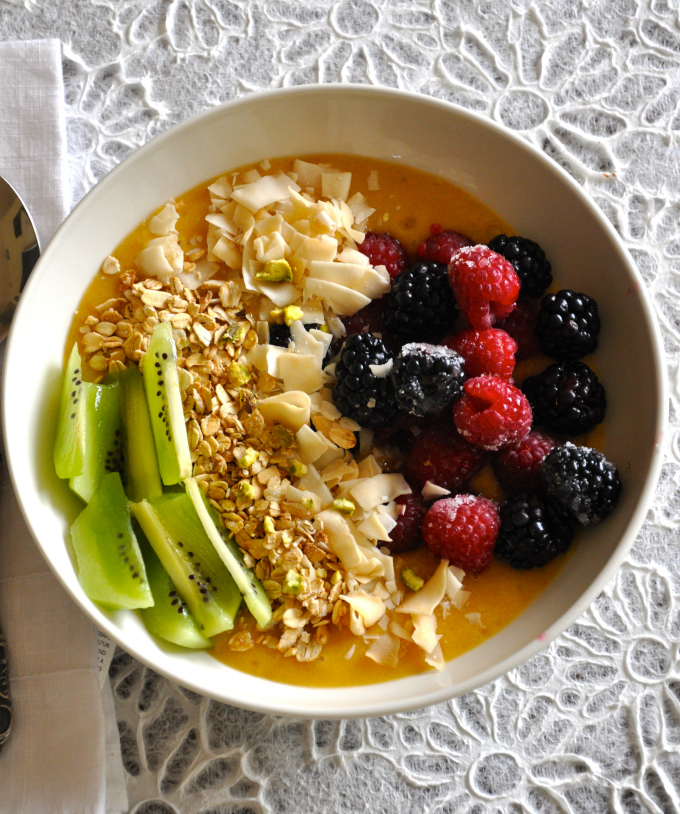 Healthy Vegan Breakfast Bowl with Mango Pudding, Fruits, Oats, Coconut Curls & Blendfresh Powders
I know you've heard it a thousand times, but I will say it again, the best way to start your day is with a healthy breakfast. Bacon and eggs are not considered a healthy breakfast. 68% of bacon's calories are saturated fat with 30 grams of cholesterol in a single serving.
Our bodies don't want or need any cholesterol from food. Many people don't know this, but our liver creates enough cholesterol for our entire body. One egg also contains saturated fat and 187 mg of cholesterol. Yes, you read that right. One egg has 187 mg of cholesterol. If you have high cholesterol, eggs should not be part of your diet.
I read an interesting study recently where doctors observed a man's body after consuming bacon and eggs, and could actually see how the arteries and blood flow took a dramatic turn, slowing down the entire body. With all that said, that's no way to start your day.
Breakfast bowls are great because you can mix them up and create dozens of breakfast ideas.
Today I made a simple mango banana breakfast pudding with some coconut water.  A company named Blendfresh reached out to me about their raw, vegan, non-GMO powders and I decided to give them a try. I added a teaspoon of their protein powder, a teaspoon of fiber powder and a 1/2 teaspoon of an orange powder. The orange powder contains 12 different orange fruits and vegetables. They also sell green, red and purple powders and each one has a blend of 12 different fruit and vegetables. I topped the breakfast pudding with fresh organic fruits like kiwi, raspberries, and blackberries.
For added crunch, I added some baked coconut curls and oats. This entire scrumptious breakfast was approximately 360 calories with 11 grams of protein and no saturated fat or cholesterol.
I must admit, it kept me going all morning and I never felt like munching on anything.  The following day, I pureed the leftover berries with a little coconut water, added the powders and made a berry pudding for the bottom. I topped that breakfast bowl with a cut apple, some orange slices, couple tablespoons of granola and baked coconut.
As you know, a well-balanced plant-based diet provides you with enough protein, but for many of you who worry about protein and getting enough fiber, these powders are ideal. You can like Blendfresh on Facebook or visit their website for recipes ideas. At any rate, a healthy vegan breakfast bowl never has to be boring or lacking protein.
Please remember to always eat breakfast. Studies have proven that eating a healthy breakfast can be important in maintaining a healthy body weight by kickstarting your metabolism so it gets out of the overnight "starvation" mode that makes you conserve fat. Other benefits include better concentration and mood improvement.
Hope you enjoy this healthy vegan breakfast bowl as much as I did. Don't miss any of Ordinary Vegan's free recipes by signing up here.  By the way, as you know I don't do many sponsored posts. I only do sponsored posts and advertising on my site for products that I personally believe in like Blendfresh. Wishing you a peaceful and compassionate day.
For additional information about Blendfresh contact: Samantha@EatHealthyEveryDay.com

Healthy Vegan Breakfast Bowl
Anything can go on top of this breakfast mango pudding
Ingredients
Mango pudding
1 small mango (or ½ or a larger one)
1 small banana
1 tablespoon ground flax
⅛ - ¼ cup coconut water
Toppings
1 cup berries
1 kiwi
2 tablespoons baked coconut chips or shredded coconut
2 tablespoons granola
1 tablespoon hemp seeds
Instructions
Add the mango, banana, powders (if using) and ⅛ cup of the coconut to a food processor and puree. Add more coconut water for desired consistency. Put in a serving bowl and top with berries, sliced kiwi, seeds, granola or oats and shredded coconut.
Nutrition Information
Serving size:
large bowl
Calories:
360
Saturated fat:
0
Protein:
5 grams