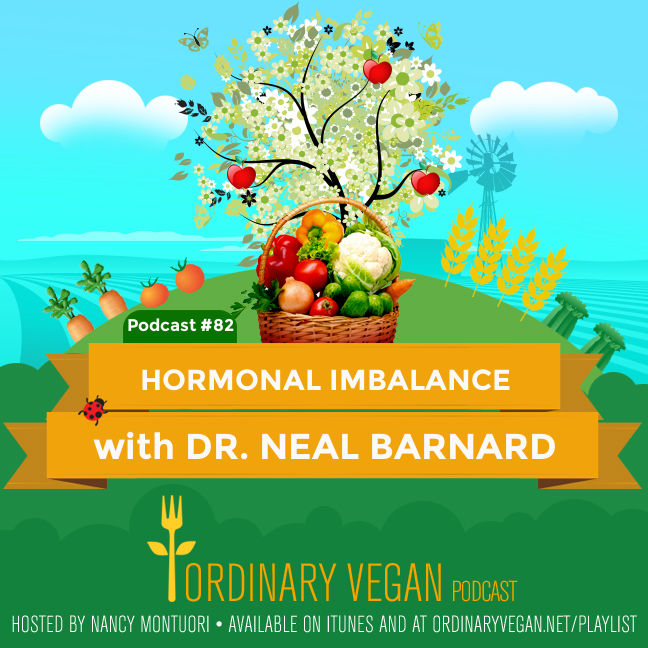 Hormonal imbalance may be to blame for a range of unwanted symptoms and diseases. Addressing the causes directly is the first step in balancing your hormones.
Today we welcome back Dr. Neal Barnard. Dr. Barnard is one of the world's most respected authority on vegan diets. He is a best-selling author, clinical researcher, and founding president of the Physicians Committee for Responsible Medicine.
Dr. Barnard has led numerous research studies investigating the effects of diet on diabetes, including a groundbreaking study of dietary interventions in type 2 diabetes.
As president of the Physicians Committee, Dr. Barnard leads programs advocating for preventative medicine, proper nutrition, and higher ethical standards in research.
In 2020, Dr. Barnard released his 18th book called "Your Body in Balance: the New Science of Food, Hormones, and Health. In "Your Body in Balance," Dr. Barnard describes how food and hormonal imbalance play a powerful role in common hormone-related conditions. These include infertility, weight gain, thyroid problems,  breast and prostate cancers.
This podcast is dedicated to how hormonal imbalance can wreak havoc on your health along with:
Infertility and ways to improve the chances of becoming pregnant
Menstrual cramps and hot flashes
Hormonal imbalance related cancers
Dairy products and cancer
Prostate and testicular cancer
How soy products cut cancer risk
The common cause of thyroid problems
Foods that change your hormones
You can find Dr. Neal Barnard's new book "Your Body in Balance" on Amazon, and there are links to his best-selling books and contact information below.
The Barnard Medical Center now offers online telehealth appointments. Call 202-527-7500 for more information.
Thank you for joining me today.
For recipes and inspiration, follow me on Instagram and Facebook.
Additionally, you can find my new book "The Easy 5 Ingredient Vegan Cookbook" HERE and all my vegan CBD products from hemp on my website.
Thank you to Hover for sponsoring this podcast. Head over to Hover.com/ordinaryvegan to receive 10% off your domain purchase.
Also, please share this podcast so our community can grow. And if you have time, please leave a review on Apple Podcasts or Spotify. The more reviews we receive, the better chance of spreading the compassion one plant-based meal at a time.
Please stay strong and stay well!
Additional Resources:
The Cheese Trap: How Breaking a Surprising Addiction Will Help You Lose Weight, Gain Energy, and Get Healthy"
Dr. Neal Barnard 
Dr. Neal Barnard's Program for Reversing Diabetes: The Scientifically Proven System for Reversing Diabetes Without Drugs
Office on Women's Health
Barnard Medical Center
Thyroid.org
DISCLOSURE: This post may contain affiliate links, meaning I get a commission if you decide to make a purchase through m links, at no cost to you. Please read my disclosure for more info.