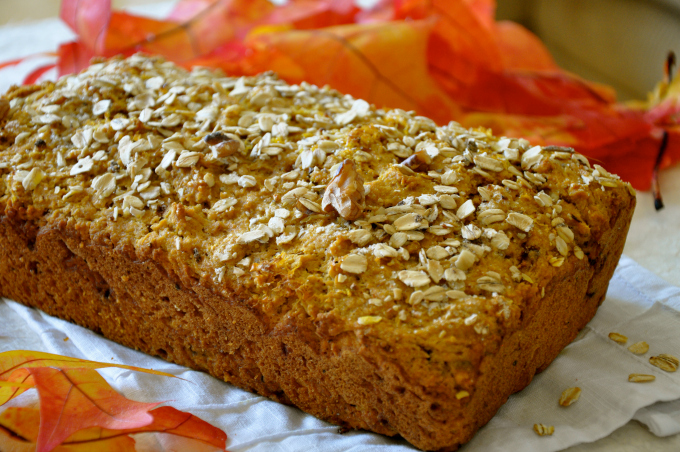 Golden Pumpkin Bread with Rolled Oats and Walnuts
So I have been experiencing a recurring theme in my life. It is not a bad thing but I am baffled by what it means, and I would love to know what the universe is trying to tell me. Perhaps you guys can help. It all started a few weeks ago.
I was checking out of a hotel room, and a bellhop carried my bags to my car. When I reached into my purse to give him some money he said "you don't have to tip me. Save your money for gas." My first reaction was, "do I look poor?"  I surveyed my clothes and suitcases and could not see any reason he would think I couldn't afford a couple of dollars. I then insisted he take the money, but he was already walking away. I thought about it all day. Why?
The following day, I was in Boston taking photos when I saw this homeless man sitting under an unusual sign. I loved the juxtaposition and wanted to take a photo of him. So I asked him "would you mind if I took a photo of you?". He said,  "yes, but it is going to cost you $3.00 and you can't put it on facebook". I said, "no problem".
So I took the photo and went to hand him a $5.00 bill,  and he said "that's ok". I said, "no take it". He said, "no thanks".
I stared at him a few seconds wondering if he was messing with me, but no he was dead serious. I said, "thank you very much", and walked away mystified.
Yesterday, it happened again. I pulled into a parking garage,  and the attendant who gives out the tickets said "I usually charge $5.00, but I will let you slide today."  Weirdly, I became defensive. I said, "no just give me the ticket..I'll get it validated..you don't have to let me in free". He says "no, go ahead" and opens the gate.
At this point, it would have been ridiculous for me to argue with him, but of course I couldn't let it go. After I park the car, I walk back to the attendant and say suspiciously, "what if you don't remember me and I need a ticket to get out". He replies in kind of an exhausting way and says, "don't worry, I'll remember you!"  I finally gave up and left without a ticket.
So that is my recurring theme. Why is it so hard for me to just accept the fact that people are just being nice, or is it something else? What is the universe trying to tell me?  Why don't people want my money? I would love to know everyone's thoughts.
On to food.
Fall is in the air so of course I am working on some new fall recipes. Yesterday I made this yummy pumpkin bread with oats and walnuts. I like to cut it up into individual slices and freeze for an easy healthy snack. Hope you enjoy this plant-based pumpkin bread as much as I did.
Don't miss any of Ordinary Vegan's recipes by signing up here..
Ordinary Vegan now has a podcast on plant-based nutrition and vegan recipes. You can listen here on this website or in iTunes.
Join our health and wellness community on Facebook. There are over 315,000 strong, vibrant community members waiting to embrace you.
Thanks for stopping by and hope you have a peaceful and compassionate day.

Ordinary Vegan Golden Pumpkin Bread
Very moist and delicious pumpkin bread. You can substitute the maple syrup for ½ cup of sugar.
Recipe type:
Breakfast or snack
Ingredients
Dry
2 cups white whole-wheat flour
¾ tsp salt
1 tablespoon plus one teaspoon baking powder
¾ teaspoon cinnamon
¼ teaspoon ginger powder
⅛ teaspoon nutmeg
Wet
1 cup almond milk
2 tablespoons ground flax seed
1 tsp vanilla extract
1½ cups canned pumpkin puree
⅓ cup coconut oil (microwaved for 30 seconds to form a liquid)
¾ tsp apple cider vinegar
½ cup maple syrup
½ tsp orange zest
½ cup walnuts
Topping
2 tablespoons rolled oats
1 tablespoon sugar
½ tsp or more fresh orange zest
Instructions
Preheat oven to 415 degrees F
Grease a standard (9x5) loaf pan well using coconut oil.
Combine the 2 tablespoons of ground flax seed with 6 tablespoons of water. Whisk together and put in refrigerator for ten minutes to thicken.
Combine all your dry ingredients in a large mixing bowl.
Combine all wet ingredients together (including flax eggs) in a large mixing bowl. Make sure you soften your coconut oil in the microwave for 30 seconds to form a liquid.
Fold the wet mixture into the dry mixture and combine until all the dry ingredients are absorbed.
Pour batter into prepared loaf pan.
Combine sugar and oats and sprinkle on top. Top with orange zest.
Bake at 415 degrees for 20 minutes. Reduce heat to 395 degrees and bake for an additional 20-25 minutes. Check to see if your bread is done by using a toothpick in the center and when removed make sure it is dry.
Cool for 30 minutes before removing from pan.