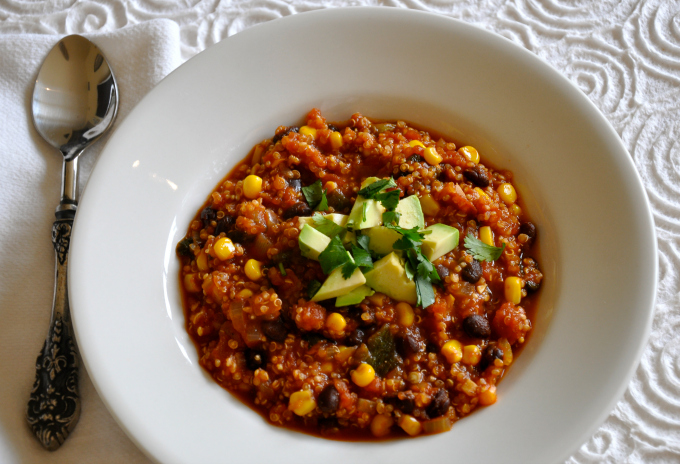 Before I share this gluten-free chili recipe, I have a question.
Did you know that nearly half of the U.S. population is now open to eating a meatless meal between some and all of the time?
Wow, we have come a long way. And for you newbies, always remember becoming vegan doesn't happen overnight. Take it one day at a time and before you know it, you will be reaping all the benefits of a plant-based diet.
For many years we have been receiving confusing and misleading messages from everyone involved in nutrition including scientific studies funded by big business, advertising, doctors and even our government.
For example, the number one cause of death is coronary disease.  If the world had access to healthy plant-based food and were educated about the connection between food and disease, coronary disease could be cut in half. Dr. Caldwell Esselstyn says we could actually eradicate heart disease with healthy plant-based nutrition.
At any rate, check out these new statistics. They are very encouraging,  and I am so proud of all of you who are trying to live a healthier and more compassionate life in 2014. Thanks for being part of our community. Now on to food.
It was announced this week that the The Red Hot Chili Peppers will be performing at Super Bowl 2014.
So, as a homage to them, I created this delicious Red Hot Chili Pepper Chili. Well, its not really hot but it is spicy and a perfect meal for a Super Bowl Party. This would also make a wonderful family meal.
If the kids don't like too much spice, just cut the chili powder in half and leave out the cayenne pepper.
Don't worry about those roasted poblano peppers because they are usually mild. Roasting them brings out the fruitier flavors of the peppers and adds a sweetness to the gluten-free chili.
Hope you enjoy this high protein, plant-based, gluten-free chili as much as I did. Wishing you a peaceful, compassionate week.
Don't miss any of Ordinary Vegan's recipes by signing up here..
Ordinary Vegan now has a podcast on plant-based nutrition and vegan recipes. You can listen here on this website or in iTunes.
Join our health and wellness community on Facebook. There are over 315,000 strong, vibrant community members waiting to embrace you.
Thanks for stopping by and hope you have a peaceful and compassionate day.
 Gluten-Free Chili with Quinoa, Black Beans & Corn Recipe
High Protein Gluten-Free Quinoa, Bean and Corn Chili
Ingredients
1 teaspoon olive oil
1 small onion, chopped
2 cloves of garlic, minced
1 cup uncooked quinoa
26 ounce carton of crushed tomatoes
8 ounce carton of tomato sauce
1 cup water (+ more as needed)
1 15 ounce carton of organic black beans, rinsed well to remove starch
1½ cups of frozen organic corn kernels
2 roasted, peeled poblano peppers, chopped *
½ teaspoon smoked paprika
2 teaspoons chili powder
light sprinkle of cayenne pepper
½ teaspoon salt (or more to taste)
¼ teaspoon fresh ground black pepper (or more to taste)
Instructions
Saute chopped onions in olive oil in a medium saucepan. When they become translucent (about 3-5 minutes) add garlic, paprika, chili powder, cayenne, salt and pepper and cook for another 2 minutes.
Add crushed tomatoes, tomato sauce and water to onion mixture and bring to boil.
Add quinoa, bring to boil and than simmer on low for 30 minutes. Adding more water if needed.
Taste and season with more salt, pepper, chili powder if needed.
Add corn, black beans and chopped poblano. Bring to boil and simmer on low heat and cook for another 10 minutes. Keep adding more tomato sauce or water if needed to thin it out.
Serve in large bowls and top with diced avocado and fresh cilantro.
*To roast poblano peppers - Place the oven rack in the upper third of the oven and turn on broiler. Line a baking sheet with foil. Lay peppers on their sides and place under broiler. Broil until the skin is charred (about 3 minutes) - give them a half turn and broil on all sides keeping careful watch. They char fast. Put in a plastic or paper bag until cooled and peel.