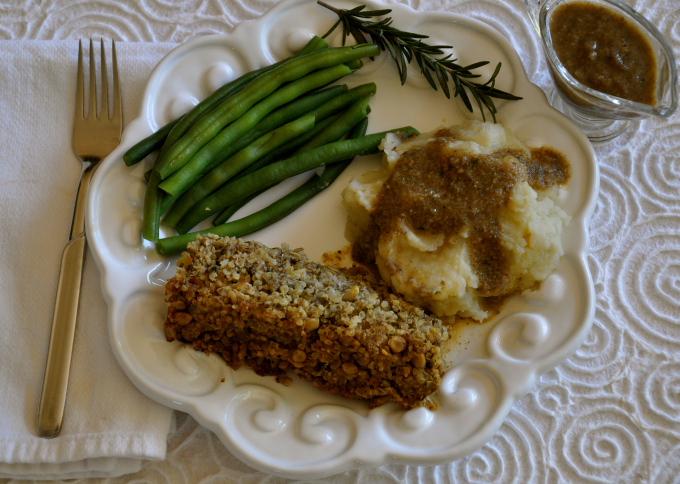 Quinoa Lentil Loaf With Mashed Potatoes & Gravy
Growing up in New England, Sunday supper was the most important meal we ate. It was also by far the heartiest meal of the week and always a family affair. Sunday continues to be one of my favorite days of the week to invite family and friends over to share some delicious plant-based meals. Today I was yearning for a stick-to-your-ribs New England style meal, so I made this quinoa lentil loaf with mashed potatoes and gravy. For me, the gravy makes this dish and you could pour my mushroom gravy over anything and it would taste delicious. The lentil loaf has a lot of ingredients, but it's necessary to enhance the flavor of the lentils.  Also, different colors of lentils taste different so feel free to use your favorite color in this lentil loaf.  This recipe made half a loaf pan, but you can double it for a big family. Hope you enjoy this quinoa lentil loaf as much as I did.
P.S. Don't miss any of Ordinary Vegan's recipes by subscribing here free. Also, please join or community on Facebook. It is fun and full of wonderful compassionate people like you.

Quinoa Lentil Loaf, Mashed Potatoes & Gravy
This recipe has a lot of spices because lentils can be a little subtle on their own. This makes half a loaf pan. For a family of six, double the recipe.
Ingredients
1½ cups cooked lentils
1½ cups cooked quinoa
2 teaspoons extra-virgin olive oil
1 cup onion, chopped
¾ cup celery, chopped
3 cloves garlic, chopped
1 cup bread crumbs
1 teaspoon thyme
1 teaspoon sage
1 teaspoon basil
½ teaspoon oregano
½ teaspoon salt
½ teaspoon ground black pepper
2 tablespoons fresh, chopped parsley
2 flax eggs
1 tablespooon dijon mustard
1 tablespoon apple cider
Topping
2 tablespoons brown sugar
2 tablespoons apple cider vinegar
1 teaspoon dijon mustard
Instructions
Pre-heat oven to 350 F
Heat oil over medium-high heat in a large non-stick saute pan.
Add onions and celery and cook until soft and translucent.
Add garlic, thyme, sage, basil, oregano and saute another minute or two. Add a little vegetable broth if it is sticking instead of more oil.
Remove from heat.
Meanwhile, make flax eggs by whisking together 2 tablespoons ground flax seed with 5 tablespoons of water. Leave in refrigerator for 10 minutes or more to thicken.
In a small bowl whisk together the brown sugar, apple cider and dijon mustard topping to form a paste. Set aside
In a large bowl, mash the cooked lentils. Add the quinoa and combine.
Add the bread crumbs, onion mixture, remaining ½ teaspoon salt and ½ teaspoon of pepper, flax egg mixture, dijon mustard, apple cider and combine. Add more bread crumbs if needed. Taste for seasonings. Add more salt or pepper if needed.
Form a loaf and place in a non-stick loaf pan.
Top with half of the topping. Cook for 15 minutes. Remove from oven and add remaining topping. Cook for another 15 minutes.
Sunday Supper - Mushroom Gravy
*if you don't like the idea of using a seasoning called poultry (although there is not poultry in the seasoning) - you can make your own by mixing together 2 teaspoons ground sage 1½ teaspoons ground thyme 1 teaspoon ground marjoram ¾ teaspoon ground rosemary ½ teaspoon nutmeg ½ teaspoon finely ground black pepper Store in a tight well fitted jar.
Recipe type:
Mushroom Gravy
Ingredients
2 tbsp olive oil
3 cups low-sodium vegetable broth
1 cup chopped white onion
4 cloves garlic, chopped
8 ounces of mushrooms - any kind I used portabello, white & brown (which is approximately 3 cups chopped)
1 tsp poultry seasoning *see note in summary
2 tbsp fresh thyme, finely chopped
2 tbsp fresh rosemary, finely chopped
Salt & Pepper
¼ cup dry red wine
2 fresh sage leaves, chopped
Paste
2 tbsp reduced-sodium tamari
3 tbsp nutritional yeast
2 tbsp whole-wheat flour (for gluten free gravy - use rice powder)
¼ tsp ground black pepper
Instructions
In a large sauce pan, heat olive oil.
Add onion and mushrooms and saute three minutes.
Add garlic and poultry seasoning and saute until onion is translucent about another minute or two.
Add red wine and cook one minute, stirring constantly. Stir in remaining 3 cups of broth and fresh herbs. Bring to a boil, reduce heat and simmer.
Paste
Meanwhile, in a small bowl, whisk together tamari, yeast and flour to form a thick paste.
Add mixture to pan, whisking constantly to make sure the paste dissolves. Bring to a boil and boil another minute, stirring constantly. Add salt, pepper and fresh sage.
Adjust seasonings.
If you prefer it thicker, thicken with flour or cornstarch. 1 tablespoon flour (or cornstarch) to 1 tablespoon of water to make a paste and add. Keep adding and whisking to desired thickness.
Mashed Potatoes with Nutritional Yeast
Ingredients
4 large potatoes, peeled, cut into medium chunks
1 teaspoon salt
Fresh ground black pepper
1 tablespoon nutritional yeast
½ cup unsweetened non-dairy milk
Instructions
Cover the potatoes with water and bring to boil and cook until soft.
Drain potatoes and mash. Add nutritional yeast, salt, pepper and half the milk.
Combine. Add more milk if needed. Taste for seasonings. Serve with gravy.