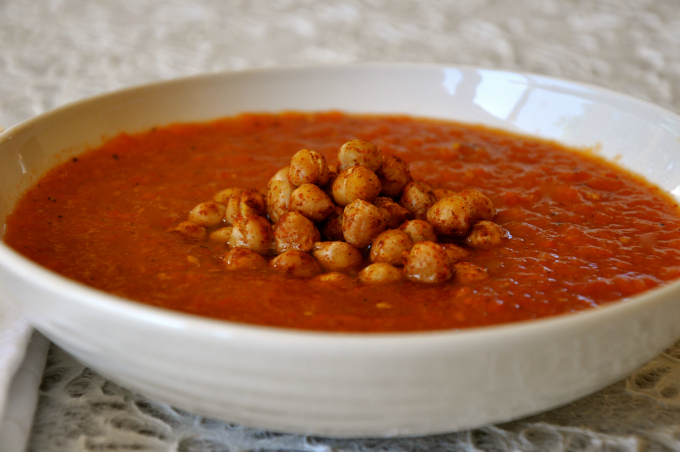 Red Bell Pepper Soup with Crunchy Garbanzo Beans
It's Valentine's Day week and messages of love are everywhere. This year I won't be celebrating a romantic Valentine's Day with anyone and before you feel sorry for me, I want to share something with you.
Many years ago, I read a book called the Celestine Prophecy. Some people found the book to be silly, but it had an impact on me especially the 8th spiritual insight. Unfortunately, it wasn't until four years ago that I finally got it right. Believe it or not, being alone this Valentine's Day makes me feel proud and empowered. So let me explain.
What I am talking about are the dangers of addiction to another person also called codependency. Codependency is the same as all addictions. You need something to complete you so you connect to someone just like people connect to drugs and alcohol. You are looking for something outside yourself in order to feel fulfilled. The Celestine Prophecy describes the person as a letter C. A half circle always looking for another person to be the other half. When we do that, we cut ourselves off from our true source of energy and repress our authentic nature. That person who becomes the other half of your C is looking for the same thing so both of you lose your connection with the universe and become addicted to each other's energy.  Both sides of the C relationship enable each other because that is how they've both learned to feel wanted and to avoid dealing with their own issues. It is a sad and all-encompassing circle and never becomes a healthy relationship.  I liken it to being vampires and instead of blood, you each take each other's energy and lose the best part of yourself. So this Valentine's Day I wanted to talk about real love – true love. That is when you love yourself first and foremost, and don't need another person to complete you. Here are 5 warning signs of codependent relationships.
1. You enable your partner's unhealthy habits and they enable yours.
2. You minimize your needs.
3. Your mood and self-respect are dictated by your partner's mood and behavior.
4. You are unable to find satisfaction in your life outside of a specific person.
5. You give support to your partner at the cost of your own emotional, mental or physical health.
I never want to be the letter C again.  Becoming vegan really helped me connect the dots and gave me a closer relationship to all the beautiful energy in the world.  Now I let that energy complete me and I know my next relationship will be with another full circle who doesn't need a C to complete them.
If any of this blog makes you think twice or makes you uncomfortable about your relationship, don't worry you can pull yourself out. It begins by living your own life and not someone else's. I know it sounds scary, but I promise you will never regret it. I recommend reading Melody Beattie's book about caring for yourself first and foremost.
Now on to delicious plant-based food. I am having a fun time creating sexy red plant-based Valentine's Day recipes this week. Today is an easy vegan red pepper soup with crunchy garbanzo beans with a little kick of spice. Red plants have always been associated with passion and a healthy plant-based recipe always sends a message of love. Hope you enjoy this easy vegan recipe as much as I did. Happy Valentine's Day everyone. If you don't want to miss any of Ordinary Vegan's free recipes, sign up here.

Red Bell Pepper Soup with Crunchy Roasted Chickpeas
Do not over-process or your soup will lose its vibrant red color. If you want a smokier flavor, roast the red peppers before adding them to the soup. Cook the soup for approximately 20 minutes instead of 30. You might want to double your garbanzo bean recipe because they are awesome for healthy snacking.
Ingredients
Soup
¼ cup vegetable broth for sautéing
3 cups vegetable broth for soup
4 large red bell peppers seeded, and diced (or you can roast them and remove skin - see below)
½ medium onion, chopped
2 cloves of garlic minced
5 plum tomatoes chopped
1 bay leaf
1 teaspoon salt
1 pinch saffron
handful of fresh, chopped basil for garnish
Chickpeas
1 13 ounce carton of cooked garbanzo beans (chickpeas), rinsed
½ teaspoon cayenne pepper (or less if you don't want much heat)
½ tablespoon paprika
¼ teaspoon salt
Juice of 1 lemon
handful of fresh chopped basil
Instructions
Soup
Heat the vegetable broth in a medium soup pot. Add the onion, garlic, and red pepper and sauté until the vegetables are soft, approximately 5 minutes. Add the tomatoes and sauté for another 2-3 minutes. Stir in the saffron, salt, bay leaf and vegetable broth. Bring broth mixture to a simmer and cook for approximately 30 minutes. Remove from heat and let cool. Remove bay leaf.
Transfer the so to a blender or food processor and process until just smooth. Be careful not to over-process so it keeps it beautiful red color. Return to soup pot and heat through.
Ladle into soup bowls. Top with a mound of roasted chickpeas and fresh chopped basil.
Garbanzo Beans
Preheat the oven to 400 degrees.
In a large bowl, combine the cayenne, paprika, salt and lemon juice.
Toss in garbanzo beans and mix. Taste for seasoning.
Place the beans in a single layer on a baking sheet lined with parchment paper or aluminum foil. Bake for approximately 25-35 minutes or until crunchy and roasted. Be careful not to burn and rotate the beans for even cooking. Remove from oven and toss with fresh chopped basil.
*you can also roast the red bell peppers for a more smokey flavor. Just preheat the broiler of your oven. Cut peppers in half lengthwise at the stem. Remove the stems, seeds, and ribs. Place them on a baking sheet about 3 to 4 inches under the broiler. After about 5-10 minutes, the skins will blister and blacken. You need to keep checking every couple of minutes. When they are evenly blackened, remove from oven. Place the peppers in a plastic or paper bag and seal it. Set aside for about 20 minutes to steam. Open the bag and remove stem, skins and seeds. Coarsely chop before putting into food processor or blender.