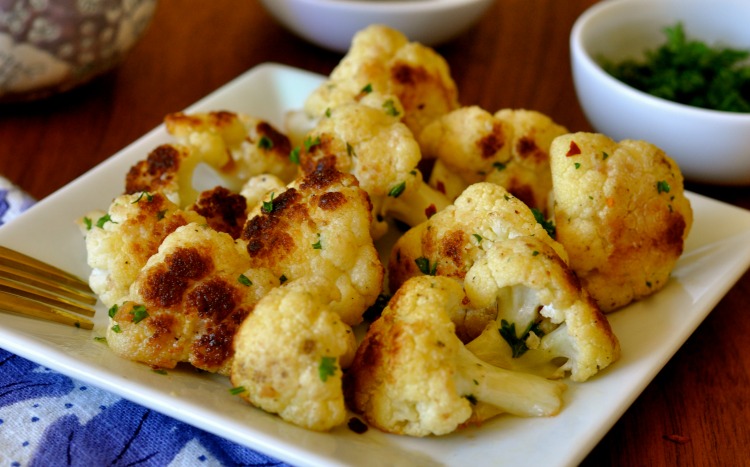 This roasted cauliflower recipe contains the perfect balance of texture with a fantastic flavor profile of garlic, parsley, crushed red peppers and red wine vinegar.
The first time I experienced this recipe was at a restaurant in Venice Beach called Gjelina.  I honestly couldn't stop eating it.
As soon as I got home, I attempted to reinvent it, but I didn't have to try too hard because the recipe was all over the internet.
Now I can share it with you.
So what is it about this roasted cauliflower recipe that makes it taste so great? Let's break it down.
Roasting brings out a natural sweetness in vegetables and this roasted cauliflower recipe combines roasting and sautéing. This extra step in preparation is what sets recipes like these apart, so definitely don't skip the sautéing .
Next is the garlic confit. I would call this garlic preparation one of the secret ingredients and you might want to make extra garlic confit for other recipes. Keep it in an air-tight container covered in olive-oil and it should last a couple of weeks in the refrigerator.
To confit the garlic, the cloves are simply roasted in olive oil that has been seasoned with rosemary and bay leaves. Is there anything that smells better than roasted garlic? My kitchen smelled divine.
The last step is to combine the finely chopped garlic confit, red pepper flakes, parsley, and red wine vinegar with the roasted cauliflower and viola, you have one of the most delicious cauliflower dishes I have ever tasted.
One other thing I would like to add is that I cut way back on the olive oil that is recommended in the original recipe, but I didn't miss it.
You could serve this roasted cauliflower as an appetizer, side dish or entree.
Hope you enjoy this roasted cauliflower recipe as much as I did. Don't miss any of Ordinary Vegan's free recipes by signing up here.
Ordinary Vegan's health and wellness podcasts are available on iTunes, or you can listen right here on this website.
My number one goal is to keep you as healthy as possible. Thanks for joining me today.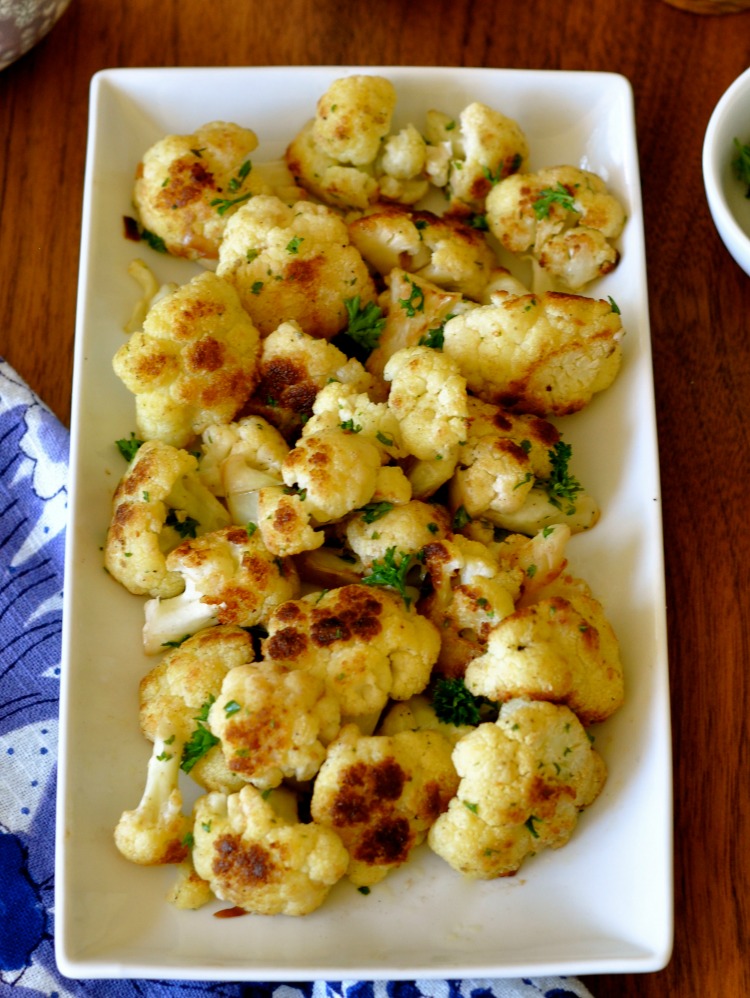 Roasted Cauliflower Recipe with Garlic, Parsley and Red Wine Vinegar
Roasted Cauliflower Recipe with Garlic, Parsley and Red Wine Vinegar
This cauliflower recipe explodes with flavor from a simple yet extraordinary profile of flavors including garlic, vinegar and parsley. Inspired by the Gjelina Restaurant roasted cauliflower recipe with a few minor changes.
Recipe type:
Side Dish or Entree
Ingredients
Cauliflower
1 head cauliflower, trimmed and chopped into florets
2 tablespoons extra virgin olive oil
Salt & ground black pepper
2 tablespoons chopped parsley
¼ teaspoon crushed red pepper flakes
2 tablespoons of red wine vinegar (or white)
Garlic Confit
4-5 cloves garlic, peeled
Extra virgin olive oil (enough to cover garlic while baking)
12 sprigs fresh rosemary
3 bay leaves
Instructions
Make the garlic confit
Pre-heat oven to 350 degrees F
Lay the garlic cloves on the bottom of a small baking dish. Cover with at least one inch of olive oil, fresh rosemary and bay leaves.
Bake until the garlic cloves are soft, fragrant, and lightly browned but still hold their shape. Approximately 30-45 minutes. Remove from oven and let cool. Remove from oil and finely chop the garlic.
Cauliflower
Preheat oven to 500 degrees F
In a medium bowl, toss the cauliflower with the olive oil and season with a little salt and ground black pepper.
Heat a large oiled oven safe saute pan over medium heat. Add the cauliflower into the hot pan and cook until the cauliflower starts to brown, about 3-5 minutes. Transfer the pan to the 500 degree oven.
(If you don't have an oven safe saute pan just transfer the cauliflower to a baking sheet lined with tin foil and lightly prepared with olive oil.)
Cook for 5 minutes. Remove from oven and turn the cauliflower over, and cook on the other side until well seared about another 3-5 minutes.
Remove from oven. Place in a large bowl. Add the finely chopped garlic cloves, parsley, red pepper flakes and red wine vinegar. Lightly toss to combine and serve.