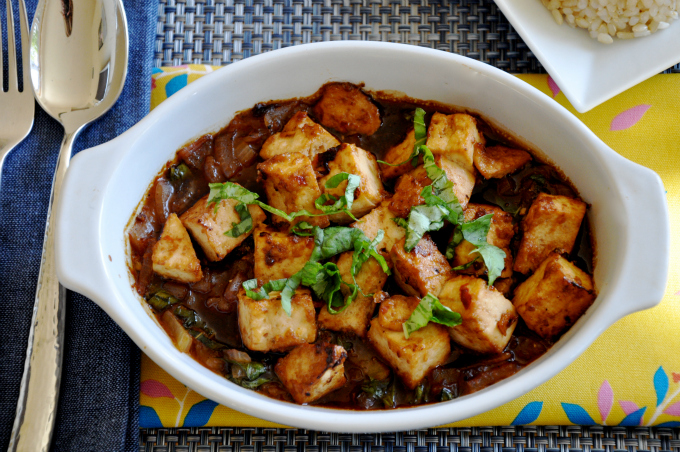 Tofu With A Red Onion Glaze Over Rice
So my feet are shrinking- ugh. Suddenly, all my shoes are too wide. WTH?? I decided to do some research and see if there is any connection to my new vegan diet and shrinking feet. Well guess what? There is.
Your feet are the first thing to swell up when you have too much sodium in your diet. It creates water retention and you can actually reduce the size of your feet by reducing your sodium intake. So what's my plant based diet got to do with sodium? Sodium is everywhere. All processed food is loaded with sodium and now that I don't go anywhere near processed foods – my sodium intake has probably been cut in half.
Other news this week – I learned how to read labels to determine if the food we are eating is safe to eat. This was triggered by me, reading for the first time, about Monsanto poisoning our soybeans. What's a vegan to do?
My friend and neighbor Joy pointed out to me that this has been happening for years and I have to look for the non-gmo logos on all the food I buy. Well what about fresh produce? Come to find out, it is very easy to identify whether your fresh produce has been a target of genetic modification or sprayed with pesticides. Reading the labels is the easiest way to determine if your food is safe to eat. If the number on the label (sticker on produce) begins with the number 4, it is conventional produce meaning it has most likely been sprayed with pesticides. Genetically modified produce will start with the number 8 and is often identified with a string of numbers consisting of 5 digits. Organic produce will be labeled with 5 digits and always begins with the the number 9. By the way, I could not find any produce at Whole Foods with the number 8 and I scoured the aisles.
As far as other food products go, it is also on the label. If a product is labeled as organic, it may not be fully organic. The FDA rules allow for products that are not 100% organic to be labeled organic. Look for labels that say that the product is 100% organic. When a product says 100% organic – it is truly organic.
GMO stands for a genetically modified organism or genetically engineered organism.
The health risks of GMOs are unknown and basically companies like Monsanto are in the midst of a huge experiment and you are the guinea pig. Hungry African and Asian nations are concerned enough about GMOs that they are refusing food aid from us when the food contains GMOs. Products labeled "Non-GMO" or "GMO-free" indicate the absence of genetically modified ingredients. Keep in mind that high-fructose corn syrup is known for being genetically modified so avoid products that contain this ingredient. Thanks Joy for inspiring me to educate myself more about what I am eating. Vegan Day 85 – wish me luck.

MARINATED TOFU WITH BASIL AND RED ONION GLAZE
Ingredients
Tofu
14 ounces firm tofu, pressed to remove excess water and cut crosswise into 8 slices
1 tsp mined fresh ginger
2 tbsp low sodium tamari or soy sauce
1 tbsp fresh lime juice
1 tsp light brown sugar
½ tsp thai or vietnamese chili paste
¼ tsp toasted sesame oil
Glaze
1 tsp canola oil
1 large red onion, halved lengthwise and thinly sliced (8 ounces)
1 whole star anise or ½ tsp anise seeds
2 tbsp light brown sugar
2 tsp arrowroot or cornstarch
1 tbsp low-sodium tamari or soy sauce
1 tbsp balsamic vinegar
¾ cup vegetable broth (or water) plus more if necessary
¼ cup fresh basil leaves
Basmati rice (recipe below)
Instructions
Tofu
lay the slices of tofu in a single layer in a shallow dish
in a small bowl, combine the ginger, garlic, tamari, lime juice, brown sugar, chili paste and oil. Mix well and pour over the tofu. Cover and refrigerate
Preheat oven to 300 degrees
Glaze
In a nonstick saute pan, heat the oil over medium heat and saute the onions for 5 to 6 minutes, until they soften and begin to brown. Add the anise and brown sugar and cook for 2 to 3 minutes longer, until the onions brown and caramelize.
Mix the arrowroot with the tamari and vinegar, Stir the arrowroot mixture and broth into the onions and cook until slightly thickened. Add the basil, stir gently and remove from the heat. Spoon into an 8 by 8 inch baking pan and spread evenly over the bottom of the pan.
In a nonstick sauce pan sprayed with vegetable oil spray (or canola spra) cook the marinated tofu over medium heat for 1 to 2 minutes on each side until lightly browned. Arrange in a single layer over the onions. Bake, loosely covered with aluminum foil, for about 20 minutes.
Spoon the rice onto plates. Arrange 2 slices of tofu on each plate and spoon the onions and glaze over them.
Nutrition Information
Calories:
230
Protein:
18
BASMATI RICE
Ingredients
¾ cup uncooked brown basmati rice
½ tsp fennel seeds
2 cups vegetable broth or water
1 cup corn kernels (from 1 ear)
½ red bell pepper, diced
⅓ cup thinly sliced scallions (1½ ounces)
Instructions
In a saucepan, combine the rice, fennel seed and 1¾ cups of the broth and bring to boil over medium high heat. Reduce the heat and simmer, covered, for about 30 minutes until the liquid evaporates. Remove from the heat and let stand for 5 minutes. Fluff with a fork, cover to keep warm.
In a small saute pan, combine the corn, red bell pepper and the remaining ¼ cup broth and simmer for 2 to 3 minutes. Mix into the rice with scallions.
Link to Monsanto article
http://www.organicconsumers.org/articles/article_23659.cfm