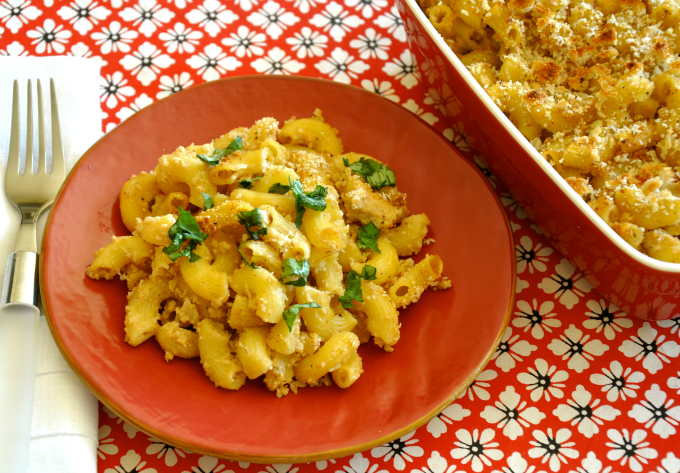 I said yum a lot while tasting this lovely dish, and I decided to call it the "no cheese vegan mac and cheese" because it reminded me so much of the old-fashioned mac and cheese I used to make.
Cauliflower takes center stage in this recipe by providing the creamy, cheesy like sauce. I love using cauliflower in my recipes not only for the taste, but also for the incredible health benefits.
Cauliflower contains loads of phytochemicals which help fight chronic disease.
Cauliflower is also low in fat, low in carbohydrates and high in dietary fiber, folate and vitamin C.  I roasted it to retain all those vitamins and nutrients and made a béchamel.
Covering the cooked macaroni with the cauliflower béchamel created the richness a vegan mac n cheese needs.
I also added nutritional yeast and a variety of traditional mac and cheese spices.
If you haven't used nutritional yeast yet now is the time to start. Many vegans and vegetarians use it as a cheese flavoring substitute and it definitely doesn't taste like the yeast you are familiar with. It has a nutty flavor and is an excellent source of protein and vitamin B.
Next, I topped the casserole with some vegan bread crumbs which was another easy way to build more flavor and add crunch.  Then I baked it in the oven.
That was it. Great for the whole family.
Hope you enjoy this healthy vegan mac and cheese as much as I did. By the way, if you love cauliflower, you will definitely love this cauliflower fried rice and these cauliflower buffalo wings. Never miss a healthy vegan plant-based recipe by signing up here for a free subscription.
Last but not least. I now have my own line of vegan CBD Oil made from hemp. The testimonials are pouring in, and my CBD oil is helping so many people live a pain-free and anxiety-free life. I choose to create my own CBD products because I wanted to provide you with a safe, reliable, vegan product. Hope it can help you.
Learn more about the health benefits of CBD Oil from hemp here. Don't hesitate to reach out to me with any questions at questions@23.235.200.4.
Vegan Mac and Cheese with Cauliflower Béchamel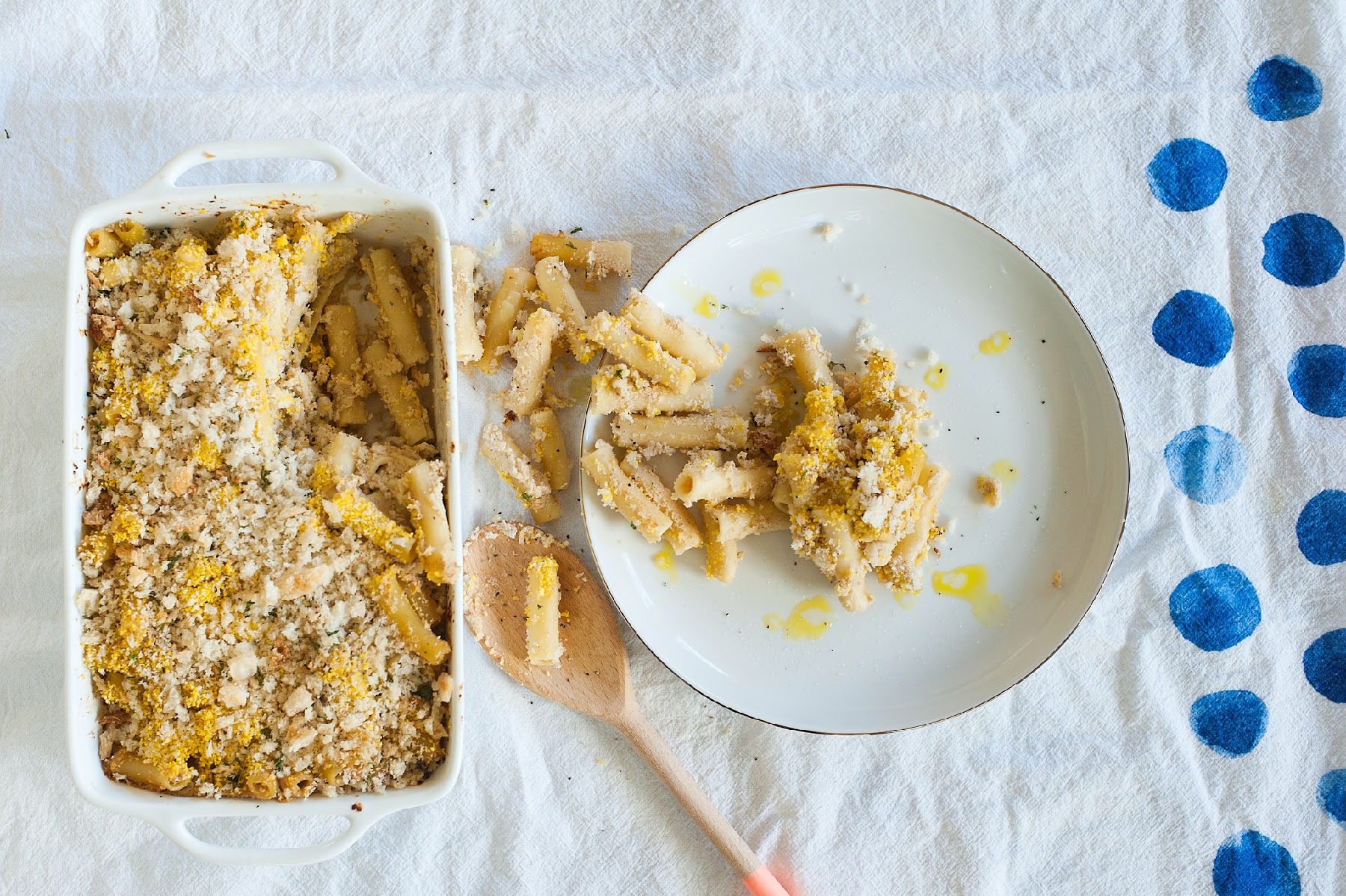 Vegan Mac with Cauliflower Béchamel
You could also add your favorite vegetables to this casserole.
Ingredients
pasta
12 ounces of cooked pasta (4-5 cups cooked)
béchamel
1½ tablespoons vegan butter (+ 3 teaspoons for topping)
1½ tablespoons flour
1½ cups of non-dairy milk
1 bay leaf
1½ tablespoons dry yellow mustard
1 teaspoon sweet paprika
½ teaspoon red cayenne pepper
¼ teaspoon ground nutmeg
1 teaspoon salt
½ teaspoon ground black pepper
cauliflower
1 head of cauliflower, cut into florets
1½ tablespoons nutritional yeast
¼ teaspoon salt
¼ teaspoon ground black pepper
Breadcrumbs
5 slices of vegan bread, chopped
2 cloves garlic, chopped
Garnish
2 tablespoons chopped parsley
Instructions
Cook pasta according to directions keeping it somewhat firm and not mushy.
Pre-heat oven to 375 degrees F.
Spread cauliflower in a single layer on a baking sheet lined in parchment paper or aluminum foil.
Place baking sheet on the middle rack of the oven and cook for 30-35 minutes until soft and lightly brown, occasionally stirring. Put cooked cauliflower, nutritional yeast, salt and pepper into a food processor and process until the cauliflower becomes tiny crumbles. Set aside.
Rinse and dry food processor and place cut bread and garlic into it and process until you have breadcrumbs. Set aside.
Lower heat to 350 F
Meanwhile, in a medium saucepan heat the flour and butter until smooth and bubbly but not brown.
Slowly whisk in the non-dairy milk. Add the dry mustard and bay leaf. Continue whisking until it becomes a thick sauce. Remove from heat. Remove the bay leaf. Add the ground cauliflower, salt, pepper, paprika, nutmeg and red cayenne to the béchamel.
Combine cooked macaroni and béchamel sauce and stir until all the pasta is coated evenly.
Put into a 9 x 9 casserole dish that has been lightly greased with vegan butter.
Spread breadcrumbs over the top. Dot with 3 teaspoons of vegan butter.
Put it in the oven at 350 degrees F and cook for 20-25 minutes. Garnish with fresh parsley.