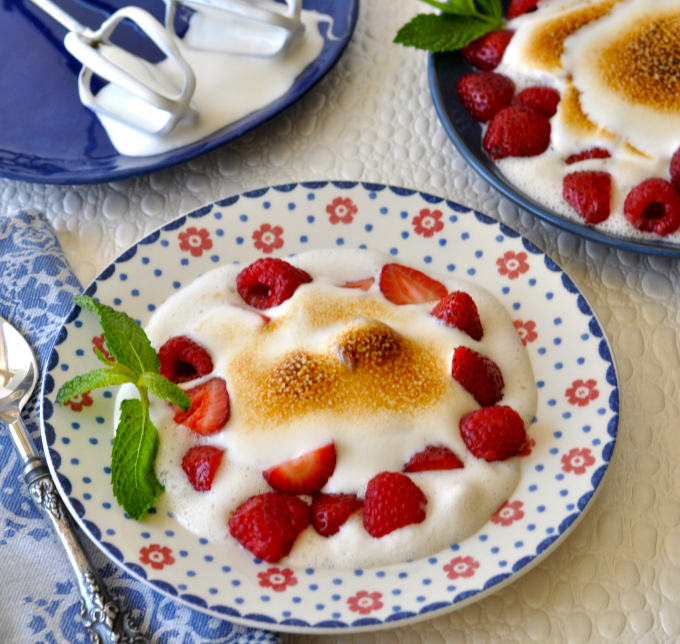 I need to introduce you to my love. It is vegan meringue. Oh my goodness. To be honest, I was very skeptical about using chickpea brine to make vegan meringue, but I got over that quickly. This meringue was light, airy and formed stiff peaks. Not only was the texture great, but it was absolutely delicious.
I don't know about you but meringue is one of my favorite sweets. Sure it has sugar but everyone needs a treat once in awhile. You could use this vegan meringue in any recipe that calls for this ethereal delight. I can't wait to try making a Baked Alaska.
Vegan Meringue with Summer Berries
I decided to keep it simple and just serve the meringue over sweet, summer berries garnished with some fresh mint.
Vegan Meringue Baked
It also stood up to baking. These meringue shells make the perfect do ahead desert. The baked vegan meringue rounds can be made up to 3 days in advance, and stored in an airtight container. To serve, spoon a dollop of vegan whipped cream into the center of a plate. Top the whipped topping with a baked vegan meringue and spoon berries over the top.
Any way you decide to eat this vegan meringue, I promise if you love meringue, you will love this vegan version.
Don't miss any of Ordinary Vegan's free recipes by signing up here.

Vegan Meringue with Summer Berries
Feathery and light with stiff peaks, this delicious vegan meringue will win over anyone who loves this ethereal delight.
Ingredients
Meringue
1 15 ounce can chickpeas
¼ teaspoon cream of tartar
¾ cup of vegan sugar
¾ teaspoon vanilla
3 cartons of various summer berries (I like blueberries, strawberries and
Oven meringue recipe below
Instructions
In a large bowl, add the berries and a small drizzle of maple syrup. Combine. Set aside.
Pour the liquid from the can of chickpeas into a bowl. I like to use an aluminum bowl that has been placed in the freezer for 30 minutes.
Add the cream of tartar.
With a hand mixture start whipping the chickpea liquid until it begins to thicken.
Gradually add the sugar and vanilla and continue whipping until stiff peaks form. I used a hand mixer and it took about 8-10 minutes but if you have a stand up mixer with a wire whip, it will probably take less time. Don't give up - those stiff peaks will come.
To serve, place a dollop of meringue on a plate and spoon some berries over it.
**Oven Meringues - position a rack in the center of the oven and preheat to 275 degrees F. Trace 6 2½ inch circles on parchment paper, then invert paper onto a baking sheet. Divide the meringue between circles, spooning it to fill each circle completely. Bake until the outside is dry to the touch and the meringues are just beginning to color slightly, about 35 minutes. Turn oven off and open door slightly, and leave the meringues in the oven until completely cool. The meringues can be made up to 3 days in advance, and stored in an airtight container.